The Horse With No Name
Posted | Tags: barrel racing, Events, horse care, horse feed, horse management, Nutrition, Performance Horse, rescue horse, Riding, Tc Stories, Training, Western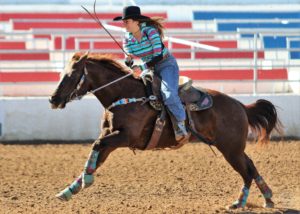 By: Triple Crown Insider- Tori Ramirez
The Day We Met
In the spring of 2016, I got a call from my aunt saying she had a "cool little red mare" that could possibly run barrels, but was off a kill truck. So we drove to Temecula, Calif. to check her out. Once we arrived, we found her in a pasture with other mares and some donkeys. She was a little chunky thing and full of attitude. Of course, my dad fell in love with her. "This mare is gonna be fast. Look at how fast she walks and her body!" he said, and we laughed.
A Horse Named Vegas
Fast forward a month, and it was time to pick her up. When we got there, she had two bloody nostrils and knots on either side of her poll from a roll in the trailer because she was putting up a fight when they were trying to tranquilize her to get her teeth done. She was in bad shape and we weren't sure she was gonna make it, but my aunt said she's never seen a horse with that much fight (mind you, my aunt has worked with camels, horses, cows, etc. all her life). We decided on the name Vegas as her barn name because we were rolling the dice with her and Horse With No Name for her show name since we didn't know her story or where she came from.
A Partnership is Formed
Within a week, she was fine. I started riding her and we would haul her to shows to get her used to being in different places, including a gymkhana! I was running another horse, Jack, at the gymkhana. But with only one saddle, which was on Vegas at the time, they called for the boot race. With no time to spare, I had to throw her to the wolves and do the event.
The boot race involved us having to take off our boots and throw them down at the end of the arena, then run down and put on another pair. As the race started,  I held Vegas back and we breezed up there. I quickly stepped off, put on a pair of boots and then got back on Vegas and we took off. I had never opened her up before—she took off like a rocket! We ended up winning the event and discovered what potential she had.
We eventually found her papers. Her registered name is Wright On Scarlett, out of Lenas Wright On. We got an official trainer last year, but before that I did everything on my own (I had an awesome gymkhana trainer who taught me a lot but I only had a handful of lessons with him). We also did two Fallon Taylor clinics. This journey has been one-in-a-million. I've made a name for myself. I've lost friends, gained friends, and most importantly I have made memories that will last a lifetime.
The Triple Crown Difference
We tried different feeds on both of my horses, but never noticed that much of a change- weight and shine was only "ok."  But ever since we switched to Triple Crown feeds, the difference has been INSANE. Not only with Vegas, but with my other horse, Jack.  Jack had trouble keeping weight on, especially because he is big and has bad anxiety. With Triple Crown, he's kept weight on and looks great. My cherry on top is Performance Microbials which is a probiotic supplement that I use religiously with Triple Crown. Jack is on Triple Crown Senior and Vegas is on the 30% Ration Balancer with a ½ lb. of Senior. Vegas has come a long way and I look forward to our partnership together as we continue to get out the road showing. If you have heart and put the work in every day, you will see results.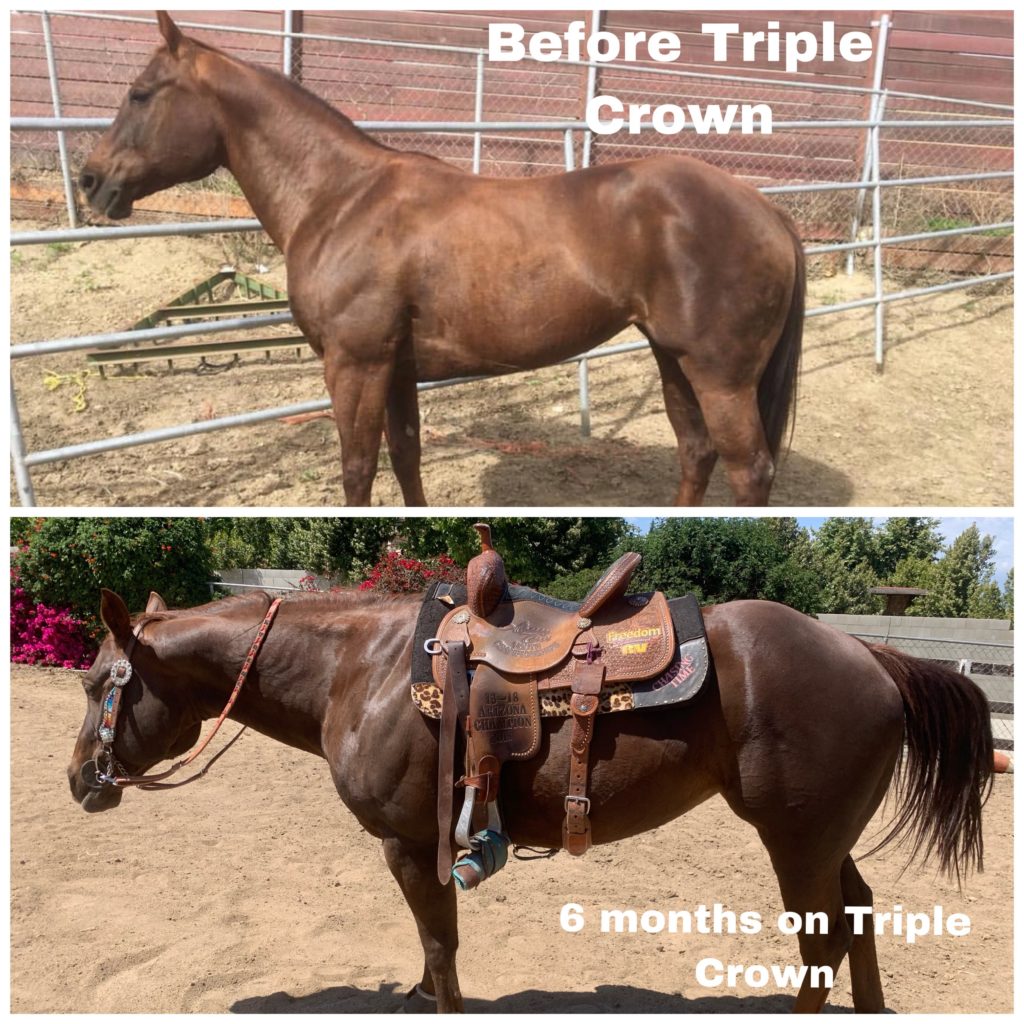 "Success isn't owned, it's leased. And rent is due every single day. Don't just work to get there, live there."- Brakebill boys.
About The Author:
My name is Tori Ramirez and I'm a 17-year-old senior in high school from Corona, CA. I own two amazing horses, Jack & Vegas. I compete in rodeo and barrel racing. I have accomplished many things with Vegas over the course of the three years I've owned her. Including winning second in the average at Nolan Watters Memorial Barrel race in 2017, winning a quad and almost $700. I won first in the average at the Sherry Cervi Youth Championships in Marana, AZ,  winning a Martin Stingray saddle, and also I've won many checks. I hope to grow more with Vegas and accomplish many more things in the future.