Triple Crown Excellence Award Presented to Haylie Rolfe and Queen Celeste During Week 5 of Winter Equestrian Festival
Posted | Tags: Dressage, English, Events, horse shows, Performance Horse, Riding, Show Jumping, the Hermes U.S. Show Jumping Team, Training, United States Equestrian Federation, Wellington, Winter Equestrian Festival
For Immediate Release:
Contact: Kelly Payne , Triple Crown Nutrition
kpayne@triplecrownfeed.com , (800) 451-9916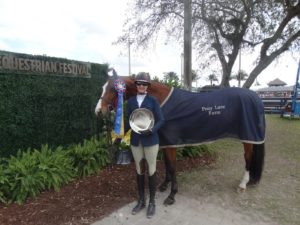 Triple Crown Excellence Award Presented to Haylie Rolfe and Queen Celeste During Week 5 of Winter Equestrian Festival
Wellington, Florida (February 16, 2018)—The Winter Equestrian Festival in Wellington, Florida, has finished its fifth week of competition, and the quality of horses and riders is as impressive as ever. Triple Crown Nutrition has been a strong presence throughout the winter season, not only in the barns where many of the top equine athletes are fueled by their excellent products but also in the show ring where the Triple Crown Excellence Award has been presented to exceptional horse and rider pairs during each week of competition. During week five, the award went to a lovely Green Hunter named Queen Celeste, shown by Haylie Rolfe.
A seven-year-old mare by Cassini, Queen Celeste is owned by Pony Lane Farms, which is based in Bluffdale, Utah, and spends winters at its Wellington location. Pony Lane Farms in a top-class breeding farm, offering breeding services as well as sales of young horses.
Rolfe, who has been working with Queen Celeste since this past September, showed the mare in the 3'3" Green Hunters, winning several classes and coming in second in others. "She's so much fun. She always jerks her knees beautifully," says Rolfe of the mare. "She loves her job and she's easy to get quiet."  According to Rolfe, they are preparing Queen Celeste for the 3'6" Green classes next year.
Triple Crown took notice of the talented horse and rider pair during week five and was proud to present them with the Triple Crown Excellence Award. A company committed to providing the best in equine nutrition, Triple Crown appreciates the effort that goes into these show horses and is known for recognizing and supporting horse and rider pairs at the top of their game such as Queen Celeste and Rolfe.
Rolfe was excited to win the award and to have Queen Celeste recognized for her performance this week. As part of the award, she will have the opportunity to sample some of Triple Crown's excellent products. To see more follow this link https://www.youtube.com/watch?v=-zLNGFT-UWY
Triple Crown Nutrition is a leading producer of top quality feeds formulated for the performance horse. The company was the first to add prebiotics, probiotics, and organic minerals to horse feed.
To learn more about Triple Crown, visit www.TripleCrownFeed.com, call (800) 451-9916 or visit the company's Facebook page or Instagram @TripleCrownFeeds.
-30-
Photo: Haylie Rolfe and Queen Celeste receiving the Triple Crown Excellence, during week five of the Winter Equestrian Festival. (Photo courtesy of JRPR, no photo credit required)