Icing Legs: Post-Exercise Horse Care
Posted | Tags: Health, horse care, Riding
If you missed our previous blogs in the Post-Exercise care series, check them out here:
Check out our tutorial videos at our YouTube Channel.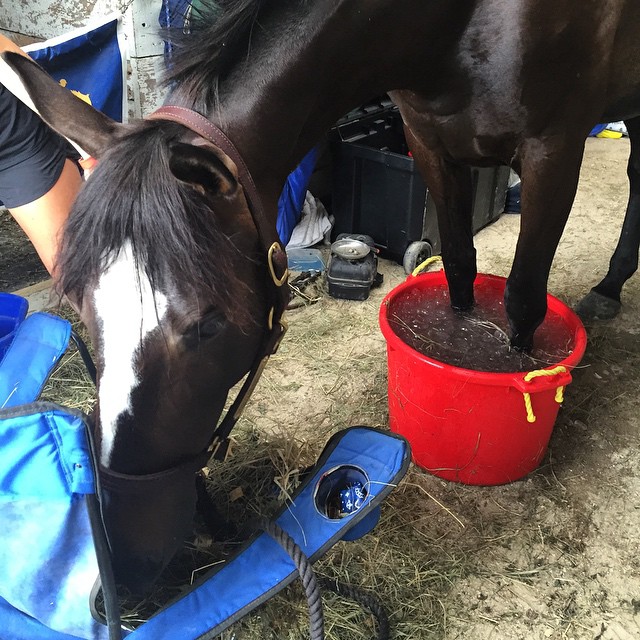 The most important part of post-exercise horse care or after riding in extreme heat/humidity is the immediate cooling of the body temperature, through both ice baths and liniment brace baths. After the horse's body has cooled down, the care of their legs begins. Horses carry a very large amount of bodyweight on relatively small legs, with about 60% of this weight carried on the front legs. Because of this, the front legs will often take a pounding, particularly if the ground and footing was hard, uneven, or muddy.
Certain disciplines tend to ice their horses' legs more than others. At any three-day eventing competition, you will see a barn full of riders carrying around ice bags following cross country. However, icing is a fantastic practice to get into after every hard ride that you do. Especially if begun very soon after exercise, icing can help to take down any inflammation before it is even noticeable to you. Focus primarily on the tendons running along the back of the legs, and secondarily on any joints that might be overly stressed in your discipline (hocks, fetlocks, etc.).
Icing can make young or sensitive horses nervous at first as it is a new sensation, and can be loud if you are using ice cubes. Take care to introduce your horse slowly and calmly to the idea of icing so that it becomes a positive experience for you both.
Icing Methods 
There are several ways to ice, all of which are effective. You should always choose the method which is easiest and most comfortable for both you and your horse.
Icing In A Bucket
If you have a very calm horse or one that is experienced with icing, you can fill a muck bucket up with a bag of ice and cold water. Then pick up your horse's front legs, one at a time, and place them into the muck bucket so that your horse is standing in it with both front legs. You will have to monitor your horse to keep them still while he or she is standing in the bucket. This method is harder to use with back legs, so I would recommend a different option for those.
Cold Hosing
The cheapest, but perhaps less effective, way of taking down the swelling is to cold hose your horse. This means that you simply stand in a wash rack and spray cold water from the hose at the swollen or worked area.
Ice Boots
There are many brands of ice boots available, in many different price ranges. These can range from a flexible neoprene boot with pockets to hold reusable gel ice packs, to a boot that you pour ice cubes into. Find one that is in your price range and covers the parts of the leg that you need to focus on. Some popular brands are Ice Horse boots, Jack's Ice Boots, Jack's Whirpool Boots, and Ice Vibe boots.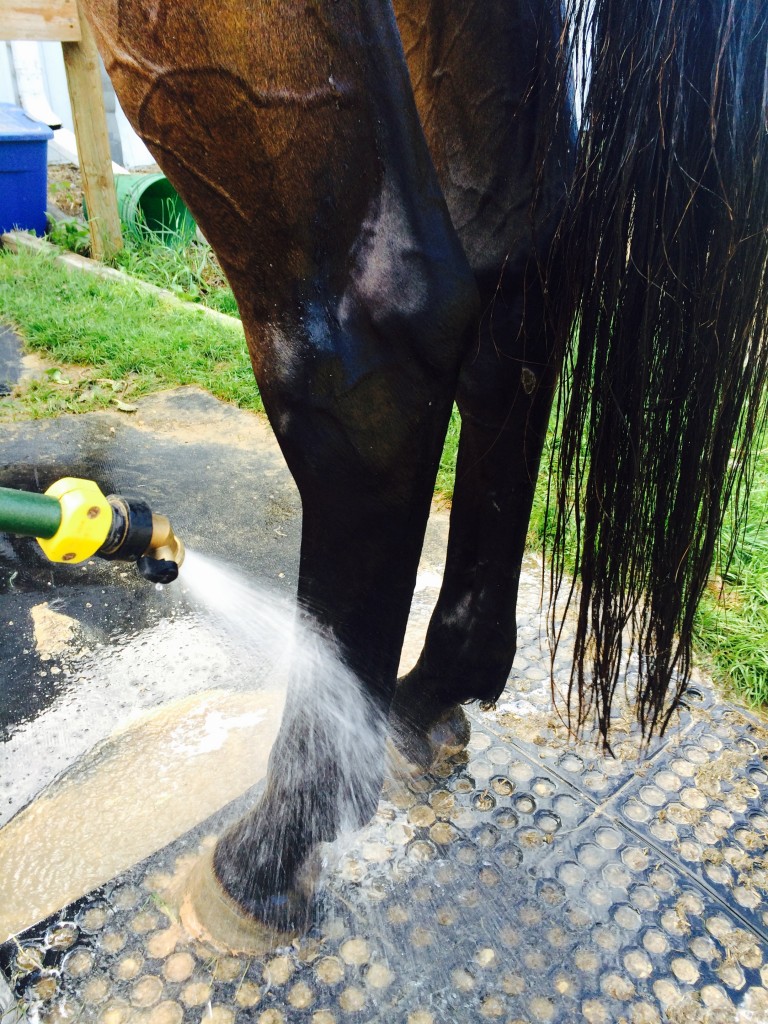 Tips
Research is constantly being done on what duration of icing is most beneficial to the horse. Most experts agree that you should ice for about 20-30 minutes, then give the horse a break for 20 minutes. If the exercise was very strenuous, you can repeat the icing two or three times with a 20 minute break between each set. Take your icing time to wipe down your tack, to grab some water for yourself, or to pamper your horse in other ways!