Tips for Managing Nervous Horse Behaviors – Part 1
Posted | Tags: English, Health, Training, Western
By: Dr. Amy M Gill
Unnatural Environments Lead To Physical And Mental Stress
Domestic horses have not evolved from their beginnings as animals of prey. The fight or flight mechanism in horses is very finely tuned and split seconds count when fleeing from a predator. These traits, in combination with the intensive management and unnatural environment required to maintain a horse in training, may lead to anxiety and nervousness.
Issues affecting stressed horses can be metabolic disorders related to the metabolism of carbohydrates, muscle and respiratory disorders, digestive upset, skeletal unsoundness, and on a fairly common level, aberrant behavior. Many horses have acquired a propensity towards exhibiting stereotypic behaviors such as stall walking and weaving, as well as vices such as cribbing and wood chewing as a means to relieving stress. Obviously, both physical and psychological disorders can affect performance and therefore devising ways to minimize stress in the day-to-day management of these animals becomes paramount.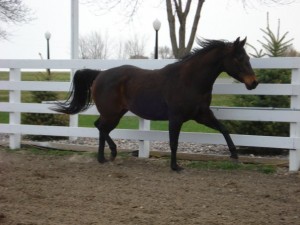 A large part of the problem can be attributed to the diet and feeding behavior of the stabled horse. The horse, kept in a confined area or stall, lives in an environment far removed from what is considered natural. Instead of grazing for 16-18 hours per day, the stabled horse may spend as little as 1-2 hours per day engaged in feeding activity. Stabled horses generally receive only two concentrated meals daily and often, these meals are devoured quickly, leaving many hours of non-feeding and this idle time has been attributed to the occurrence of behavioral problems.
As a grazing herbivore, the free-ranging horse rarely develops metabolic or behavioral disorders. The stabled horse, on the other hand, has lost the ability to expend physical energy from constantly walking while grazing, eating large quantities of fibrous, low energy feeds, and engaging in normal "horse" socialization. Additionally, because of the extreme nutritional requirements of training and racing, horses must be fed high energy, nutrient dense feeds that appear to contribute to some of the previously mentioned health issues. For horses, the intake of fibrous foods and forages is greatly reduced. Compounding the problem, at times a horse will "back off' feed, presenting the trainer with an even larger challenge for keeping that individual in peak condition. Fortunately, science and technology have provided some resources by which to improve feeding and management which help minimize physiological and behavioral problems.
Management Of Feeding Is As Important As The Ingredients That Are Fed
Feeding management of horses is an art and a science, and when done properly provides the horse with a balance of energy and other required nutrients to perform maximal exercise loads. Horses training at maximal exercise levels expend great amounts of energy and sometimes have trouble consuming enough feed to meet energy (calorie) demands. One of the most daunting tasks a trainer is often faced with is keeping horses at their optimum weight level. Most horses are fed large quantities of grain (which contains a level of approximately 45-65% soluble carbohydrate or starch) in their rations because grains are traditionally more energy dense than forages (which contain structural carbohydrates or fiber). Because the horse is designed to graze forages on a continuous basis, feeding large amounts of grain can lead to starch overload in the hindgut and can result in metabolic disorders such as colic, laminitis and insulin resistance. Nonetheless, grains are very palatable and high in digestible energy. Grains should be incorporated in reasonable amounts in the horse diet, as glycogen repletion and storage following exertion is somewhat dependent on glucose provided in the diet. However, other ingredients like vegetable oils and soluble fibers, most notably beet pulp, soybean hulls, and rice bran, do not contain high levels of starch and can be blended into the ration to help increase its digestible energy content without increasing the risk of starch overload. Fats and fibers do not cause an increase in blood glucose when consumed, a biochemical reaction which in some horses seems to intensify the "sugar high" associated with feeding high grain diets.
Feeding large amounts of grain is also associated with increased gut acidity. Higher frequency of stereotypic behavior is observed when horses are fed high grain diets (typically a 3:1 grain/forage diet) as compared to an all-forage diet. In one study, horses on high grain diets showed a decreased incidence of aberrant behavior when a hind-gut buffer, which neutralizes some of the acids in the cecum and colon, was added to the diet. Some researchers believe that high grain diets cause low-level pain due to acidity in the gut which then serves as a stimulus for stereotypic behavior. Many foals that begin cribbing at an early age do so when the grain is added to their diets, normally around the time they are weaned. It has been speculated that cribbing actually increases the flow of saliva, which in turn acts as a buffer for acid produced in the stomach, and therefore helps to control gastrointestinal discomfort.
Many horses with a propensity to tie-up will benefit from the addition of fat to the diet because it helps to lower the starch content of the diet, which may, in turn, decrease excitability and nervousness. Whether or not the calming effect is actually due to the chemical makeup of fat and/or how it is metabolized still remains unclear. Certain horses are more reactive to high levels of starch in the diet, which in turn can influence their behavior. Behavior modification for these individuals may be as simple as adding in other non-starch ingredients to the diet. Grain meal feeding is directly linked to an increase in serotonin, a brain neurotransmitter which modulates mood activity and alertness. High serotonin levels observed after eating meals high in starch has been implicated as the reason for sugar "highs" in hyperactive children, and it is reasonable to assume that a similar response is seen in some horses following a grain meal high in starch. Many other factors can affect behavior in horses such as sex, genetics, breed, and environment, but it is fairly safe to say reducing starch in the diet of horses appears to play a role in improving the mental health of horses. In general, the horse that is fed super high energy feeds in large amounts just 2 or 3 times a day and then kept in confinement is almost guaranteed to become less tractable and more nervous than a horse that has access to pasture and more frequent feedings.
Stay tuned for the second installment of this important topic.