Caring for Overweight and Insulin Resistant Horses
Posted | Tags: Health, horse care, horse feed, horse management, insulin resistance, Nutrition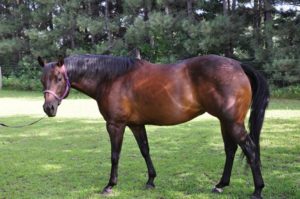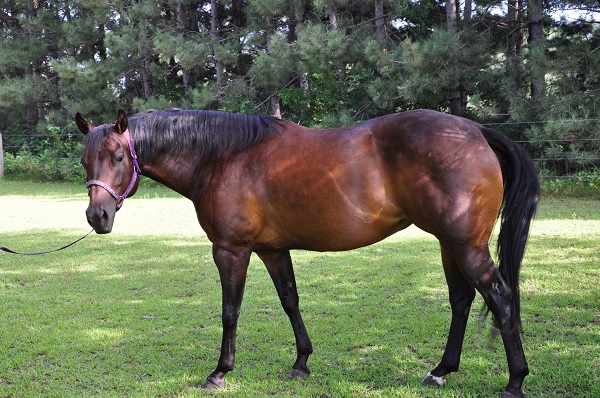 Obesity is an epidemic in the equine population. In a recent study by Virginia-Maryland Regional College of Veterinary Medicine, 51 percent of the horses had a body condition score above 6; the ideal would be a score between 4-6. Higher quality nutritional products and improved pasture management in addition to a decrease in workload over the years has made it easier for horses to add excess weight and retain it. Horses that are overweight are prone to many disorders including organ failure, intolerance to exercise, injuries, problem pregnancies, and laminitis, just to name a few.
It has also been suggested that horses that are heavier throughout their lives will be more likely to develop Cushing's disease in their senior years, and have a higher risk of becoming insulin resistant.
What is Insulin Resistance?
Any horse that is overweight can become insulin resistant. Insulin resistance is defined as a reduced sensitivity to insulin- the hormone responsible for regulating glucose in the body (such as after a meal). The pancreas continues to produce more insulin leading to elevated levels of insulin in the blood.
Certain breeds may have evolved with the ability to store fat
All horses can develop insulin resistance, but certain breeds are more predisposed to the condition. Many ponies and draft horses seem to pick up weight the easiest, but Insulin Resistance can also be found in Morgans, Andalusians, gaited breeds, and so on. Any breeds that are generally described as "easy keepers" should be monitored and managed for proper weight early in life.
Insulin resistant horses usually have fat deposits that are a result of the body's inability to use glucose, and it is inappropriately stored as fat. It has been theorized that this fat storage ability may have helped these easy keepers outlive their skinny herd mates. The ability to store fat while surviving on minimal amounts of feed is advantageous to a horse during drought or famine. Fatter horses would have had a better chance of survival and went on to reproduce.
Tips for Preventing Insulin Resistance in Horses
As the saying goes, "an ounce of prevention is worth more than a pound of cure".  Here are important  areas to manage:
More exercise: Insulin resistance and obesity is reduced by exercise, so any increase in exercise will be helpful. You need to keep horses at an ideal body condition. Frequently, body score your horse.
Manage hay and pasture: If you have a horse you suspect is or could become insulin resistant, select forages that have been analyzed and are known to contain low levels of sugars, and starches. Contrary to popular belief, grass forages are generally higher in sugars, starches and fructans than legumes such as alfalfa. However, legumes are higher in calories so need to be used sparingly. Forages with lower calorie levels are actually better for the insulin resistant horse because they can eat more of it throughout the day to avoid insulin dips and spikes without gaining too much weight. Don't allow obese horses to graze unrestricted on pasture, and time of day matters. During the day, the sugar content in the leaves and stems is the highest (the plants use the sugars for energy while trying to grow). Limit grazing time to overnight or early morning and strongly consider the use of a grazing muzzle if your horse must go out on pasture.  If possible, put your horse in a dry lot so they can be outside getting much needed exercise. The use of slow feeders in these areas or in stalls is really helpful to keep hay in front of horses as much as possible but helps limit how much and how fast they consume it.
Manage feed carefully: It is imperative that the insulin resistant or IR prone horse is fed low sugar and starch feeds, if needed at all. Any feeds or supplements should also be low in fat.   These horses already have impaired fat metabolism due to the high levels of insulin they secrete (insulin suppresses fat metabolism and supports fat deposition). Most IR prone horses are easy keepers and only need a good ration balancer (providing appropriate protein, vitamin and mineral levels) in addition to their forage diet.
Triple Crown Nutrition carries two products suitable for easy keepers: Triple Crown Lite and Triple Crown 30% Ration Balancer, both products are low in fat and low in starches and sugars while being vitamin and mineral dense.
With proper management and product selection, overweight or insulin resistant horses can live long healthy lives. Carefully monitor the diet for lower carb and calorie feed and forage options. Also, make sure exercise is a part of the program.
If you have any questions about what the best feed or supplement for your horse is, please contact us today, we'd love to help.