The Intercollegiate Dressage Association Experience (Part 1)
Posted | Tags: English, News, PRO, Riding, Training, Western, Youth
By: Triple Crown Insider- Sammi Majors
All during my grade school years, I admit that I scoffed at college team riders. We would have working students come to work at our barn over the summer who rode and competed for college teams. I would go to horse shows and see team riders from various schools and I would be so shocked. I had an idea in my head that if you rode for a college team, you should be the best of the best. With football, it's generally the best players that play for the school and I just assumed that's how it should be with riding teams as well. Granted, there are plenty of accomplished riders on college club sport teams, but there are just as many less experienced riders. The point of this back story is that I had made up my mind that college equestrian teams were ridiculous. I also made up my mind that I would never be part of one. When discussing college, many people asked if I would participate on an IDA or IHSA team and I made it clearly known that I would not. Well, never say never, because I joined the NC State IDA (Intercollegiate Dressage Association) team and that has been one of the best college decisions I have ever made!
So why did I change my mind and take part in something that I clearly had many objections to growing up. I am one of those college kids that is not able to have a horse with me at school for financial reasons. Luckily, I still have a farm full of horses back home, but I couldn't bring one with me. This meant going from working anywhere from two to eight horses a day and competing almost every weekend to virtually no riding. Clearly this was not an option, as I would be an incredibly unhappy person with no horses in my life. The solution? One of the three equestrian club sports here at NC State. I tried out for and joined the IDA team with many reservations. I told myself it might be awful, but at least I would be able to ride and smell like a horse once a week. Better than nothing, right?
Well, just let me say that shortly after joining the team, my opinions on collegiate riding teams quickly did a 180 degree turn. Collegiate riding teams really are not about the riding. Sure, you do get to ride and compete, but it is so much more than that. It's about the lifelong friends you make. It's about being part of a team, learning and growing together, and the unforgettable memories you make together. Trust me, when you are packed into a car at 5 a.m. traveling hours to a show, there are memories to be made. You are all there for each other during the highs and, even more importantly, the lows. IDA has helped me grow as a rider and, even more importantly, as a person. It is now something that I can't imagine not doing and encouraging other young riders to do as well.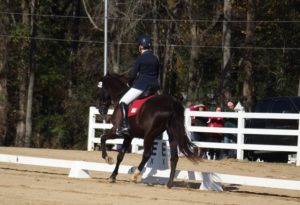 Check back in next month for more about IDA, how it works and tips to be successful in a different kind of show setting!
Sammi Majors is  from North Carolina. She enjoys dressage,  hunter hack, jumping, and driving.