The Intercollegiate Dressage Association Experience (part 2)
Posted | Tags: English, Events, Riding, Training, Youth

By: Triple Crown Insider- Sammi Majors
In my last blog, I discussed my personal thoughts and feelings on the Intercollegiate Dressage Association (IDA) and briefly what it means to me. This month, I will talk a little more about the mechanics of how it works and what makes it special. As a brief history, IDA originated in 1995 by a student of Mt. Holyoke College. She came up with the basic structure of the organization, point system, and team guidelines, most of which are still in use to this day. Initially, IDA was used by a handful of colleges and secondary schools. Fast forward to 2003 and IDA became a college only organization and has since spread throughout the United States and Canada.
So now to the fun part—talking about how the shows work! An IDA team consists of four riders, one at each level supported by IDA: Intro, Lower Training, Upper Training, and 1st Level. Ideally, there is a whole team from each school, but some schools are small enough that they cannot fill a whole team, so a larger team can fill in riders in the empty spots and have a mixed or scrambled team.
First thing in the morning, there are a coaches meeting and the horse draw. The coach or team captain draws a group of horses for their team to ride that day. Info sheets state basic info on the horses if you can use a whip or spurs on them, and a short blurb about the horse such as "Great draw!" or "Can be spooky if you do not keep connected and ride with your core."
Next is the first level horse warm-up or parade. Riders from the host school ride all of the horses in the arena for the competitors and coaches to see and analyze. The horses are asked to show all of the movements that are required in the test. This is a good way to find the horse you drew and watch it go to get an idea of what it will be like to ride for the test. After the first level parade and rides, the same format is followed down the levels for the rest of the show.
Each competitor is given a warm-up time and a ride time. Two-three minutes before your warm-up time, you're allowed to walk up to the horse and adjust your stirrups. Then at the appropriate time, you are allowed to mount. You are allowed a very strict and timed 10-minute warm-up to figure the horse and all of its buttons out before heading into the show ring. If by some chance they are running behind in the show area, once the warm-up steward yells time, you are only allowed to walk your horse around on a loose rein until you can go into the show arena.
While many people say that intercollegiate riding is all about "luck of the draw," this is not entirely true. While it certainly does help, the biggest factors are being a versatile rider and being able to adapt to the horse you are sitting on. In my brief two years of showing, I've seen the same horse competed by two different riders end up in first place and last place on the same day at the same show. IDA is certainly a humbling experience at times, but it is also great to be the rider that drew the "most difficult" horse and come out on top of the division for the day!
Lastly, at the end of the day are the awards! Awards are given to teams for their combined points and placings. There are also individual ribbons for each level, with an overall high score champion and reserve champion individual for the day. Additionally, each IDA region is guaranteed to qualify and send team to nationals each year, and one individual for each level.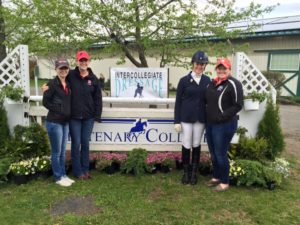 Did you miss Part 1 of The Intercollegiate Dressage Association Experience? Check it out now.
Sammi Majors is from North Carolina. She enjoys dressage,  hunter hack, jumping, and driving.