Is Horse Nutrition Important to You?
Posted | Tags: gut health, horse care, horse feed, horse management, horse nutrition, leaky gut, microbiome, Nutrition, ulcers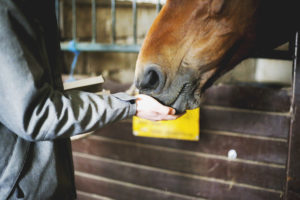 By: Eric Haydt, Triple Crown Feed
I ask this question because I often say, "Nothing clears a room like a talk on horse nutrition." I remember years ago, at an equine trade show, a well-known trainer at the time had a seminar area packed with what must have been 200 people. After him was a very well-spoken and knowledgeable PhD nutritionist. 8 people stayed. Personally, I made a horse nutrition presentation and was happy to have 20 participants but disappointed that the next speaker was discussing a new fly spray and the crowd doubled. Ok, I get it, horse nutrition can be boring. The big fact is that all horses need to eat to live, so shouldn't that be just a little important?
Your Horse's Nutrition is Up to You
Since you are stewards of your horse's well-being, you make all the decisions on what they eat. If they are just turned out without anything else to eat, you are still responsible to make sure there is enough pasture, the correct type of grass is planted, and that the pasture is well cared for. If you're adding hay to the diet, you choose the type, quality and quantity of hay fed. If feed is added to the diet, you need to choose what and how much to feed. Even if you board your horse, you should take an interest in what the barn does and make adjustments as needed. Knowing the basics of horse nutrition is required for all of these decisions.
There is a lot of information on the internet and equine publications cover the basics of horse nutrition pretty well. Some of it can be conflicting and some ideas are based solely on personal opinion and not necessarily science. Feed companies can compound the problem by offering more and more different feeds that aren't really different. Then there is the issue of just not having enough research on horses to have all the answers. So you want to get educated, wisely.
The Future of Horse Nutrition
In the future, you will hear even more about the the horse's microbiome and leaky gut syndrome. Both involve the health of the whole digestive process of the horse, not just the stomach or hindgut. Everyone has heard of colic and ulcers. They directly affect the microbiome, which enhances leaky gut, which negatively effects digestive health. Digestive health influences body condition, hoof and coat condition, attitude and immunity to name just a few. Then there is the question on how we can improve other issues like metabolic disease and allergies with a healthier microbiome.
If you'd like to learn more about horse nutrition, please contact us today. We'd love to help and your horse will thank you!
About the Author:
Eric Haydt, RAS
Triple Crown Nutrition, Inc.
Eric graduated in 1977 from the Pennsylvania State University with a BS in Accounting, but went immediately in a different direction.  Since graduating he has worked in all areas of the feed industry exclusively, including manufacturing, sales, marketing and management primarily in the equine environment.  He is currently retired from Triple Crown Nutrition but has been involved from the inception in the Triple Crown feed line, is a member of the American Association of Professional Animal Scientists and a horse owner for 20 years.  Eric and Triple Crown are dedicated to staying on the cutting edge of equine nutrition to provide the newest innovations and the healthiest diets for our equine companions.