Is Your Horse an Escape Artist?
Posted | Tags: Health, Training
By: Lauren Ross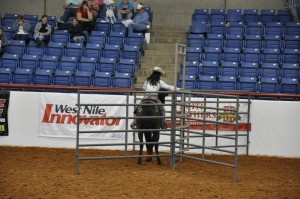 Having a behaved horse means being an aware horse owner. It might seem cute or funny when your horse opens the door for you, but unless that is a trained cue or trick, it can be dangerous to you and other riders. Having a pushy horse that gravitates to the arena exit (aka gate) is an annoying and bad habit that can be broken.
The Key Is Keeping It Simple
At the beginning of every lesson, I have each student laterally flex his/her horse in the arena, away from the gate, and let the horse standstill. Once relaxed for a few minutes, the horse is allowed to move about the arena. We never stop or rest our horses at the gate at any time during a lesson. *If your horse clings to the gate, then make him work or hustle at the gate to make that location undesirable. At the end of each lesson, we repeat the exercise. To test the attention and leadership of each rider, I generously open the gate and leave my students in the arena with the gate wide open and horses standing quietly, away from the gate. Another exercise that can be used for more opinionated horses is to back the horse out of the gate. While improving the horses' back up, it gets to think he is still making the decision to end the session, and we let him think that.
Your horse will find reward in resting anywhere you offer rest. It is important to give your horse a break throughout arena work and mix up how much time you spend in the arena and what you do so your horse finds pleasure in being with you.
Remember your horse will perform to your grade scale. Be aware!
Lauren Ross Horsemanship