Is your horse getting the most from your forages?
Posted | Tags: Nutrition
Paul Sirois, MS, PAS,  Manager, Equi-analytical/Dairy One Laboratories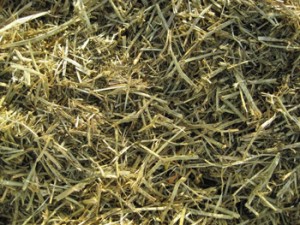 Ask any horse owner what's the protein content of their purchased grain and it's guaranteed that they'll know the answer without a second thought. Now ask them the protein content of their hay. Maybe 1 in 20 will know the answer. Forages usually make up more than 50% of the diet and it's a crime that horse owners have the least amount of information about the feed that makes up the greatest part of the ration.
Determining The Nutrient Content Of Your Hay 
Commercial forage testing laboratories have been offering this service since the 1970s. Forage analysis is a mainstay of the dairy industry. Forages are routinely analyzed as dairy producers try to balance diets to optimize milk production and herd health. Beginning in the 2000's, horse owners began analyzing forages as they strove to offer better balanced diets. Of particular interest, were owners of horses with metabolic challenges such as sensitivity to carbohydrate levels.
Forage Quality 
Forage quality is determined by species (legumes vs. grasses), stage of maturity at harvest, fertilization, environmental conditions, weather, harvest and storage management practices. These factors sum to determine overall forage quality with species and stage of maturity at harvest generally having the greatest impact.
Hay Analysis 
The analysis process begins with taking a representative sample at the farm. Hay should only be sampled using a Penn State hay probe or similar instrument. The probe is attached to a household electric drill and core samples are taken by drilling into the center of the bale. To obtain a truly representative sample, you must core 12 to  20 bales. Individual bales will vary in quality and only by sampling multiple bales will you get a true picture of overall quality in the lot of hay. While some owners may purchase a probe to collect a core sample themselves, there are other options. You can contact your local feed store to see if they offer the service or get in contact with a feed rep who can help obtain a sample for you. Another option is to check with your local extension office. Some offices may loan out a hay prove for people to use.
Hay Samples 
Resist the temptation to grab one sample of hay. Grab sampling involves grabbing a handful of hay from the center of the bale. Typically, grab sampling will result in a greater proportion of stemmy material at the expense of finer, leafier material. Leaves are higher in nutrient value than stems, thus a misrepresentative stemmy sample will yield an analysis that shows the hay to be poorer in quality than it actually is. This may result in unnecessarily supplementing the diet with unneeded nutrients resulting in a nutrient imbalance.
Pasture Samples 
Pasture samples should be composed of multiple subsamples chosen from 12 to 20 locations where there animals have been grazing. Sample only the material that the horses have been eating, e.g., don't include thistles in the sample if the horses aren't consuming them. Clip the grass with scissors at grazing height. For example, if the grass is 10 inches tall and the horses are eating the top 7 inches, clip a handful of grass 3 inches above the ground. Repeat this process for 12 to 20 locations throughout the pasture collecting your samples in a clean plastic bucket. Cut the clippings into 2 inch pieces, blend together and take a 1 lb. (1 full quart size ziplock bag) composite sample to submit for analysis. To prevent compositional changes, freeze immediately or microwave dry the sample.
Hay or microwave dried pasture samples are stable and require no special shipping considerations. Frozen pasture samples should be shipped overnight or using a 2 day service and packed with ice.
You've now taken the first step to determining how well your horse's nutrient needs are being met by your forages. Proper sampling is the first and most critical step in the analysis process. A poorly taken sample will lead you to draw the wrong conclusions about your forages, make improper dietary adjustments, and create potentially costly or harmful nutrient imbalances.
The next step is interpreting your results and putting the information to work. Future articles will address and help you understand your forage analysis results.