Jan Brons Adds Another Feather to His Cap with Triple Crown® Dressage Excellence Award
Posted | Tags: Adequan Global Dressage Festival, English, Events, horse shows, Performance Horse, Riding, Triple Crown Nutrition, United States Equestrian Federation, Wellington
For Immediate Release:
Contact: Kelly Payne
800-451-9916
Jan Brons Adds Another Feather to His Cap withTriple Crown® Dressage Excellence Award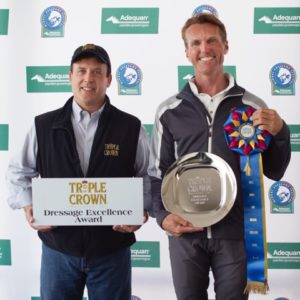 Wellington, FL (date, 2017) – Accomplished dressage rider, trainer, and USDF Bronze, Silver, and Gold medalist Jan Brons is certainly an ideal recipient of any award that honors commitment, contributions, and achievements in the sport of dressage. Triple Crown® Nutrition, which has been honoring select riders with the Triple Crown Dressage Excellence Award throughout the 2017 Adequan® Global Dressage Festival in Wellington, Florida, recently presented Brons with the award during the prestigious winter show series. Brons received a tri-color ribbon and engraved silver tray in recognition of his achievements within the sport.
A longtime competitor and trainer, Brons is no stranger to awards and recognition for his bountiful contributions to the sport at large. He notably became the first winner of the $25,000 Carol Lavell Advanced Dressage Prize, bestowed by The Dressage Foundation, in 2009. In 2014, Ann-Louise Cook, a successful Wellington-area realtor, and dressage competitor, awarded Brons the Cook's People's Choice Award, which recognizes riders that exhibit exemplary sportsmanship, horsemanship, and performance.
Brons grew up in Holland and began riding at an early age. No one in his family had any kind of equestrian connection, but when Brons was about 10 years old, his mother told him he had to participate in something – a sport or a hobby – besides schoolwork. Brons chose to ride. He started taking lessons at a nearby riding school and eventually started mucking stalls and grooming horses to ride even more. "It just kept evolving, and at 15 I got my first horse," he said. After high school, he entered the Dutch national equestrian college at Duerne.
After he finished at Duerne, Brons decided to try out the equestrian life in North America. In 2001 he started his own training business and finally made Florida his home about 10 years ago. His horses in training range from green to Grand Prix and he teaches riders at all levels. He also teaches clinics throughout the United States, and this year will be traveling to Europe.
"Some days you may work only on the basics. I am after the quality of the exercises and the basics must be addressed and intact before moving on," Brons explained. "You have to be willing to not be in a hurry."
Brons maintains that ultimately, the key to success as a trainer is to treat each horse as an individual in every aspect, from overall management to training to feeding regimen. "You try to do the best for each horse you ride by treating them individually, but the end goal is obviously the same. 'How do I get there with this horse?' then becomes the question, and depending on the horse, the answer can be different," observed Brons.
Triple Crown Nutrition prides itself on offering a wide range of feeds and forages tailored to suit the individual needs of any horse. Triple Crown uses revolutionary formulations and premium ingredients and was the first company to add prebiotics, probiotics, and organic minerals to horse feed. Based in Wayzata, Minnesota, Triple Crown is the official feed sponsor of the U.S. Dressage Team, the Land Rover U.S. Eventing Team, and the Hermes U.S. Show Jumping Team. Triple Crown is also an official sponsor of the 2017 Adequan Global Dressage Festival and is supporting the White Fences Equestrian Center, Wellington Classic Dressage, and the Gold Coast Dressage Association in Wellington this winter.
To learn more, visit the company's official Facebook page or Instagram @TripleCrownFeed, call 1-800-451-9916 or visit www.TripleCrownFeed.com.  Please direct specific inquiries about Triple Crown Florida to Craig Bernstein at 561-543-4526.
Photo: Triple Crown Florida Representative Craig Bernstein presented Jan Brons with the Triple Crown Dressage Excellence Award at the 2017 Adequan Global Dressage Festival (Photo courtesy JRPR )