Kaeli Dressler Wins The Triple Crown® Excellence Award At The IAHLA Nationals
Posted | Tags: Dressage, English, horse shows, News, Nutrition, Performance Horse, Tc Stories, Training
For Immediate Release
Contact: Kelly Payne
Triple Crown Nutrition
(800) 451-9916
kpayne@triplecrownfeed.com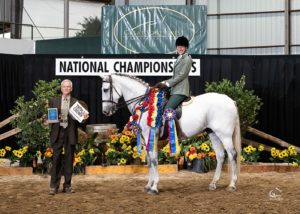 2018 International Andalusian and Lusitano Horse Association Nationals Ends on a Good Note for Kaeli Dressler by Winning the Triple Crown® Excellence Award
Katy, TX (November 6, 2018)— When riding a horse who was bred by Music City Andalusians, it's no wonder Kaeli Dresser ended the 2018 International Andalusian and Lusitano Horse Association (IALHA) National Championships on a good note. During the 5-day competition, she and her 12-year-old Spanish Andalusian gelding, Jeque MC (Rendondo V x Lirica MC) competed in nine different classes, winning three national championship titles, including their last ride of the show, English Pleasure Hunt Seat Open. The ride also earned the pair the Triple Crown® Excellence Award. "Jeque and I competed in one in-hand gelding halter class, several dressage and hunt seat/hack classes, two pleasure driving classes and one drive-to-ride versatility class," Dressler describes. "It usually takes Jeque a class or two to settle into the rhythm of a show. He often starts out sensitive and a little uptight. The class in which we received the Triple Crown Award was our last of the show and he was relaxed and going really well."
The IALHA National Championships took place at the Great Southwest Equestrian Center in Katy, Texas on October 9-13. Every year, this 5-day extravaganza celebrates and showcases the versatility of the Iberian horse. By competing in such a diverse array of classes, Dressler and Jeque provided the perfect example of what these noble breeds are capable of. Dressler explains, "I purchased Jeque with the intention of learning dressage together, and I've ended up doing a little of everything with him." "He was put to harness earlier this year and this was his first show as a pleasure driving horse. So the drive-to-ride versatility class, in which we took the championship, was a particular highlight for me." Dressler goes on to describe this exciting class, "Entries enter the ring being driven, and after being judged in both directions, change tack in center ring (with the assistance of two grooms). The grooms remove the carriage, contestants mount and are then judged under saddle in both directions. It was really fun and definitely demonstrates the versatility of the horse!" Dressler is also committed to improving her own fitness as a rider and understanding more about how her own body mechanics affect Jeque's performance.
It is Dressler's dedication and commitment to excellence that Triple Crown Nutrition was proud to recognize with the Triple Crown Excellence Award. Dressler is excited to continue working and winning with Jeque and plans to add products such as Triple Crown's Low Starch pelleted feed and Safe Starch® chopped forage to enhance his nutritional health.
Triple Crown Nutrition is committed to honoring horses and riders like Jeque and Dressler. The company is based in Wayzata, Minnesota and was the first company to add prebiotics, probiotics, and organic minerals to horse feed. Today, Triple Crown continues to produce the very best in equine nutrition with revolutionary formulations and premium quality ingredients.
To learn more about Triple Crown, the official feed sponsor of the U.S.
Dressage Team, the Land Rover U.S. Eventing Team, and the Hermes U.S.
Show Jumping Team, go to www.TripleCrownFeed.com, call(800) 451-9916 or visit the company's Facebook page or Instagram @TripleCrownFeeds.
-30-
Photo: Kaeli Dressler and Jeque MC all smiles receiving their Triple Crown Excellence Award. (Photo courtesy of Genie Images)