Triple Crown Nutrition Salutes Kasey Perry-Glass and Dublet
Posted | Tags: Adequan Global Dressage Festival, Dressage, English, Events, horse shows, Kasey Perry Glass, News, Performance Horse, Sponsored-rider, TRYON2018, U.S. Dressage Team, United States Equestrian Federation, WEG, World Equestrian Games
For Immediate Release
Contact: Kelly Payne
kpayne@triplecrownfeed.com
(800) 451-9916
www.triplecrownfeed.com
Team Silver at the World Equestrian Games-  
Triple Crown® Nutrition Salutes Kasey Perry-Glass and Dublet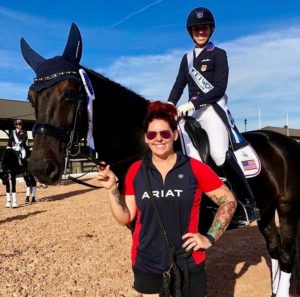 Tryon, NC (September 27, 2018) – Kasey Perry-Glass proves that consistency and details make dreams come true. Helping Team USA win the Silver Medal at the World Equestrian Games, held at the Tryon International Equestrian Center from September 11-23, 2018. Powered by the detail-oriented team at Triple Crown Nutrition, this duo proved they are here to stay.
Perry-Glass rode Diane Perry's 15-year-old Danish Warmblood gelding (Diamond Hit x Ferro), Goerklinktgaards Dublet. "He's (Dublet) a spectacular horse, so I feel very lucky to be on him," said Perry-Glass of her bond with this special black horse. Perry-Glass and Dublet where a part of the Bronze Medal winning Olympic team in 2016, and this years CDIO 5* Aachen team.
Competing on team day with the Grand Prix, Perry-Glass scored an outstanding 76.739% from the panel of international judges. Coming up on the second day of competition, the Grand Prix Special, Perry-Glass garnered a 78.541% to finish sixth in the world. "It felt great," said Perry-Glass. "He was 100 percent in warm-up, and I really felt like he brought the power and everything that we were looking for in the test."
Perry-Glass also has Triple Crown Nutrition along with her every stride the way, because when it comes to meticulous attention to details, the official feed sponsor of the US Dressage Team, US Eventing Team, and US Show Jumping Team understands the importance of tailoring feeds and forages to the unique requirements of equine athletes like Dublet.
Using revolutionary formulations and premium ingredients, Triple Crown is recognized as a leader in equine nutrition and was the first to add prebiotics, probiotics and organic minerals to horse feed.
Learn more and visit the official Triple Crown Nutrition Facebook page or Instagram account @TripleCrownFeed, call toll-free (800) 451-9916, or visit www.TripleCrownFeed.com 
-30-
Photo: Kasey Perry-Glass with super groom sister, Holland posing with Dublet before the awards ceremony to accept their Silver Medal. (Photo courtesy of Kasey Perry Glass)