It Takes Two- Kasey Perry-Glass and Dublet Score Dual CDI Wins at Tryon International Equestrian Center
Posted | Tags: Dressage, English, horse shows, Kasey Perry Glass, News, Performance Horse, Riding, Training, U.S. Dressage Team, United States Equestrian Federation
For Immediate Release
Contact: Kelly Payne
kpayne@triplecrownfeed.com
(800) 451-9916
www.triplecrownfeed.com
It Takes Two- Kasey Perry-Glass and Dublet Score Dual CDI Wins at Tryon International Equestrian Center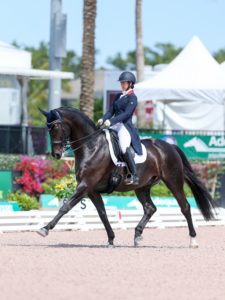 Tryon, NC (April 30, 2018)— Olympic Bronze Medalist Kasey Perry-Glass proved that it takes just two wins two very definite CDI wins- to prove the pair is on track for making the 2018 World Equestrian Games team. "He feels better than he has ever felt," said Triple Crown Feed's sponsored rider Kasey Perry Glass about the 15-year-old Danish (Diamond Hit x Ferro) Warmblood gelding, Goerklinktgaards Dublet, following victories on Friday (73.935%) and Sunday (75.830%) in the FEI CDI3* Grand Prix and FEI CDI3* Grand Prix Special during the FEI World Equestrian Games™ Tryon Test Events, April 20-22, at Tryon International Equestrian Center in North Carolina.
It was the Triple Crown rider's first time competing at Tryon International Equestrian Center, which will host the FEI World Equestrian Games™ this September 11-23. "It's amazing. I think this place is world-class," she said. "I love it here."
That loving feeling was reciprocal: four out of the five CDI3* Grand Prix judges awarded Perry Glass and her 2016 Olympic Bronze medal mount scores in the 70's, including Anne Gribbons (USA), who gave the dynamic duo a 77.174% for their effort. In the CDI3* Grand Prix Special two days later, they earned unanimous 70's across the judging panel, including scores of better than 77% from Luxemborg's Christof Umbach and Germany's Katrina Wuest, and better than 75% from Gribbons and Lee Tubmann of Canada.
"He's (Dublet) a spectacular horse, so I feel very lucky to be on him," said the FEI World Cup™ Final veteran, who is tailoring their competitive strategy towards a summer tour in Europe and paying "meticulous" attention to the details in their training. "That's where his points are going to start coming up, because he can do every movement. His pirouettes have gotten solid. His piaffe, passage is really correct and good. He knows what he's doing. It's just preparing him for it and that's where I have to get on myself for that."
She'll also have Triple Crown Nutrition along with her every stride the way, because when it comes to meticulous attention to details, the official feed sponsor of the US Dressage Team, US Eventing Team, and US Show Jumping Team understands the importance of tailoring feeds and forages to the unique requirements of equine athletes like Dublet.
Using revolutionary formulations and premium ingredients, Triple Crown is recognized as a leader in equine nutrition and was the first to add prebiotics, probiotics and organic minerals to horse feed.
Learn more and visit the official Triple Crown Nutrition Facebook page or Instagram, call toll-free (800) 451-9916, or visit www.TripleCrownFeed.com.
-30-
Photo: Kasey Perry-Glass and Dublet take home the win proving they are ready for the WEG test. (Photo courtesy of Sue Stickle Photography)
(For a higher resolution photo, email staffwriter@jrprnews.com)