Keep Your Barrel Horse Healthy & Fit For Peak Performances
Posted | Tags: Training
By Holly Ricotta
Barrel Racing Champion, Holly Ricotta, Discusses Some of Her Secrets To Staying In The Winner's Circle
There's no question that barrel racing is one of the most demanding of all equestrian sports. Both horse and rider must be extremely athletic, sharp-minded and highly dedicated. Anything less leaves both horse and rider vulnerable to soreness and injury. This could result in both short-term lameness problems and long-term training issues. Horses that experience excessive bouts of soreness and pain, due to improper training routines, often become sulky and resistant. Don't let these kinds of problems take you out of the winner's circle. By understanding the right way to train your barrel horse, you can foster an enthusiastic, winning attitude while minimizing potential injury.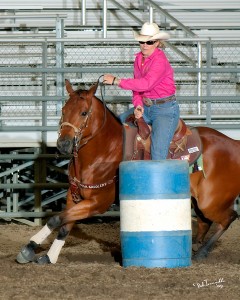 Frequent Exercise
The first thing I always touch on is the importance of warming up and cooling down properly. Neglecting your horse's basic need to warm up and cool down, especially before and after barrel racing workouts, could leave you, at the very least, with a sore horse. Potentially far more serious consequences include injuries such as torn ligaments and bowed tendons. The more time you invest in your horse's prep and post-work care, the better chance you have of extending your horse's career.
One of the best ways to keep barrel racing fun is to practice frequently enough to get your horse fine-tuned, without going overboard. When teaching my horses the barrel pattern, I first walk the horse, then trot and finally lope through the pattern a few times. Once a horse has learned the pattern, they don't tend to forget. Remember, less frequency means more enthusiasm. Run your horse too much, and she/he may become a barrel burn-out.
Break up your horse's training with plenty of flat work to build stamina and strength. I recommend working your horse on the flat for approximately 30 to 45 minutes, 3-4 times per week. I'm a big believer in walking, trotting and loping in both directions, as well as circles and bending. Transitions up and down are also important at these gaits, as they really help you and your horse work together in a more balanced manner. These basic exercises literally create the groundwork that will allow your horse to bend around barrels with increasing finesse. When riding in the arena, remember to work your horse equally to the left and right at all gaits. But, don't be repetitive. Keep things fresh! And remember, when teaching your horse something new, keep things relatively brief. Little improvements and big rewards always yield the best results.
Practice backing your horse up, for several steps, as well as doing rollbacks at the trot and lope. This will teach your horse how to really engage his hindquarters and listen to your leg. Whirlwind-style circles are also great exercises for building flexibility and strength. Start at the walk and then increase to the trot and lope as you and your horse grows more comfortable.
Now, it's not only important to vary your horse's work routine, but it's also critical that he/she sees new scenery as often as possible. Whether you mix it up by going away to horse shows, riding on long trail rides or switching arenas, keep your riding routine as creative as possible. And, it never hurts to give your horse a day or two off, every week. This will help keep him engaged and ready to work.
It Takes More Than Great Training To Cultivate A Great Horse
Keeping your horse fit and keen to work is critical to the successful barrel racer. But, without the right farrier, your horse might not be up to the task. A good farrier will make sure your horse's hooves are both level and the correct angle. If you don't already have a great farrier, talk to your veterinarian, trainer or local tack store. And, do your homework! Don't just take the word of 1 or 2 people. There's nothing worse than waiting for poor quality, horseshoeing job to grow out.
Having an excellent veterinarian is also critical. Your horse requires regular worming and shots, as well as consistent health checks, to minimize medical issues, head on. It's also smart to discuss your horse's nutrition with a knowledgeable nutritionist or feed rep. Make sure you're feeding good quality hay in the proper amounts. Ideally, a horse should get 1-2% of its body weight in forage, per day, I also feed my horse's electrolytes and a joint supplement, which may not be needed for every horse. I feed my horse's Triple Crown Senior. It's a high fat, high fiber, low starch and sugar feed that delivers the essential calories my horses need. It provides enough energy to keep them working and the endurance they need. My horses stay responsive without making them too hot to handle.
Another important consideration is your horse's access to round-the-clock, fresh, clean water. I prefer water buckets, so that I can monitor water intake, closely. Proper water consumption is considered critical to a horse's digestive health and may help minimize potential risks such as colic and laminitis.
I Never Get Tired, Talking About Barrel Horses
I've been around horses since I was 5 years old and after more than 30 years as a dedicated horsewoman, trainer and avid barrel racer, I've been fortunate to ride, compete against and learn from the best. Whether you're a long time rider or brand new to barrel racing, I hope you've learned something new. The bottom line? By following these tips, you'll be giving your barrel horse the world's greatest gift. The chance to enjoy a long, happy and productive life as your racing partner and friend.
Holly Ricotta is a Multi Champion Barrel Racer, having won such honors as: Cow Palace Grand National Reserve Champion, HollyWood Charity Show (5 years consecutive Championships), the NBHA Summer Sizzle Champion and a CPF Olympics Silver Medal. She has been a professional Barrel Racer for over 3 decades, as well as a Barrel Racing trainer and clinician. She currently competes on the NBHA racing circuit.