When to Call the Vet in a Medical Emergency
Posted | Tags: Health, horse care, horse management
Knowing Basic Equine & Human First Aid Is Also Critical In Equine Emergencies
Horse owners can handle many equine emergencies; however, a vet should be called for serious situations. If a rider is also injured, Emergency Medical Services should be contacted as well.
Rules To Follow
Always carry a first aid kit
Always carry your vet's phone number
Know where you are! Be able to give specific directions to responders
Provide your name, circumstances and number you are calling from
Provide the type of accident and level of seriousness
Provide a number, age and gender of any humans affected
Be able to take and provide vital signs of humans and horses
Be aware of environmental factors such as power lines, ravines, snow, ice, swamps, etc.
Once you call an EMS, keep the line free for call backs
Know what equipment and resources are available locally, including straps and ropes for lifting, tractors, front-end loaders, etc.
Know how to remove a horse from a mud hole or swamp
Know how to construct a sling and place it on a horse
When Should I Call the Vet?
If the horse is in a serious situation, in severe pain or suffers from colic, call the vet immediately. It is impossible to predict which emergency requires veterinary care, but there are a few guidelines. Use common sense. Be guided by the needs of the horse, not the financial cost, and if in doubt, CALL.
Strains and Sprains
Strains and sprains are common injuries caused by slipping or falling, stepping in a hole or over-working. The horse will be lame and there may be heat, swelling and some tenderness in the area. Use cold cloths or hose the leg with cold water and allow the horse to rest for a couple of days. If he is still lame after two days, call the vet.
Wounds
Apply the three C's‰Û- clean, clot and cover.
A wound that is less than 6-8 hours old, gone through the skin and gaping is a candidate for suturing
Any wound near a joint or at the rear of the leg (tendon sheath) should be evaluated by a vet, as it can be crippling
Excessive bleeding that does not stop with compression or bandaging
Puncture wounds can be very serious and can cause extensive internal injury even though they are visibly small
Colic
Colic means pain in the abdomen,‰Û and must be taken seriously. It can range from mild discomfort to being fatal, so always call the vet. A colicky horse should be loaded into a trailer, ready to be driven to the vet. Most horses will have a bowel movement in the trailer. If he doesn't within a short period of time, it is cause for concern. Your horse is already loaded and ready to be transported so take him to the vet.
Lameness
A horses' foot is the most vulnerable part of his body and is subject to injury‰ÛÓfrom stone bruising, abscesses in the hoof to sprains, strains or fractures. Take all lameness seriously. A resting horse will often cock one of his rear legs and rest the toe of one hoof on the ground. When approached, he will flatten the foot and stand normally. If the horse does not flatten his foot, or if there is obvious pain or can stand only on three legs, notify the vet. The saying goes, no hoof, no horse!‰Û
Choke
Choke happens when food gets stuck in a horse's throat. Most times, the situation will resolve; however, it may also indicate an underlying problem so notify the vet.
Prevent the horse from eating or drinking anything
Gently massage the left side of the neck to help dislodge the obstruction
Flush the horse's throat with warm water to attempt to dislodge softer obstructions
Keep the horse calm
Lower his head to encourage saliva to drain
Keep the horse standing or moving
Foaling
Notify the vet when foaling begins in the event something goes wrong. He will be on the alert to attend if necessary.
Abscesses
Abscesses are infections of the sensitive tissue of the hoof caused by bacteria that has entered the hoof. If not drained, they can travel up the foot and rupture at the coronary band. Treatment includes soaking the foot in warm Epsom salts to draw out infection. A compress soaked with warm water and Epson salts can be applied to the bottom of the hoof, taped into place and changed every day until it drains. If it does not drain on its own, a vet will need to open it up to drain. Once the abscess drains, lameness usually subsides.
What is Normal?
As part of a daily routine, every horse should be checked from the hooves up and from the croup forward for signs of injury or illness. Check vital signs at each exam to know what is normal for your horse.
Heart Rate- approximately 30-40 beats per minute
Respiration- between 12 and 20 breaths per minute
Body temperature- between 99.5 and 101.5 degrees F
Hydration (capillary refill)- less than 2 seconds
Hydration (pinch test)- less than 1 second
Intestinal- assorted sounds and gurgles, squeaks, murmurs and scrapings on both sides
What Should you have in a Barn First Aid Kit?
– digital thermometer
– good quality antiseptic
– wound gel
-cotton pads (4ÌÑ4)
– Heavy wound dressings
– cotton bandage wrap
– stretchable top-bandage (Vetrap)
– good quality scissors
– flashlight]
– chemical cool-pack & hot packs
– several small, clean bowls to dilute antiseptic
– a yard sprayer‰Û for flushing wounds
– lots of bandages
– wire cutters
– clean towels
– a twitch
– shoe removal equipment
– disposable diapers
– duct tape
– medial tape
– table salt
When you are on the trail, you won't be carrying the amount or variety of supplies in your saddlebag.
For the Trail Kit:
-Take lots of bandages, pads, Vetrap, hoof pick, scissors, cool pack, wire cutters, duct tape, diaper, bottled water, flashlight, and shoe-removal tool. Don't forget the a cell phone!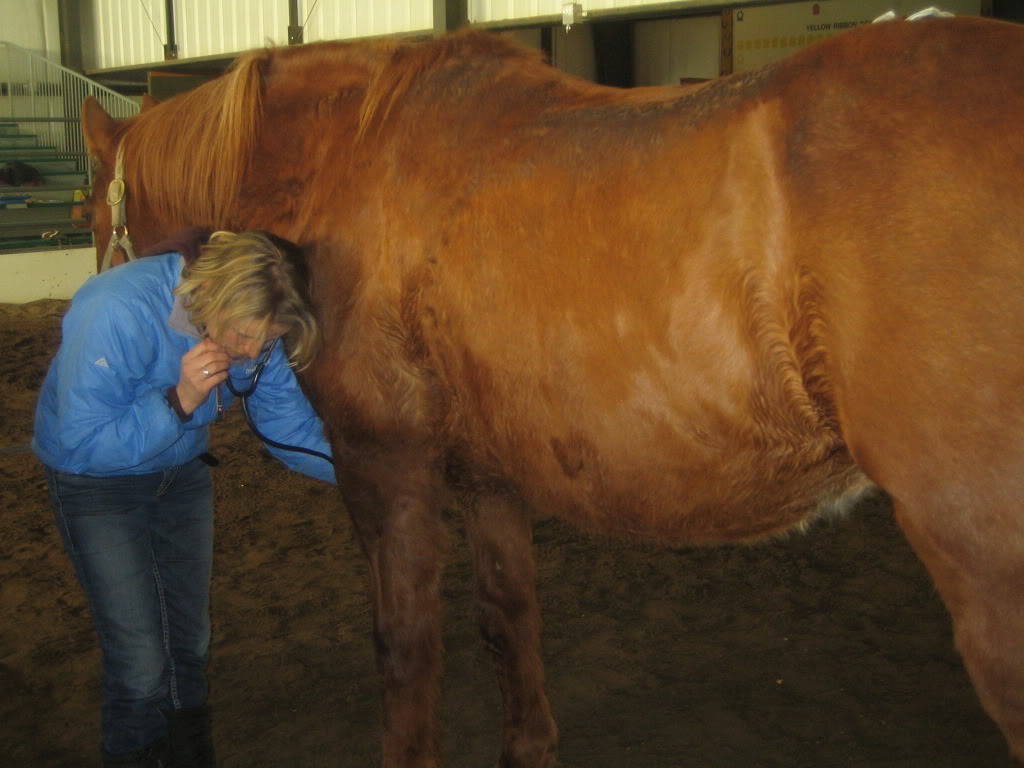 References from Equi-Health Canada Equine Emergency First Aid Manual
Equi-Health Canada is an organization dedicated to helping Canadian horse owners and lovers improve the health and safety of horses by providing emergency first aid training to individuals, clubs, and organizations across Canada.