Learn Why Beet Pulp Based Horse Feeds Are Great For Your Horse.
Posted | Tags: Health, Nutrition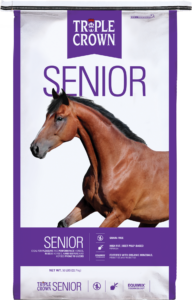 By: Eric Haydt
Over recent years, shredded beet pulp has become an increasingly popular ingredient in horse feed for many reasons:
• Beet pulp is referred to as a "super fiber" due to its high digestibility and ease of fermentation, making it very beneficial to the horse's digestive system.
• Shredded beet pulp-based feeds help provide additional fiber length, often referred to as "scratch factor," which is lacking in many alternative fiber sources and explains why shredded beet pulp is preferred over pelleted beet pulp in equine diets.
• Beet pulp has about the same calorie content of oats—around 1,100 calories per pound.
• Due to the addition of oils and molasses in beet pulp-based feeds, it eliminates the need for soaking. However, soaking feed is an excellent way to provide more hydration to your horse and make a nice warm mash.
• Using nutritionally balanced manufactured feeds containing beet bulp helps complete any vitamin and mineral deficiencies beet pulp by itself is lacking.
• Beet pulp has an average NSC of around 12%. A beet pulp-based feed is much lower in overall NSC compared to a grain-based feed, making it a healthy option for any horse.
With the horse industry focusing on lowering nonstructural carbohydrates in equine diets, beet pulp, with its good calorie content and ease of fermentation, is an excellent ingredient for formulating high fiber, low carbohydrate diets. Beet pulp-based diets can benefit not only older horses, but also horses suffering from gastric ulcers, respiratory issues, metabolic diseases and many other feeding issues. For horses with poor quality fiber sources, beet pulp-based feeds can provide a consistent, cost effective and convenient forage alternative. Triple Crown has been the leader in providing beet pulp-based feeds for over 25 years, please check out our beet pulp based feeds here.