Letter From Our Founder
Posted | Tags: Fixed Formulas, Quality Feed, Triple Crown Nutrition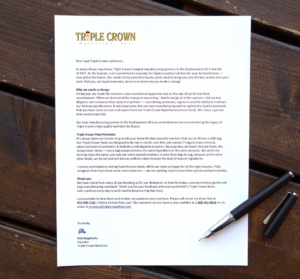 Hear from our founder, Rob Daugherty, on our continued commitment to ensuring the highest quality nutrition for your horses. 
Click here to view and print the PDF.
Dear loyal Triple Crown customers,
As many of you may know, Triple Crown changed manufacturing partners in the Southeastern US in the fall of 2017. As the founder, I am committed to ensuring the highest-quality nutrition for your beloved horses — now and in the future. Our small, family-owned company works hard to bring you only the best and to earn your trust. And you, our loyal customers, deserve to know why we made a change.
Why we made a change
Simply put, we made the move to a new manufacturing partner due to the sale of our former feed manufacturer. When we learned of the change in ownership, I had to weigh all of the options. I did my due diligence and reviewed other potential partners — considering processes, approach and the ability to maintain our formula specifications. It was imperative that our new manufacturing partner uphold the quality standards that you have come to trust and expect from our Triple Crown fixed-formula horse feeds. We chose a partner that could ensure this.
Our new manufacturing partner in the Southeastern US is as committed as I am to maintaining the legacy of  Triple Crown's high quality well into the future.
Triple Crown Fixed Formulas
It's always been our mission to provide your horse the best possible nutrition that we can fit into a 50lb bag.  Our Triple Crown feeds are designed to be low in starch, corn free and contain 7 organic trace minerals, advanced levels of prebiotics & probiotics and digestive enzymes. Because they are fixed- formula feeds, the recipe never varies — every bag always contains the same ingredients in the same amounts. But while the formula stays the same, you may see some natural variations in color from bag-to-bag, because unlike some other feeds, we do not and will not use artificial colors to mask the look of natural ingredients.
I remain committed to making fixed-formula feeds. While we made a change for all the right reasons, I fully recognize there have been some inconsistencies in appearance — we are working hard to solve them quickly and permanently.
Thank you
We have heard from many of you thanking us for our dedication to fixed formulas, uncompromising quality and high manufacturing standards. Thank you for your feedback and continued belief in Triple Crown feeds. I will continue every day to work hard to keep earning that trust.
I am available to help listen and resolve any questions you may have. Please call me on my direct line at  952-905-2182; I'd love to hear from you! Our customer service team is also available at 1-800-451-9916 or via email at answers@triplecrownfeed.com
Sincerely,
Rob Daugherty
Founder
Triple Crown Nutrition