What To Look For When Purchasing An OTTB
Posted | Tags: English, horse care, horse shows, OTTB, Performance Horse, Sponsored-rider, Tc Stories, Thoroughbred, Training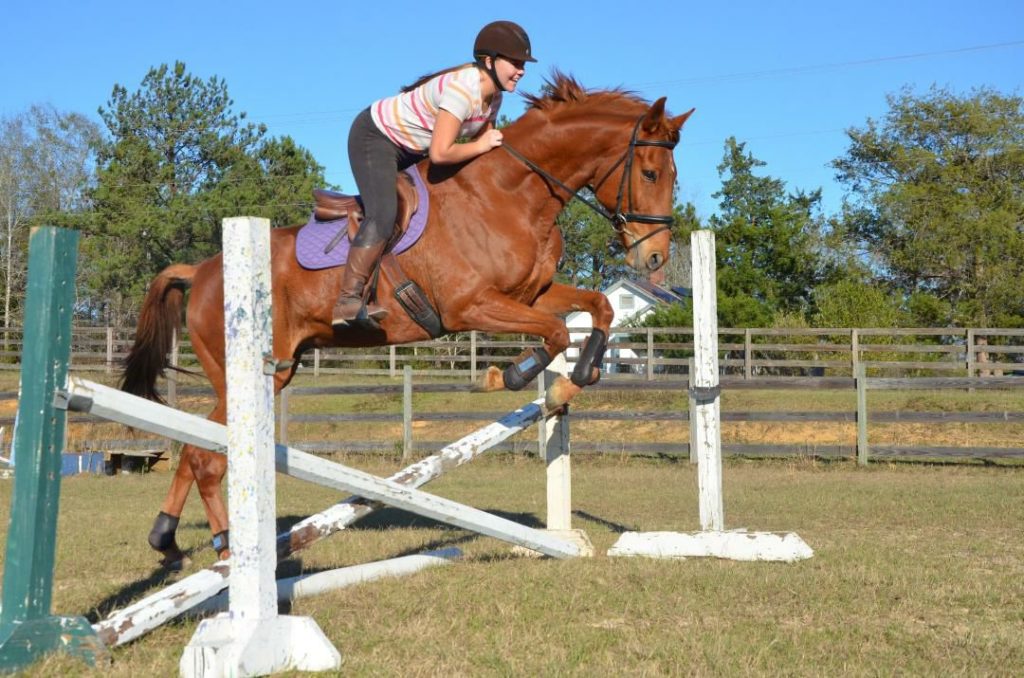 (Danielle riding her OTTB- Royal Letters) 
By: Triple Crown Insider- Danielle LaMarre
So, you're interested in buying an Off-the-Track Thoroughbred (OTTB)? There are many pros and cons to purchasing a horse off-the-track, but in the end, the experience is priceless. Thoroughbreds teach riders many valuable lessons that can be used throughout their riding careers. The most valuable lesson I learned with OTTBs is PATIENCE! OTTBs tend to be very sensitive and delicate, which is why it is important to have some experience with them or have help from someone who does. If you don't have much experience purchasing horses off-the-track, I highly suggest finding a knowledgeable trainer that can help you. When you are looking at OTTBs, there are a lot of things to keep in mind:
Good Mindset
In my opinion, this is the most important factor when buying a horse, especially if you're looking to resell. If the horse doesn't have a good mind, he will be difficult to train. Bad rearing and bucking habits are definite "No's" in my book. Other things that typically turn me off are bad attitudes, bad work ethic, and unwillingness to learn. I like horses that have a kind eye, sweet disposition and a desire to please. Those horses always seem to succeed in every discipline.
Conformation
The next thing that I look for when purchasing any horse, but especially with OTTBs, is conformation. I have seen some really well put together OTTBs and some horribly put together OTTBs—there is a pretty equal amount of both so be careful that you don't get stuck with one that is put together horribly! Some things that you will see often in OTTBs that aren't desirable are long pasterns, downhill build, straight hind ends and straight shoulders. There are different severities of each and you have to find a happy medium. If you can find an uphill built OTTB, you're doing very well! And if you can add in a good hind end or slopey shoulder, you're doing GREAT! The reason that conformation is so important is that certain conformation faults can lead to injuries. For example, long pasterns will lead to increased stress on the tendons and ligaments which can lead to injuries such as bowed tendons, pulled ligaments, etc.
Natural Balance
Many OTTBs have great natural balance, but there are also many that don't. They feel a bit like a washing machine when they have no natural balance. This is important to me because I find it much easier to ride and resell a horse that has natural balance. When you get a horse without good natural balance, you have to set the rhythm and tempo every step of the way, and this can be very difficult for some riders.
Medical History
Racehorses retire for a variety of reasons, but injury is probably one of the most common reason. Since I typically buy OTTBs to resell, I try to stay away from old injuries. And there are so many OTTBs out there, you don't HAVE to buy one with an old injury. But if you do, I suggest doing a thorough pre-purchase exam to evaluate the injury and how it may affect the horse's future. Some horses are 100% sound and can go on to be upper-level event horses; others may be limited to light work, trail riding, etc. Some common OTTB injuries are bowed tendons, bone chips, sesamoid fractures, and osselets.
In the end, it is totally up to you, the buyer, to decide what you want in your next OTTB. Thoroughbreds are an incredibly versatile breed with a big heart and a strong drive to please, so you shouldn't have an issue finding one that fits your needs! Always keep in mind that there are HUNDREDS of OTTBs and you don't have to settle. If you don't feel like you can confidently find an OTTB for yourself, don't be afraid to find a trainer and ask for help! You will be thankful you did!