Mary Miller-Jordan's Dreams Come True When Her Horse, Lindsey's Faith, is Immortalized into a Breyer Horse
Posted | Tags: Sponsored-rider, Youth
America's Favorite Trail Horse, Lindsay's Faith, Becomes a Breyer Model Horse and Attends Breyerfest for Horse Lovers to Meet.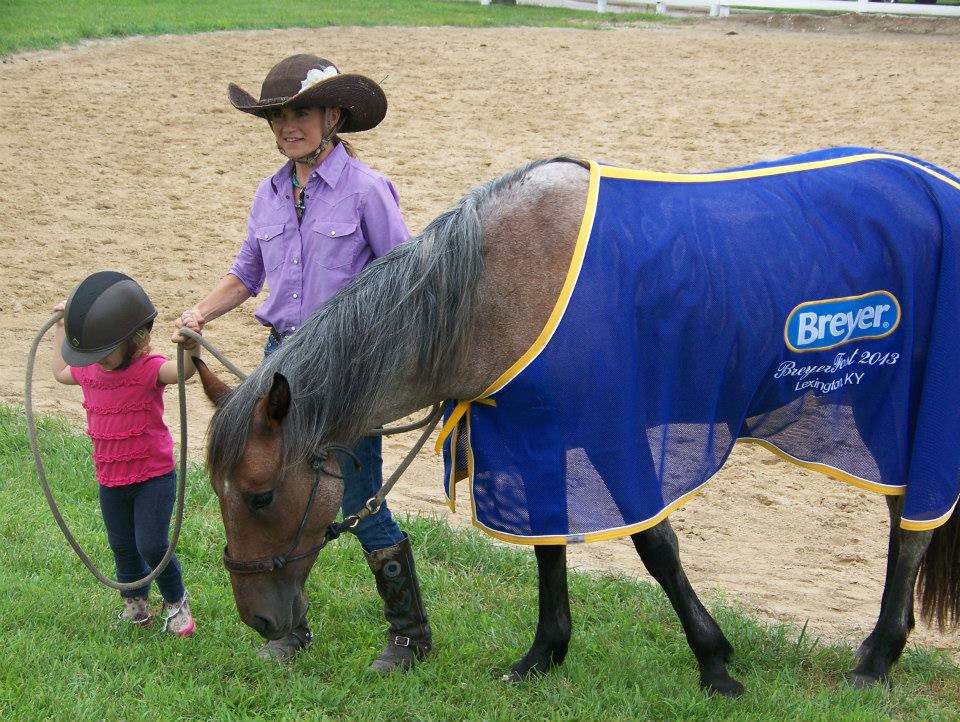 My name is Mary Miller-Jordan and I am a Breyer-oholic. I grew up literally surrounded by a Breyerå¨ horse herd. They were how I played out my dreams and fantasies on my living room floor.
One of those dreams became a reality this year when Breyer made a model from my special Mustang mare, Lindsay's Faith, who I adopted as a six-year-old old wild horse for the Supreme Extreme Mustang Makeover in 2010. I named her for my DaddyÓafter his awe-inspiring faith in God and his faith in me.
Lindsay and I made the finals of the 2010 Supreme Extreme Mustang Makeover, but Lindsay's real claim to fame came the following year when we competed on a TV show created by American Competitive Trail Horse Association (ACTHA), called ÏAmerica's Favorite Trail Horse. Much like American Idol for horses, viewers voted us the winners. Our journey inspired me to to write a children's story, Silver Mane Ò The Tale of a Wild Horse, which was published in 2012. Because of Lindsay's accomplishments, her story, her unique roan coloring and her silver mane, the company wanted to immortalize her as a Breyer Traditional Model Horse. Talk about a childhood dream coming true!
In July of 2013, I attended BreyerFest with Lindsay's Faith as a guest horse. We had three days of model horse signing and appearances for a sold out crowd at the Kentucky Horse Park. It was simply surreal to hold Lindsay's Faith, along with my two-year-old daughter Filleigh Kay, as little girls flocked to pet her and take pictures.
My husband, Mike, came with us as well and he and Filleigh Kay had a blast exploring the Kentucky Horse Park. We even brought along our pet rat, Ms. Mimi. She only got loose once and quickly came back when called

Flying Colors was also invited to attend. She is my most recent wild Mustang mare and partner for the Mustang Million challenge. At the time, Flying Colors was 80 days from Ïwild. I was also ecstatic to find out that my soul sister, Templeton Thompson, was there as well and she even sang LIVE for my freestyle with Colors! Talk about another dream come true. You can view a video of the performance at http://www.youtube.com/watch?v=VNTUDdCEVFA.
Words cannot express how grateful I am for this experience. Dreams do come true. The key to living those dreams in reality is to first DREAM THEM IN YOUR HEART.
I hope to see some of you in person in September at Mustang Million in Fort Worth, Texas!
For more information on our mustang adventures visit the website of Mary Miller-Jordan: www.highcottonhorsefarm.com.
Follow the Facebook page of Lindsay's Faith: https://www.facebook.com/pages/Lindsays-Faith-Mustang-for-Americas-Favorite-Trail-Horse/178750158831398
Buy Templeton's music at www.templetonthompson.com