May Update on Roman- Rescued by True Blue Animal Rescue
Posted | Tags: Tc Stories
Have you been following the story of Roman? Here he is on May 17, 2015! Just 3 months after arriving at True Blue Animal Rescue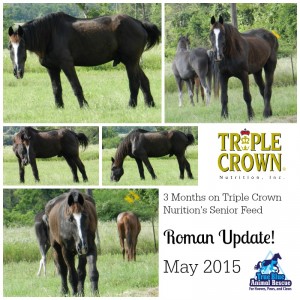 He has received a lot of love and attention from True Blue Animal Rescue, with a lot of TLC from volunteers like Alissa Cannon and Amy Hemsell. Roman has had the pleasure of meeting children who come out on camp days too! The oohs and ahhs when this big boy is walked out to meet them was priceless.
TBAR writes, "He gives us the chance to teach kids about rescue, proper feeding and dental care for senior horses and having the farrier out to trim up his hooves so they don't crack and hurt. Coming from a giant like this Percheron boy, this makes a big impact with the kids. He is a senior, but he's still got a lot to give in his new role as a TBAR horse ambassador.
See the full story on the TBAR blog here.
*You have to check out the monthly updates on his road back to health.
(below) This is how the poor guy looked when he arrived at TBAR.