Meet Roman- Rescued by True Blue Animal Rescue, Fueled by Triple Crown!
Posted | Tags: Health, News, Nutrition, Tc Stories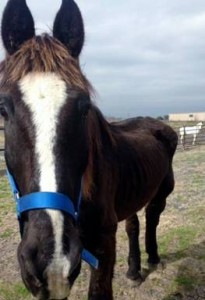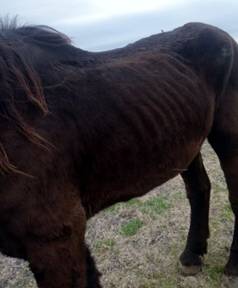 Story by: True Blue Animal Rescue
Roman had a great life living in a field full of grass. As he got older and his nutritional needs changed and his teeth needed additional care this wasn't enough to sustain him. He began losing weight and his hooves were in need of special care. Lucky for him his owners turned him over to someone who was willing to take care of a horse during his senior years. Since he was turned over to True Blue Animal Rescue he's been eating a delicious mash of senior feed and alfalfa cubes three times a day. This mash is made in the house with warm water and then topped off with vitamins and minerals to give Roman all of the nutrition he needs. After a week of that he was ready for his shots. The vet examined him and determined him to be about 20 years old, with a strong heart and all his organs in good working order. That means he will make a full recovery with the right feeding plan. His teeth needed to be floated but he was too thin and undernourished to be sedated to do that yet.
The next thing that needed to be attended to was Roman's hooves. They were badly cracked with deep cracks that were close to soft tissue. It wouldn't have been long before he would have been lame and unable to walk. The vet recommended shoes to help keep his hooves together while the cracks grew out. Lucky for us our son, Colton DeAeth, is a professional farrier with the skills and experience to fix Roman's feet and as you can see, they look great with his new shoes on. It'll take months for these cracks to grow out but Roman is already walking with more ease in his new shoes.
Roman will continue to need senior feed to provide him with all the nutrition he needs and as you can see he is a very large horse. He currently weighs between 1300 and 1400 pounds but will weigh closer to 1800 pounds when he reaches full weight. To get him to a healthy weight he will need to eat about 20 pounds of senior feed a day which is three bags a week. We were blessed when Triple Crown Nutrition Inc offered to supply enough senior feed to bring Roman to full health! That will take 8 – 12 months and up to 200 bags of feed! Roman is a lucky horse and we are blessed to have Triple Crown on board to help with Roman's rehabilitation!
See the full article about Roman here!
We look forward to following his rehabilitation and will continue to share updates and new photos on our Facebook page.  We hope you will follow Roman's story!

*Roman's cracked hoof!