Meet Triple Crown Sponsored Rider, Cassie Sprenger.
Posted | Tags: English, Nutrition, Riding, Sponsored-rider, Training, Western, Youth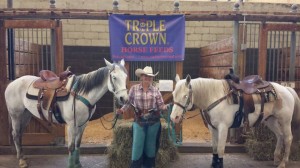 A fun Q & A session with Cassie Sprenger of Complete Equestrian Company.
How long have you been riding?
My mom has a line that says, ÏCassie you literally were born and were instantly riding. You, my dear, were born to ride. She has a huge influence on how early I was capable to get on a horse. Without her being able to see my passion as a kid and letting me indulge in it from my first ride at 3 with a neighbors horse named Flicka to being gifted my first pony at 8 and riding lessons at the age of 9.
Is your family involved in horses too?
My moms family had a hobby type farm with a few chickens, pigs and horses when she was growing up that my grandma still had once I was born. I grew up in suburbs of Lakeville, Minnesota but eagerly waited for the weekends when I could visit my grandmas farm.
What disciplines do you do, for pleasure or business?
My husband and I love horses. Not just riding. That takes on a very fun journey with the horses and the people we meet. We are big on horsemanship and developing yourself in a way that betters Ïyou for the horse. From there, we enjoy mounted shooting, speed events, jumping, extreme obstacle trail courses, western dressage and horse camping. We are open to trying new things and meeting new horse people because we love the horse community.
What disciplines did you start riding and how old were you?
When I first started riding I was unaware of how large the horse world was and how many different disciplines there were. I stared out riding for fun. To feel the horses hooves thundering on the ground beneath me, lightly grasping a bit of mane hair, while feeling the air rush past my face on through my hair. That childhood passion and feeling at 8 years old led me to taking western horsemanship lessons at 9 and advancing into jumping, speed events and showing throughout my 6 years of full time lessons.
What made you choose the disciplines you train, and compete in?
That childhood feeling and passion I spoke of is the exact reason why Im in the horse industry today. Those feelings were the original stepping stones to why and who I and my company are who we are today. There is a feeling when you are working or playing with a horse that is unlike any other. That feeling pushed me as a child and still pushes me today. Complete Equestrian Company is just that, a complete equestrian company. I wanted a place that people from all walks of life could get into horses in a positive atmosphere, where they would feel safe to express their fears and lack of confidence. A place where the non competitor and the competitor could learn more not only about horses but about themselves. That drive to create such a company is why we like to compete in many different types of disciplines and meet so many wonderful horses and people.
Who helped teach you the art of barrels and poles?
At 9 is when I started to learn more about riding. My instructor, Lois Murphy, was very strict about horsemanship. To this day I value her teachings as she instilled in me that quality riding comes from practice not just what happens at the show ring. She originally taught me how to ride in general and how to execute the patterns. Once I was in my early 20s_ I then sought out other instructors and opportunities. I attended some clinics at some local places, one including Houck Horse Company and I also audited a Charmayne James clinic that one of my students attended. A few years later I was picked to be in Charmayne James demonstration at the Mn Horse Expo where I learned more about barrels and the horsemanship needed for barrel racing.
If you could clinic or train with any top rider who would it be?
This question always get to me. There are so many wonderful trainers and horse people out there that it is difficult to pick one. They each deserve so much credit for getting to where they are. However, there are a few that really stick out in my head. One of which being Ray Hunt. He had a way with a horse that didn't always need words. That is so rarely seen these days and is needed more and more. Horses are behavioral animals and read body language. If we better our selves and quiet our selves form the day to day we can interact, learn and team up with them in wonderful ways.
If there was another discipline I could try it would be:
Working Equitation Speed!!! The skill that is met between horse and rider for this sport is stunning!
A breed of horse I have not ridden but would love to is:
This is a easy question. Andalusian and a Lusitano! They are so powerful, magnificent and capable of almost anything. A bucket list ride, for sure.
How many horse shows do you attend a year?
We try to attend 2-4 shows per month in the summer months here in Minnesota and about half that in the winter months. Some years we have shown more or less depending on our quantity of outside training horses and lessons. No matter what we keep pushing ourselves and get out there to have fun!
How many horses are you currently training and competing with now?
Our personal horses once started under saddle get tune ups with my husband and I, we currently own 10 horses. We personally show about 6 of them. We take a limited amount of 7-10 outside horses per month for training. Some of which we compete on as well to get them well rounded, smart, sane and safe.
How would you describe the characters of these horses?
Our personal competitive horses each have so much character, personality and heart. They each are individuals with their own quirks, needs and wants. They all have a few things in common though. They all started out with an un-easy, un-sure eye and they slowly turned into a wanting to please attitude. Each of them enjoy working_ they meet you at the gate and not because of food or treats. They genuinely enjoy having a job. They always try, they always show up and give their all. The biggest quality they posses is the ability to push me to try harder every day for them.
What has been some of your most memorable past accomplishments?
For me my biggest accomplishments happen at home in the ring with my students, the horse kind and human kind. There is not an award, check or trophy that can over power the feeling you get when you have been helping someone over come getting on a horse, trotting, running a pattern, or even just being by a horse. When you see them smile, cry out with happiness and thank you for your help, that is an accomplishment that is not measurable by any type of tangible object. The same is true when working with a horse. From our tune ups to our behavioral issue training horses, they each come to us for a reason. It is our job to work for the horse. When their eyes start to soften, when their coat starts to gleem, when their muscles start forming, when they nicker when they see you, those are accomplishements that I can not list out on a resume, but those are my most memorable accomplishments.
What are your goals for the future?
My husband and I talk about our future goals often. Horse related and non-horse related, which somehow always become horse-related. First, and foremost we want to continue to get educated so we can be better for our horses and our students. Then we want to work on having a child and make him or her horse crazy too. We also want to start traveling more for teaching opportunities. We have traveled the Midwest and started booking in Texas. We love to share our knowledge and enjoy helping as many horses and horse people as we can. Finally, we want to travel and do as much mounted shooting as we can. The horsemanship and skill needed really pushes us which helps us keep setting more goals to reach.
What other pets do you own?
Our pets our are family and we have a large family. Besides the 10 horses we have 7 goats, some fainting and some pygmy. We also have a couple farm cats that are so friendly and great mousers. The chickens are important too!
When not riding what are your other hobbies?
As long as I can remember horses have been my only outlet. However I love hanging out with my family and friends. My pups and goats are so entertaining and fun to take care of, but that does take up a bit of my time. Being with friends to just chat, dance, shop, eat, and just being with them is truly one of my most favorite things to do. I enjoy having wonderful family and friends
How did you hear about Triple Crown feeds?
The second year I was in the Minnesota Hooved Animal Rescues Trainers Challenge I was looking for sponsors that I believed in to help support the horse I was chosen to train that year. I had been feeding 2-3 different types of feed and was not completely satisfied with any of them. I started to do some research and found out that Triple Crown had a lot of what my horses needed. I approached them about sponsorship opportunities. That was a fantastic year obtaining their sponsorship and winning Grand Champion of the Trainers Challenge.
What TC feed products do you use?
For our personal horses we use the 30% supplement, the Complete Feed, the Senior Feed and the Omega Max. We have used every type of feed they offer for horses over the years for our personal and outside training horses. With the variety they offer I feel confident in being able to feed each individual horse what they need.
Follow Complete Equestrian Company on Facebook.