Midwest Rescue Horse Trainer's Challenge Teams-1
Posted | Tags: rescue horse, Riding, Training
By: Triple Crown Intern – Alex Porter
Meet Your Rescue Horse Trainer's Challenge Teams! 
Team Riley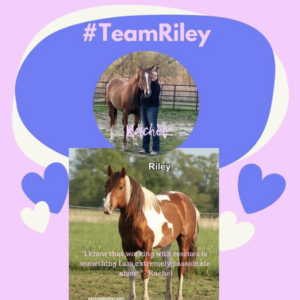 Paired with this mellow, super sweet and beautiful 7-year-old gelding is trainer, Rachel Szydlowski, a trainer at Second Chances Natural Horsemanship. Since beginning her journey into the world of horses she has been taking lessons, going to natural horsemanship clinics, and over the past few years, she has started her own training business. Her most recent joy for horses was reignited when she began working with her first kill pen rescue horse, Duke. When it comes to training, Rachel has practiced natural horsemanship during groundwork and colt starting, and it is something she emphasizes. Through training and working with rescue horses, Rachel has learned that no two horses are alike in the way they can be approached in training.
Team Lucy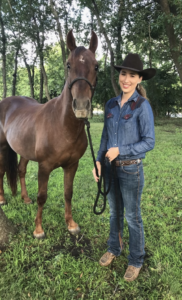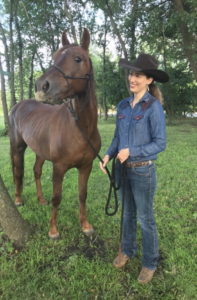 Paired with this young, gorgeous Mustang, is trainer, Emily Scholtec. Emily fell in love with good horsemanship at her first riding lesson as a child and has been chasing it ever since. She now works with rescue horses full time and operates a training facility at her home in Runnells, Iowa, where she starts colts, develops older horses, and shows ranch horses. She has worked under several trainers and most recently was a Legacy of Legends scholarship recipient in 2018, which gave her the opportunity to spend two months in Whitefish, Montana, learning in-depth about the style of horsemanship endorsed by Ray Hunt and Buck Brannaman.
Team Gingersnap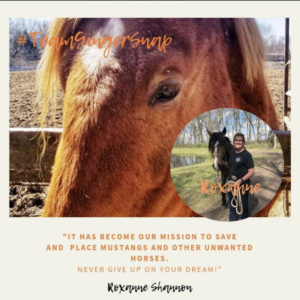 Paired with this young spunky filly is trainer, Roxanne Shannon. Loving horses since she could walk and all the way up through grade school, but without a horse of her own, Roxanne would clean stalls in exchange for lessons as a pre-teen. At the age of 20, she was able to purchase her first horse. With that horse, she rode on Drill Team for 15 years. Now, Roxanne and her husband own a 48-acre farm where they have started their own business, Grant Me Peace, LLC. The farm started with only 4 horses and now, they have 10 of their own and board 9. It has become their mission to save and place Mustangs and other unwanted horses in new, happy homes. In Roxanne's own words, "Never give up on your dream", is something for everyone to live by.
Team Twister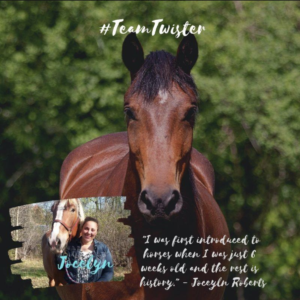 Paired with this handsome 4-year-old Mustang is trainer, Jocelyn Roberts. Jocelyn was introduced to horses at only 6 weeks of age, and horses have been in her life ever since. She grew up in the local 4-H horse project and competed at the local and state level in pleasure, gymkhana, hunters, and dressage. Jocelyn expressed that her experiences in 4-H taught her, "The importance of having a truly versatile horse and is something I strive for with every ride." With this challenge, Jocelyn is excited to help another horse on their journey to finding their forever home.
Team Mia Bella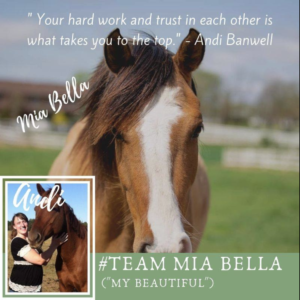 This smart, eager, and beautiful mare has been paired with trainer, Andi Banwell. With over 20 years of equestrian experience, Andi has had the opportunity to learn from many trainers, horses, and work environments. After delving in just about every equestrian discipline, Barrel Racing came to be the sport she loved most. Andi has years of experience teaching children through horse camp programs and private lessons, and her first focus is safety and building a strong relationship of trust between horse and rider. Her 20 years of equestrian experience also includes training. From starting colts to fixing behavioral problems under saddle, and on the ground, to working with Mustangs. Andi expressed, "When working with horses I believe in taking my time to teach a good foundation and respect in the horse that will last."
Continue reading about the horses in the Midwest Rescue Horse Trainer's Challenge here!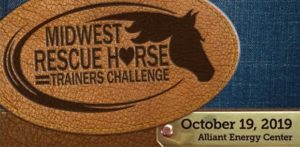 Stay up to date on the 2nd Annual Midwest Rescue Horse Trainer's Challenge on their website and Facebook!