Midwest Rescue Horse Trainer's Challenge Teams-2
Posted | Tags: horse care, rescue horse, Riding, Training
By: Triple Crown Intern – Alex Porter
Meet Your Rescue Horse Trainer's Challenge Teams! 
Team Serenity (Rennie)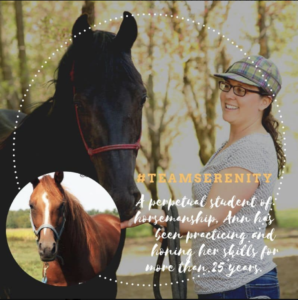 Paired with this kind, beautiful and well-built 7-year-old mare is trainer, Ann Nelson. Ann runs her business, Amacher Hollow Horsemanship, on a family farm with her husband, Karl, and son, Jack. As a 2005 graduate of UW-River Falls, where she received her BS in Animal Science with an Equine Emphasis, she has been practicing and honing her skills for more than 25 years. A self-proclaimed, "Jack of all Trades," Ann has experience with many different disciplines. She has practiced natural horsemanship techniques for her entire career, which she combines with classical dressage concepts and exercises. She teaches her riding students a balanced seat, focused on centered riding, timing, and feel.
Team Coppertone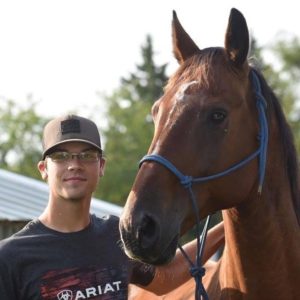 This stunning 12-year-old Westphalian gelding has been paired with trainer, Jakob Zimmerman. "As a child I felt very connected with horses, I have always had a passion for horses. In 2015 is when I got my first horse, she was a 3 year old untrained filly who had a rough start to life. I apprenticed under Rachel (Gullickson) Holscher.  Rachel has taught me how to gentle horses, and break them out and make them into a trustworthy partner using the natural horsemanship method.  I have always told Rachel I wanted to be a trainer, and given this opportunity to participate in the MRHTC has me overwhelmingly blessed to open the first door to my future."
As he continues to train horses, he has only one goal, "I'd like to be remembered as a great horseman!"
Team Alex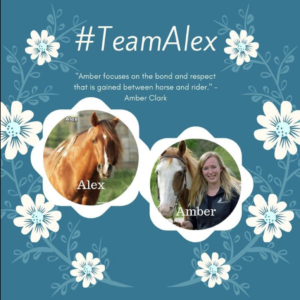 Paired with this super sweet and ultra handsome Paint is trainer, Amber Clark. Amber is a trainer located at Clark Acres in Birnamwood, WI. With her husband and two sons, they operate a horse/hobby farm that offers boarding, western training, and riding lessons. Her equestrian experience, western training, and love for horses have allowed for many blessings and opportunities for her and her family. While she enjoys all breeds and colors of horses, her favorite lies with the American Paint Horse. Amber specializes in colt starting, desensitizing, problem-solving, trail riding and barrel racing.
Team Elsie Doll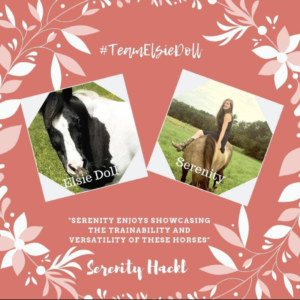 Paired with this strikingly beautiful Pintabian mare is trainer, Serenity Hackl. As an 18-year-old, senior in high school, Serenity dedicates her time to training horses. Serenity developed a special interest in horse training at the age of 10 and spends all of her spare time working with her two horses whom she trained herself; a Quarter Horse named, Cricket, and a Mustang named Mimic. Mimic was Senernity's pick for the Mustang Challenge in Madison this past April.
Team Charlie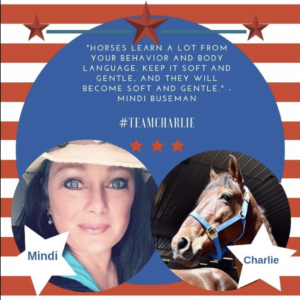 Paired with this polite, beautiful mover, is trainer, Mindi Buseman. Growing up, Mindi didn't have as much time as she would've hoped to progress as an equestrian, but during adulthood, it's a different story. Mindi purchased a 2-year-old mare that needed a lot of work, and after putting her time into this young mare, she became a fabulous trail horse. Mindi was hooked on training after watching kids learn how to ride on her. Mindi expressed, "I wouldn't call myself a 'professional' trainer. I do what's right for me, I prefer not to use a bit." Mindi is a firm believer of less is more.
Team Glory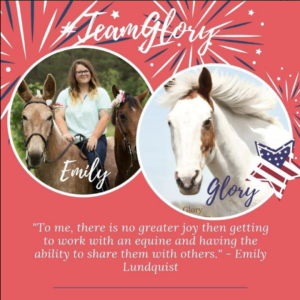 This 14-year-old, gorgeous Paint mare has been paired with trainer, Emily Lundquist. Emily has gained 15 years of equestrian experience participating in 4-H, state competitions, trail riding, English equitation, western pleasure, ranch riding, jumping, and cross country. When Emily was in high school, a love for natural horsemanship formed and she continues to incorporate those methods into each project horse. Currently, Emily operates a YMCA Equestrian Program which has allowed her to work with a variety of different horses to build on her own training skills, as well as pass her knowledge onto others.
Continue reading about the horses in the Midwest Rescue Horse Trainer's Challenge here!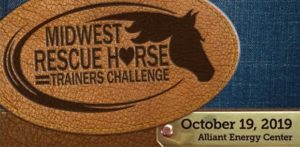 Stay up to date on the 2nd Annual Midwest Rescue Horse Trainer's Challenge via their website and Facebook!