Midwest Rescue Horse Trainer's Challenge
Posted | Tags: Events, horse care, horse management, News, rescue horse, Riding, Training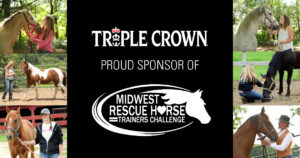 Triple Crown Nutrition is proud to sponsor the 1st Annual Midwest Rescue Horse Trainer's Challenge. The Midwest Rescue Horse Trainer's Challenge celebrates and showcases the talent and potential in rescue horses. This event is hosted by the Wisconsin Horse Alliance, a group of Wisconsin veterinarians, humane investigators, rescue professionals, and horse enthusiasts who work to provide resources to horse owners in order to protect the well-being of Wisconsin's horses. They have invited talented horse trainers to spend 90 days training a rescue horse to compete in the following:
• In-hand
• Walk/trot/canter under saddle
• Trail
• Freestyle
The challenge hopes to raise awareness about equine adoption. All competing horses will be available for adoption after the event. Pre-approved adoption applicants may bid on the horses available.
Triple Crown is excited to be fueling all of the challenge horses with the right Triple Crown feed for their needs.  With the help of impeccable nutrition and the care and handling from talented and enthusiastic trainers, we can't wait to follow the progress of these horse and rider teams!
The challenge will take place on Saturday, September 22nd at 10am at Jefferson County Fair Park in Jefferson, WI.
Aside from attending, there are many opportunities to get involved with the event. The public is encouraged to donate to a silent auction, sponsor the event, or sponsor a horse.
Follow the journey of the 11 competing horses and trainers on the Midwest  challenge's Facebook page: https://www.facebook.com/midwesthorse/