Outstanding Indiana Rider Honored with Triple Crown Nutrition® Excellence Award at the IFSHA World Show
Posted | Tags: Dressage, English, Events, Friesian, horse care, horse shows, News, Riding, Training, world champion
For Immediate Release:
Contact: Kelly Payne
Triple Crown Nutrition
(800) 451-9916
kpayne@triplecrownfeed.com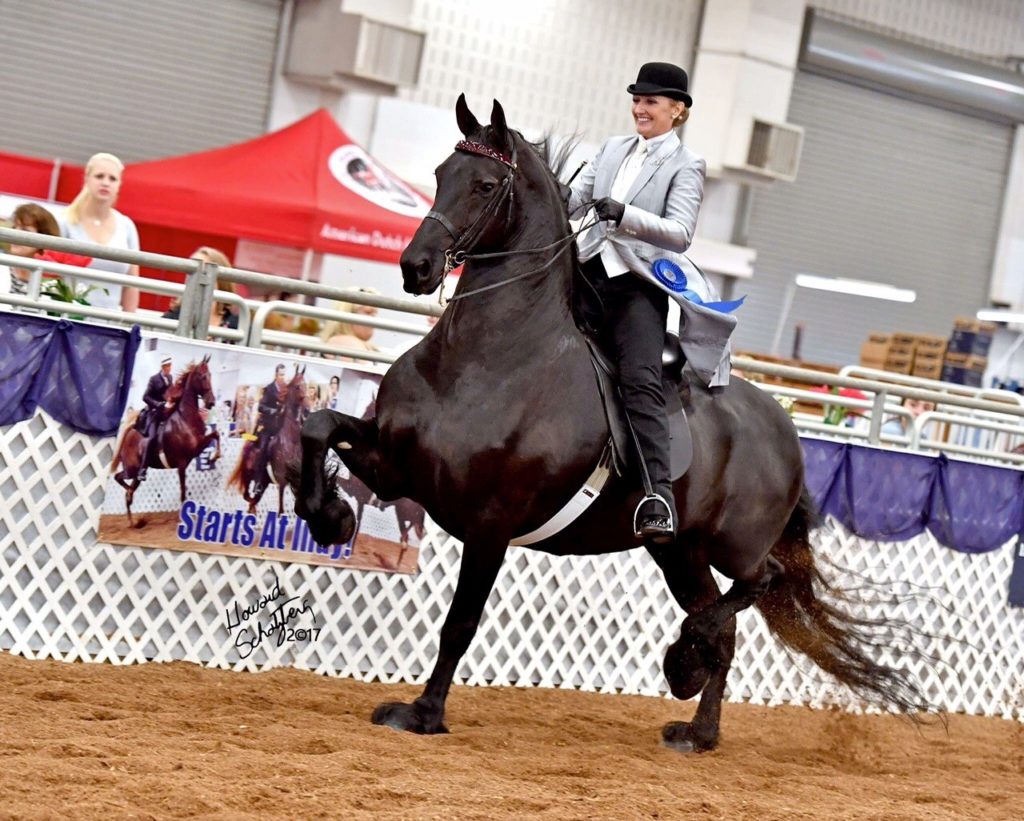 Springfield, Ohio (October 27, 2017) – With nearly 230 World Champions named across a variety of disciplines at the International Friesian Show Horse Association (IFSHA) World & Grand National Championship in Springfield, Ohio. Triple Crown® Nutrition was proud to bestow Andrea Lothamer, from Noblesville, Indiana, riding Geljer fan Ryptsjerk, "Ryp," with The Triple Crown Excellence Award.
Lothamer and her beloved 17.2 KFPS Friesian, Ryp, were awarded the coveted Triple Crown Excellence Award, a beautiful tri-colored ribbon, and an engraved silver tray after winning the Park Horse Walk Trot World Championship class.
"I picked him out myself!" exclaimed Lothamer, describing the majestic, seven-year-old gelding, imported from the Netherlands in late 2015. "Ryp" (Tsjalke x Feste) wowed her with his immense size, and she explained the choice to make him her own, saying, "I loved how big he is, and his upright neck and big trot." Once imported, Lothamer moved Ryp to Kentucky and placed him in the capable hands of Matt Schuckert at Debonaire Stables for saddleseat and show driving training.
Living up to Lothamer's high expectations and the Friesian breed's reputation for versatility, Ryp was undefeated at the Friesian World Championships during his first year of showing. "He was World Champion in Fine Harness, Show Driving, Park Horse Walk Trot, and Amateur Saddleseat Walk Trot," she said. This year, once again showing off his spectacular high stepping gait, the pair claimed the Park Horse Walk Trot World Championship title along with the Triple Crown Excellence Award.
True to the Friesian's prominent breed characteristics, Ryp possesses a great presence and amazing athletic ability, which accompany his stellar personality and willingness to work. Lothamer gushed over the gelding's loving and comical antics saying, "Ryp is truly a once-in-a-lifetime horse. He is so big and beautiful and he loves being a show horse, yet he is so gentle. He loves attention and loves to show off, and will snort all the way to the make up arena at the horse shows."
Demanding to be acknowledged and appreciated, Ryp has been known to toss his water bucket out of his stall if he isn't getting the attention he thinks he deserves. "But he has a heart as big as he is," confirmed Lothamer, "and he loves his people and only wants to please."
To maintain his fitness and competitive edge, Ryp is both ridden and driven. In addition to indulging him with his favorite treats of peppermints and oatmeal cream pies for a job well done, Lothamer maintains the massive gelding's strong and fit physique with a senior feed that is specifically low-starch.
Currently training with Cam and Caroline Boyer of Roselane Farm to keep Ryp close to her over the winter months, Lothamer has her eye on winning more World Championships in the years to come. In the meantime, she is especially thankful for the positive impact the special gelding is having on her riding. "He is so game and has such a big trot. He is very patient with me and I have learned so much from him," she said.
Lothamer also expressed sincere gratitude for the recognition she and Ryp received at the World Show, saying, "I am truly grateful for winning the Triple Crown Excellence Award. I was so surprised! Ryp is an amazing horse and I am truly blessed to have him."
Triple Crown Nutrition believes that the secret to success at the highest levels of competition begins with a superior feeding program. Based in Wayzata, Minnesota, the renowned feed company was the first to add prebiotics, probiotics, and organic minerals to horse feed. Today, Triple Crown continues to deliver the very best in equine nutrition with its revolutionary formulations and premium quality ingredients and is proud to honor worthy competitors and their horses by awarding the Triple Crown Excellence Award at equine events across the country.
To learn more about Triple Crown, the official feed sponsor of the U.S. Dressage Team, the Land Rover U.S. Eventing Team, and the Hermes U.S. Show Jumping Team, go to www.TripleCrownFeed.com, call (800) 451-9916, or visit the company's Facebook page or Instagram @TripleCrownFeed.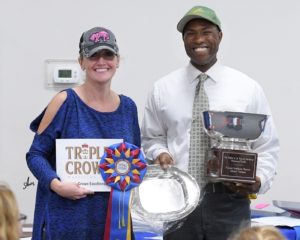 Photo 1: Andrea Lothamer and Geljer fan Ryptsjerk, "Ryp" demonstrate the winning form that helped earn them the Triple Crown Excellence Award (Photo courtesy of Howard Schatzberg Photography)
Photo 2: Andrea Lothamer accepts the Triple Crown Excellence Award at the 2017 International Friesian Show Horse Association (IFSHA) World & Grand National Championships in Springfield, Ohio. (Photo courtesy of Avalon Photography, LLC)
(For a higher resolution photo, email staffwriter@jrprnews.com)