Upward Fixation of the Patella- Part 1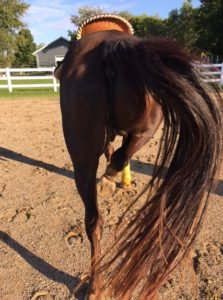 Upward Fixation of the Patella: Structure of the Stifle and Causes- Part I
By: Kaylee Van Winkle, Triple Crown Insider
A common concern among horse owners is their horse's joint health. The largest joint in the horse is the stifle and injuries to this joint occur for a number of reasons, including breed, discipline and hereditary predisposition. Most stifle problems create swelling or inflammation in the joint called gonitis. One cause of gonitis is upward fixation of the patella, also known as "locking of the patella" Let's take a closer look at what upward fixation of the patella looks like and some of the causes.
Upward fixation of the patella occurs in between the middle and medial (inside) patellar ligaments. The tibia inserts behind the patella from the hip joint and the patellar ligaments act as a brace to hold the patella and tibia in place. Upward fixation occurs when the top part of the medial patellar ligament becomes locked in place. In a non-injured joint, the patellar ligaments are elastic and move with the bones to allow for maximum shock absorption. When the medial patellar ligament is injured, it locks onto the medial trochlear ridge of the patella and prevents the joint from flexing. Depending upon the severity of the injury, the ligament may be sprained or locked. Some sprains are due to a sporadic fixation of the patella or re-injury of the ligament. When upward fixation of the patella occurs and the ligament remains locked onto the patellar ridge, the long-term effects of the injury are more severe.
What can cause upward fixation of the patella? As previously stated, certain breeds, such as the Standardbred, can be predisposed to weak stifles. Specific disciplines (eventing, cutting, and reining, etc.) create extra strain and pressure on the stifle and can increase the chance of injury to the joint. Direct injuries to the joint, in addition to overloading weak stifles, can increase the risk of injury. A slip, misstep, or twist of the stifle can damage the patellar ligaments, resulting in a brief upward fixation of the patella, spraining the medial patellar ligament. There are multiple causes of upward fixation of the patella and stifle injuries. Fortunately, the treatment and prevention methods are vast (these steps will be discussed in Part 2 of my blog).
As a result of the constant movement and weight of the horse, all joints undergo stress and pressure. The stifle joint is exceptionally complex and prone to injury. There are many causes of upward fixation of the patella, including  conformation faults, strain from specific disciplines, and hereditary predisposition.