Pony Tales Refuge & Rehab, Inc.
Posted | Tags: Events, horse care, horse management, horse shows, News, Nutrition, Riding, Tc Stories, Training, Triple Crown Nutrition
The 1st Annual Midwest Rescue Horse Trainer's Challenge is less than two months away! The challenge will take place on Saturday, September 22nd at 10am at Jefferson County Fair Park in Jefferson, WI. All of the horses are available for adoption after the event. Get your application in today! For more information, visit their website or Facebook page.
The Pony Tales Refuge & Rehab, Inc. is a wonderful non profit organization dedicated to rescuing equines from abandonment, abuse, neglect and slaughter. Visit their website or Facebook page to learn more about what they do.
They have provided the following horses for the 1st Annual Midwest Rescue Horse Trainer's Challenge. Read about each horse and their background below.
Samantha
Samantha is a 5 yr old POA mare. Read about her story: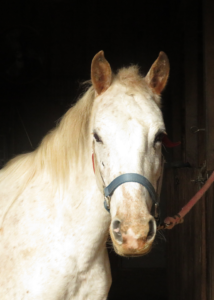 "Samantha is one of our longest residents. She has been with us since she was 2 years old. Samantha was lightly worked with as a 3 year old almost 2 years ago. At that time, she was very skittish and hard to catch. She did well, but we wanted to let her mature more before working her any further. She is now 5 years old and has matured both physically and mentally. She is now ready for that last step towards adoption. She is a beautiful girl with a good mind who is going to make a wonderful partner for some lucky person."
See training updates for Samantha on her Facebook Page – Samantha – 2018 Midwest Rescue Horse Trainer's Challenge!
Macy
Macy is a 13 yr old QH mare. Here is her story: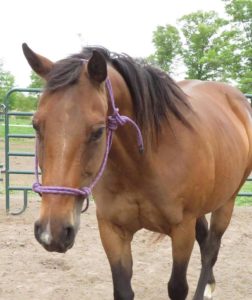 "Macy came to us in April 2017 as part of 11 horses that were seized from a hoarding situation (along with Belle). Macy was very shy and kept her distance whenever possible. She has now become very sweet and loves attention, though she sometimes likes to play hard to get when you go to catch her. She always caves in quickly though and is very easy to handle. Macy was originally participating in our Trainer's Challenge until her trainer dropped out due to the long winter and sent her back to us. We are very excited that Macy now has the opportunity to compete in a trainer's challenge again and finish off her training."
See training updates for Macy on her Facebook page – Macy's Journey to the Midwest Rescue Trainer's Challenge!
Belle
Belle is a 17 yr old Arabian mare. Here is her story: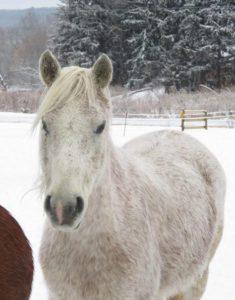 "Belle is a beautiful and very sweet girl who came to us from a hoarding seize along with 10 others in April 2017. She is a favorite around here with her sweet, gentle, playful personality, and her gorgeous locks. She is easy to catch and is always willing to get scratches and give kisses. She can be pushy at feed time, but otherwise gets along with a myriad of others from mini donkeys, to adult horses, to goats.
Belle has the potential to be a great little horse for anyone, but she does take issue when it comes to getting her feet done. She does not like it even a little bit. You can handle her legs and touch her feet most any other time, but at some point we suspect she had a bad experience or just learned over time how to get out of getting her feet done.
Belle is also blind in her right eye, but you would never know it to watch her run around or even when you're handling her. She is not spooky on that side, nor is she protective of it. Belle needs someone to put some time into her on the ground and teach her some manners, especially when it comes to pedicure day. Unlike many of the other horses that came to us that day, she has not given any indication of being herd bound. She is a smart girl who knows how to get her way and get out of doing things she does not want to do. Belle has so much potential and we cannot wait to see her progress over the summer."
See training updates for Belle on her Facebook page – Midwest Rescue Horse Trainer's Challenge 2018 – Belle!
Bohzidar
Bohzidar is a 10 yr old BLM Mustang gelding. Here is his story: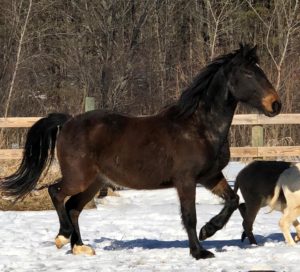 "Bohzidar (Bohzi) came to Pony Tales in the summer of 2015 when he was 7 years old. He was immediately chosen for our first Trainer's Challenge after which his trainer adopted him. At that time, he had learned how to lunge and would carry a rider on leadline, but that was all he knew. His adopter was offered the opportunity of a lifetime this past winter and is now working with and training with Olympic dressage coaches/barns in Vermont and Florida. She has not had time to do much with him since she adopted him almost three years ago and she does not want him to just sit and be a pasture buddy to their two donkeys, so the decision was made to surrender him back to us. Bohzi is a quiet soul with a good mind and deserves the training that will let his true potential shine through and a home of his own to be adored and loved on."
See training updates for Bohzidar on the Midwest Rescue Horse Trainer's Challenge Facebook page!