Feeding Your Pony: Nutritional Feed Requirements
Posted | Tags: horse care, Nutrition, ponies, pony, pony club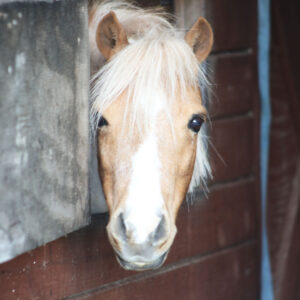 Tall, dark, and handsome? How about less than 14.2 hands, sassy, and cute?  Ponies are a versatile equine group comprised of many unique breeds.   They also have certain needs that need to be met due to their size.  That being said, ponies need just as much nutritional care as their bigger counterparts. Although similar, pony nutrition is different from a horse or draft diet.
Nutritional Challenges 
This equine group can have some challenges that come with their smaller stature.  Ponies can easily become obese and predisposed to metabolic disorders due to the fact they are generally easy keepers and adaptable to changes in climate.  Therefore, when making nutritional choices, one must keep in mind these facts along with knowledge of the pony's breed characteristics and history.
Ponies can become susceptible to equine metabolic disorders just like horses when fed improperly.  Disorders and diseases such as Cushing's, Laminitis, Hyperlipidemia, and Founder are all prevalent in overfed or nutritionally compromised ponies.  Additional problems include obesity, reproductive issues, and dental issues.  To combat or prevent these issues, proper maintenance and diet is key.  It is recommended that ponies be fed good quality forage, and have access to salt and clean water.  Like horses, ponies should be fed forage at 1-2% of their body weight and be kept at a body condition score of 5.  In determining whether to feed your pony around 1% of their body weight or 2% depends on what life stage and performance level they are at.  Feeds and concentrates should only be used when necessary, primarily in the case of light-work and hard-working ponies, who may need a concentrate to supply additional energy and supplemental needs.  With feeds, it is especially important to know your pony's weight and what amount should be fed appropriately to that weight.  Otherwise overfeeding could occur and lead to problems.
Forages And Feeds For Ponies 
In the case of miniature horses, the same rules apply.  Good quality forage-fed at 1-2% of body weight and a body condition score of 5 is recommended for this smaller breed.
Ponies of all types can benefit from Triple Crown Safe Starch Forage.  This is a grass hay product fortified with vitamins and minerals, contains a low NSC level, and is molasses and grain-free.  This forage is a pony's entire diet and it eliminates the need to feed concentrates or supplements to meet vitamin and mineral requirements.  In addition, it contains our EquiMix® digestive package found in all other Triple Crown feeds. This forage can be fed at 1-2% body weight and can be adjusted to meet your pony's needs and body condition.  Safe Starch is a great choice for ponies with metabolic issues who may have the need for a little more calories in their diet.  This 6% fat hay can help supply the calories without having to add in any concentrates.
Ponies that are more susceptible to equine metabolic diseases and disorders will also benefit from Triple Crown Timothy Balance Cubes.  This is a low protein, mineral fortified forage cube that contains timothy hay, beet pulp and specific minerals.   This is specifically formulated for horses and ponies with Equine Cushing's Disease, Insulin Resistance, Laminitis, and other related conditions where a nutritious diet low in non-structural carbohydrates is recommended.   Feed this to your pony at 1% to 2% of body weight per day as a hay replacement. Feed at a rate to maintain body condition along with hay.
Easy Keeper 
For the easy keeper ponies that need a top quality, basic forage, Triple Crown Grass Forage is a good choice.  This is a quality blend of timothy and orchard grass hay that can be fed as a complete hay replacement, especially in times where good quality hay is limited.  This can also be fed to supplement normal long stem hay.  This can be fed at a minimum 1-1.5% of body weight if being used as a hay replacement, but can increase depending on your pony's requirements.
If you do need to provide a grain to your pony, Triple Crown Lite is a great pelleted concentrate for easy keepers.  Lite helps to balance the nutritional requirements of forage-only diets, which is what your pony will be used to.  This is a feed meant to be fed with forage and will give your pony the vitamins and minerals it needs without excessive weight gains.  Feed 1 pound of Triple Crown Lite per 500 pounds of body weight and adjust feeding rate to maintain desired body condition.  With miniature horses, you can feed just 1/4 pound per day.
When feeding your pony a basic forage diet, you want to be sure vitamins and minerals needs are met.  Another option available is Triple Crown 30% Ration Balancer , which is a great way to balance pasture or hay and improve nutrition in diets when feeding small amounts.  We recommend feeding ½ lb to ¾ lb to ponies when balancing with pasture or hay.  This Balancer will provide a great source of protein for your pony, and will give you all the benefits of Triple Crown's Equimix.
Tips 
There is a lot to keep in mind with pony nutrition; monitor their intake, weigh out your feeds, know your pony's weight, watch their body condition score and know their nutritional needs.  These simple steps will help your pony thrive their whole life and with good management and dietary practices, the challenges of feeding your pint-sized companion can be overcome.