Prebiotics in Triple Crown Horse Feed- Not Like the Others!
Posted | Tags: Health, Nutrition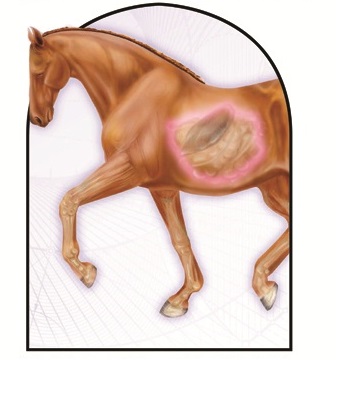 What Is The Difference Between Prebiotics And Probiotics?
All this talk of prebiotic and probiotics leaves many people asking, "What is the difference between the two?" It's actually relatively simple—probiotics are live microorganisms while prebiotics are once live organisms that have been killed and parts have been removed to form a nutrient that supports the live microbial population. Triple Crown is unique in that it uses a combination of live yeast cultures (probiotics) and yeast metabolites (prebiotics) in its feeds.
The base for most prebiotics is yeast and the most common prebiotic is a yeast metabolite. Yeast metabolites are non-digestible carbohydrates that make it through the stomach and small intestine to help feed and maintain a healthy microbial population in the hindgut of horses.
Triple Crown also uses two other prebiotics that are rarely found in other horse feed; both use the cell wall of the yeast culture. The first one is called a Mannanoligosaccharide, or MOS. This prebiotic helps mimic the properties of the cell wall to attract and bind with pathogenic bacteria, like E. coli and salmonella. These bad bacteria are always present but are held in check by the good bacteria in the digestive system. However, if that system gets stressed or overwhelmed, the bad bacteria can bind to the cell wall and cause serious problems. MOS products are used extensively in animal production to help reduce the use and need of antibiotics in herd situations.
The other prebiotic also uses the yeast cell wall and is often referred to as a mycotoxin binder. It attracts and binds with mycotoxins that have been ingested by your horse. A research study by North Carolina State identified mycotoxins in 80% of the hay samples it analyzed. Mycotoxins can cause some serious problems with horses depending on the type. The biggest issue is subclinical problems, where mycotoxins may be present but hard to diagnose. Some more common forms of mycotoxins are aflatoxin, Fusarium, and vomitoxin. The prebiotics in Triple Crown help manages any intake of mycotoxins to help prevent potential problems.
For over 22 years, Triple Crown has been adding prebiotics to aid in digestion and help keep horses as safe and healthy as possible. While some companies are now adding yeast metabolites to their feeds, very few are taking the next step to include MOS for pathogenic bacteria and mycotoxin binders to help with potential mycotoxin exposure. To see how Triple Crown feed compares with these products, go to www.triplecrownfeed.com/compare.
Read about all the special ingredients found in the Triple Crown Equimix® Technology.