What is mannan oligosaccharide (MOS) and why is it so important for your horse's health?
Posted | Tags: digestive health, prebiotics, probiotic
As part of our commitment to providing superior nutrition for horses, Triple Crown adds mannan oligosaccharide, or MOS, to our EquiMix® blend. Let's take a closer look at what MOS does and why it's so important for your horse's health.
Prebiotics encourage good bacteria and minimize bad bacteria.
MOS is a prebiotic. Prebiotics are functional ingredients in food that encourage growth of beneficial microorganisms in the digestive system. To appreciate how prebiotics work, it's important to first understand how bacteria maintain their populations in the gut.
Bacteria have hair-like appendages that are able to recognize and attach to designated spots in the gut wall. Once they attach, they reproduce — this goes for both beneficial (good) bacteria, like direct fed microbials and yeast, and pathogenic (bad) bacteria, like E. coli and salmonella.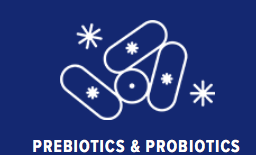 A healthy gut lining keeps the good and bad bacteria in balance.
When the gut lining is healthy, the good bacteria can attach, reproduce and keep bad bacteria in check. If the gut lining is damaged, however, the opportunities for good bacteria to attach and reproduce are reduced and the overall population is compromised. Reducing good bacteria in the gut is a problem for two reasons: first, it means there is less of the good stuff that keeps the horse healthy; and second, it leaves more room for bad bacteria to breed.
How does MOS help?
MOS mimics the properties of the cells on the gut wall to attract and bind with harmful bacteria. Rather than allowing the bad bacteria to attach to the gut wall, the MOS acts as a sticky sponge, clearing up the harmful bacteria and removing them from the digestive system.
The base for most prebiotics is yeast and the most common prebiotic is a yeast metabolite. Yeast metabolites are non-digestible carbohydrates that make it through the stomach and small intestine to help feed and maintain a healthy microbial population in the hindgut of horses. While some companies are now adding yeast metabolites to their feeds, very few are taking the next step to include MOS for pathogenic bacteria.
What's different about Triple Crown prebiotics?
For over 22 years, Triple Crown has been adding prebiotics to aid in digestion and help keep horses as safe and healthy as possible. And now, EquiMix® uses an improved food-grade MOS with higher consistency and quality for maximum efficacy. To see how Triple Crown feed compares with these products, go to www.triplecrownfeed.com/compare.
Read about all the special ingredients found in the Triple Crown EquiMix.

Would you like to read more about Probiotics?  Check out this article on the benefits of feeding probiotics every day.