Problem or Opportunity? Setback or Comeback?
Posted | Tags: Dressage, English, Eventing, horse shows, pony club, Riding, Rolex Kentucky, Show Jumping, Tc Stories, Training, United States Equestrian Federation, Youth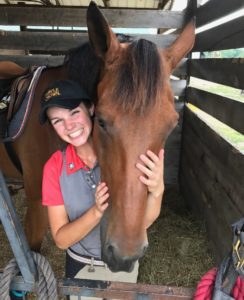 By: Kaylee Van Winkle
Heading into the United States Pony Club Eventing Championships, my horse and I felt prepared, excited, and focused. After finishing a lovely dressage test on a score of 23.9, I knew I would need to execute cross country quickly and effectively. Cross country morning was cool and clear, and everything felt great. Fences 1-3 helped us quickly establish a rhythm to carry through the rest of the course and my horse was ready to roll. Then came jump four, a large down bank with a few logs stacked on top. As I adjusted his canter and glued my eyes up, I felt him stutter. My leg closed as he stopped and up we went in a catapult that would make a bronc rider proud. The force of the launch and gravity on the landing side tossed me straight over his head. "Great. There goes that." My sweet friends and teammates took impeccable care of my horse and treated him like gold while I waited to get cleared at the hospital. (Praise the Lord, I'm all clear and my horse is sound!) But now what? What do I do with this mix of emotions? I knew it would be all too easy for my thoughts to root themselves in aggravation and disappointment. How do you prepare for an unexpected turn of events? You can't prepare for the exact moment, but you can control your response to that moment.
Dwelling on the past fall, let down, misstep, or mistake will only cause negative emotions to arise over and over again. We cannot allow our focus to be so easily shifted from positive energy to negative emotion. Yes, of course, it's difficult, but by taking control of your thoughts and disciplining yourself to not even tolerate the negative, you are strengthening your mind to overcome any setback and turn it into a comeback. Replaying the mistake/accident requires a lot of energy. Why not take that energy and channel into something productive? It is natural and normal to feel discouraged; however, the feeling itself is not harmful to your future—it's what you do with the feeling that determines your mindset and focus. Decide today where you will channel your energy. Will you dwell on the things you can't change or focus on becoming better and learning from the past?
I wasn't anticipating this hard lesson from Championships, but I am so grateful to take away new concepts and a more focused approach to different opportunities. Remember, problems only become "problems" if you let your mind accept them. Stay positive and relentlessly focused and "problems" suddenly turn into opportunities for growth!
*Photos by GRC Photos.