*Alfa-Lox™ Forage is available in limited markets, contact Triple Crown for assistance, 800-451-9916.  Over the next several months,  Alfa-Lox™ Forage will be replaced by *StressFree™ Forage.  Learn more 
A FORTIFIED FORAGE SUPPLEMENT TO SUPPORT NORMAL DIGESTIVE HEALTH IN ALL CLASSES OF HORSES. IDEAL FOR HORSES WITH COLONIC ULCERS AND THOSE WHO TEND TO GO OFF FEED.
Triple Crown Alfa-Lox™ Forage is a fortified forage supplement that utilizes a nutrient-based approach to support digestive health.
• A highly palatable forage balancer that will help keep your horse eating
• New!  Now with ButiPEARL Z EQ  — encapsulated pearls of supplemental butyric acid and zinc — helps strengthen the intestinal tract and build a barrier against Leaky Gut
• ButiPEARL Z EQ also contains essential peppermint oils, which offers enhanced aroma and palatability to the forage. Learn more!
• L-carnitine, an amino acid recommended by veterinarians, helps to increase nutrient metabolism and improve cellular repair
• Mannan oligosaccharides (MOS) help stimulate immune function
• Flaxseed oil which is high in Omega-3 fatty acids and aids in the reduction of intestinal cell inflammation
• Chopped alfalfa hay provides a buffering effect
• Feed 2-4lbs per day; a little goes a long way
GUARANTEED ANALYSIS
Crude Protein (min.)
14.00%
Crude Fat (min.)
7.00%
Crude Fiber (max.)
25.00%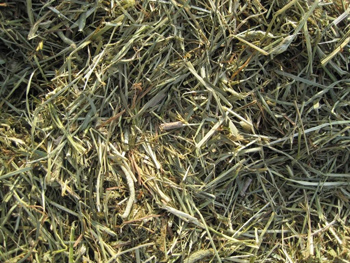 Ingredients
Sun-Cured Alfalfa, Yeast Culture, Yeast Extract, L-Carnitine, Dehydrated Alfalfa Meal, Wheat Middlings, Distillers Dried Grains, Cane Molasses, Flaxseed Oil, Soybean Oil, Butyric Acid, Zinc Oxide, Silicon Dioxide, Peppermint Essential Oil, Propylene Glycol, Glycerin, (Propionic Acid, Sodium Benzoate, Potassium Sorbate (Preservatives)) (Free from Restricted Ruminant Protein Products per Title 21, CFR 589.2000/2001) Packaged in 40 lb. bags.
FEEDING DIRECTION
Feed 2 – 4 pounds of Alfa-Lox per horse per day. Alfa-Lox can be mixed with horse's grain or fed separately.
NOTE: Provide plenty of fresh, clean water at all times. Keep product fresh in cool, dry storage. Examine product daily. DO NOT use product that is old, or contaminated with mold, insects or foreign material.
Watch the Forage Plant Processing Video.
***The following coefficients of variation (cv) can be associated with the carbohydrate analyses. These should reasonably account for both sampling and analytical variation, though as you know, poor sampling can lead to much larger variation. The coefficients of variation (cv) for starch is 10%, WSC is 15% and ESC is 15%. For example, a feed with a WSC value of 10% should be expected to range from 8.5 – 11.5% and a WSC value of 20% to range from 17 – 23%. In addition, there are variables on ingredients between suppliers that could be as much as an additional 5% to 10% per ingredient. Therefore, products, such as TC 30% Supplement potentially would have a smaller variation than TC Lite due to the number of bulk ingredients making up the feed (2 vs. 4).
REVIEWS
Alfa-Lox™ Forage
Average rating:
6 reviews
Jan 21, 2020
Pleasantly surprised
My young sweet OTTB suddenly became uncomfortable under saddle and generally unhappy bringing training to a halt. A friend from Wellington, FL shared that many of the upper level riders swear by Alfa-Lox. I started him on 1 cup AM and PM while we also try to locate the source(s) of his discomfort. Within a week he was noticeably happier and his coat even shinier. We haven't solved the other issue yet but I credit the Alfa-Lox with the positive change in his demeanor which gives me some peace of mind.
Nov 13, 2019
Alfa-Lox Fan
My 29 year old mare went off her feed as the seasons changed to Fall, had dull eyes and depressed affect. We treated as mild colic but she just didn't return to herself, and my heart dropped. I bought her some grass forage and she nibbled it but no other change. I happened to speak to a dealer who recommended Alfa-Lox, which I hadn't really considered, and watched her gobble it out of her bucket. The next day, she was eating her hay normally and within two days was her sweet, bright self with normal gut sounds. I'm feeding her two pounds a day, she loves it, and is obviously comfortable again. This was a Hail Mary pass for a beloved old girl that did what it promised and I am so grateful.
Mar 4, 2019
AlfaLox for performance horses
I have used this on several Performance horses, the most recent one has not been a good eater especially when traveling. This has made all the difference! He eats SO much better!
Oct 16, 2018
The evil twin is gone. . .
My OTTB has had issues for years - easily distracted, spooky, cranky at feeding time, girthy, frequent quasi-colic episodes. Had him scoped and treated for ulcers a few years ago, subsequent scope showed NEW ulcerations!! My trainer and I were so frustrated. He is a beautiful, athletic horse but was clearly unhappy. We recently took him off all grain and started him on Alfa-Lox along with free-access hay. He is a different horse! Used to only be able to tolerate a few hours of turnout before panicking, this past weekend he stayed out from 9 until 3! A record for him! Hoping that the results will continue.
Jun 4, 2018
This product has worked wonders on my OTTB on only 2 pounds at lunch, in addition to his other forage & grain. I highly recommend it if you have a horse that is prone to ulcers. Our horse is so much happier!