Triple Crown Training is an oat-based, corn free, high fat feed perfect for hardworking horses that require a higher caloric intake. High in digestible fibers, Triple Crown Training is the first Triple Crown feed to contain fish oil and flaxseed to dramatically increase Omega-3 fatty acid levels, which assist in decreasing inflammatory responses following intense exercise.
GUARANTEED ANALYSIS
Crude Protein (min.)
14.00%
Lysine (min.)
0.70%
Methionine (min.)
0.20%
Threonine (min.)
0.50%
Crude Fat (min.)
13.00%
Omega 3 Fatty Acids (min.)
1.00%
DHA (Docosahexaenoic Acid) (min.)
0.05%
EPA (Eicosapentaenoic Acid) (min.)
0.08%
Omega 6 Fatty Acids (min.)
5.10%
Crude Fiber (max.)
13.00%
Calcium (min.)
0.90%
Calcium (max.)
1.40%
Phosphorus (min.)
0.55%
Magnesium (min.)
0.50%
Potassium (min.)
0.90%
Copper (min.)
50 ppm
Selenium (min.)
0.60 ppm
Zinc (min.)
200 ppm
Iron (min.)
250 ppm
Manganese (min.)
130 ppm
Cobalt (min.)
0.62 ppm
Vitamin A (min.)
7,000 IU/lb
Vitamin D (min.)
1,000 IU/lb
Vitamin E (min.)
200 IU/lb
Riboflavin (min.)
4.10 mg/lb
Thiamin (min.)
10.0 mg/lb.
Biotin (min.)
0.30 mg/lb
Ascorbic Acid (min.)
50 mg/lb
Saccharomyces Cerevisiae Yeast Culture (min.)
1.53 billion CFU/lb
Lactobacillus Acidophilus Fermentation Product (min.)
790 million CFU/lb
Enterococcus Faecium Fermentation Product (min.)
790 million CFU/lb
Cellulase* (Trichoderma Longibrachiatum Fermentation Extract) (min.)
0.59 million CU/lb
Protease** (Bacillus Subtilis Fermentation Extract) (min.)
1,240 HUT/lb
NSC***
22.8%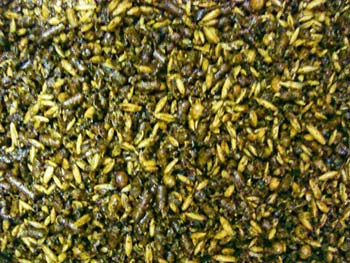 Ingredients
Whole Oats, Cane Molasses, Dehulled Soybean Meal, Shredded Beet Pulp, Soybean Oil, Wheat Middlings, Dehydrated Alfalfa Meal, Soybean Hulls, Distillers Dried Grains, Heat Processed Soybeans, Flaxseed, Fish Oil, Vegetable Oil, Natural and Artificial Flavors, Ground Limestone, Dicalcium Phosphate, Salt, Magnesium Oxide, Yeast Culture, Hydrolyzed Yeast, Hydrated Sodium Calcium Aluminosilicate, Dried Lactobacillus Acidophilus Fermentation Product, Dried Enterococcus Faecium Fermentation Product, Anise Seed, Fenugreek Seed, Dried Trichoderma Longibrachiatum Fermentation Extract, Dried Bacillus Subtilis Fermentation Extract, Zinc Amino Acid Complex, Manganese Amino Acid Complex, Kelp Meal, Copper Amino Acid Complex, Lecithin, Iron Amino Acid Complex, Magnesium Proteinate, Selenium Yeast, Stabilized Rice Bran, Calcium Carbonate, Vitamin E Supplement, Ascorbic Acid (Source of Vitamin C), Niacin Supplement, Biotin, Vitamin A Supplement, Thiamine Mononitrate, Beta Carotene, Calcium Pantothenate, Riboflavin Supplement, Pyridoxine Hydrochloride, Vitamin B12 Supplement, Vitamin D3 Supplement, Choline Chloride, Menadione Sodium Bisulfite Complex (Source of Vitamin K Activity), Folic Acid, Sodium Bicarbonate, Brewers Dried Yeast, Ferrous Sulfate, Zinc Sulfate, Manganese Sulfate, Copper Sulfate, Cobalt Sulfate, Ethylenediamine Dihydroiodide, L-Lysine, Monosodium Phosphate, Lignin Sulfonate, DL-methonine, (Propionic Acid, Sodium Benzoate, Potassium Sorbate, Tocopherol, Ascorbyl Palmitate (Preservatives)). (Free from Restricted Ruminant Protein Products per Title 21, CFR 589.2000/2001)
Feeding Directions
Triple Crown Training Formula is a high-energy grain mix designed to be fed to performance horses. Triple Crown Training Formula will provide all necessary minerals and vitamins to horses in training and performing in strenuous type activities when fed at a minimal rate of 6 pounds per day or more.
PERFORMANCE HORSES: Begin by feeding as much good quality forage as possible along with free access to clean water and salt. Performance horses should receive the equivalent of a minimum of 10 pounds of hay per day or more. Feed Triple Crown Training Formula at a rate that will maintain the horse's desired body condition and energy level (Use .5 pounds per 100 pounds of bodyweight or 6 to 8 pounds per day for an average size
Thoroughbred or Quarter Horse type horse as a starting guideline, and then adjust upward or downward as desired).
NOTE: Provide plenty of fresh, clean water at all times. Keep product fresh in cool, dry storage. Examine product daily for mold or insect contamination. DO NOT use product that is old, molded or insect contaminated.
***The following coefficients of variation (cv) can be associated with the carbohydrate analyses. These should reasonably account for both sampling and analytical variation, though as you know, poor sampling can lead to much larger variation. The coefficients of variation (cv) for starch is 10%, WSC is 15% and ESC is 15%. For example, a feed with a WSC value of 10% should be expected to range from 8.5 – 11.5% and a WSC value of 20% to range from 17 – 23%. In addition, there are variables on ingredients between suppliers that could be as much as an additional 5% to 10% per ingredient. Therefore, products, such as TC 30% Supplement potentially would have a smaller variation than TC Lite due to the number of bulk ingredients making up the feed (2 vs. 4).
REVIEWS
Training
Average rating:
1 reviews
May 11, 2016
Vast improvements on Training Formula
He is an OTTB (war horse) who I acquired from a rescue 9 years ago – he is 16 years old. His weight has been a non-joyous ride of up and down, especially since he is a picky eater! For instance: All winter I had him on soaked alfalfa cubes to go along with dinner – and then about a month ago he decided those were no longer yummy. So we had to go the pelleted route, which he still doesn't deem great, so now we are switching him from Bermuda to an Orchard/Alfalfa mix to make sure he doesn't lose his forage nutrients! Like I said on my FB posting: he didn't do great weight-wise on the Senior, and we tried the Complete and while that was good weight-wise, it made him "hot". Also, every single year in the months of March and April, he would drop weight – and a significant amount of weight. Blood tests, feed analysis, etc were done, to no avail. So, for the first time in 9 years, this year he didn't lose ANY weight! And then he shed his coat and I almost cried at how SHINY he was! His temperament is awesome now (he's a little more on the "hot" side anyway), and his demeanor is awesome. There was one other feed I tried (a Purina brand) years ago that helped him with his weight, however, he was almost acting as if he was drugged he was so "down" – which is NOT what I wanted for him. I have included photos from the past couple of years at the same time frame so you could see the difference in his coat. He is usually such a dull bay color. No "pop" – just brown, black mane and tail – blah. This year? He's a copper color! His feet have vastly improved as well. He has foundered in the past and even his farrier commented on how nice his feet are looking since we switched to this feed.