A SUPER PREMIUM PELLETED FEED WITH NO SOYBEAN MEAL FOR MATURE HORSES. TRIPLE CROWN LOW STARCH IS GRAIN, ALFALFA, AND MOLASSES FREE MAKING IT IDEAL FOR HORSES WITH INSULIN RESISTANCE, HYPP, PPID, EPSM, OR PSSM. 
Formulated specifically for mature horses, Triple Crown Low Starch is a pelleted low starch and sugar (NSC) feed for horses requiring a lower diet for metabolic reasons or for horse owners seeking calmer behavior from horses. Featuring fewer carbohydrates than hay and pasture, Triple Crown Low Starch can be used as a complete feed to replace all or part of the forage portion of the diet.  This feed is also suited for those who tend to have allergies, ideal for HYPP horses as the feed contains a low potassium level and works well for senior horses in winter in order to avoid the bricking of textured feeds.
GUARANTEED ANALYSIS
Crude Protein (min.)
13.00%
Lysine (min.)
0.75%
Methionine (min.)
0.25%
Threonine (min.)
0.70%
Tryptophan (min.)
0.15%
Leucine (min.)
0.90%
Crude Fat (min.)
6.00%
Crude Fiber (max.)
18.00%
Calcium (min.)
0.75%
Calcium (max.)
1.25%
Phosphorus (min.)
0.60%
Magnesium (min.)
0.50%
Iron (min.)
75 ppm
Potassium (min.)
0.75%
Omega 3 Fatty Acids (min.)
0.60%
Omega 6 Fatty Acids (min.)
2.90%
Selenium (min.)
0.60 ppm
Zinc (min.)
220 ppm
Manganese (min.)
100 ppm
Cobalt (min.)
0.20 ppm
Copper (min.)
50 ppm
Vitamin A (min.)
6,000 IU/lb
Vitamin D3 (min.)
1,200 IU/lb
Vitamin E (min.)
210 IU/lb
Riboflavin (min.)
3.20 mg/lb
Thiamin (min.)
9.0 mg/lb.
Ascorbic Acid (min.)
55 mg/lb
Biotin (min.)
0.30 mg/lb
Total Direct Fed Microbials (min.)
3.25 billion CFU/lb
Lactobacillus Acidophilus Fermentation Product (min.)
790 million CFU/lb
Enterococcus Faecium Fermentation Product (min.)
790 million CFU/lb
Bacillus Subtillus Dried Fermentation Product (min.)
150 million CFU/lb
Saccharomyces Cerevisiae Yeast Culture (min.)
1.53 billion CFU/lb
Cellulase* (Trichoderma Longibrachiatum Fermentation Extract) (min.)
0.59 million CU/lb
Protease** (Bacillus Subtilis Fermentation Extract) (min.)
1,240 HUT/lb
NSC***
13.5%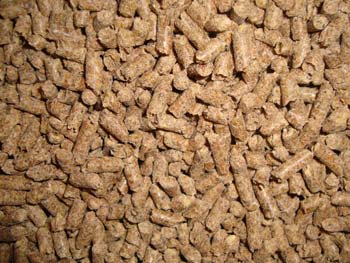 Ingredients
Ingredients:(Free from Restricted Ruminant Protein Products per Title 21, CFR 589.2000/2001)Wheat Middlings, Soybean Hulls, Shredded Beet Pulp, Distillers Dried Grains, Soybean Oil, Ground Limestone, Salt, Sodium Bicarbonate, Sodium Sesquicarbonate, Stabilized Rice Bran, Calcium Carbonate, Vitamin E Supplement, Hydrated Sodium Calcium Aluminosilicate, Yeast Extract, Yeast Culture, Calcium Silicate, Sodium Aluminosilicate, Dried Enterococcus Faecium Fermentation Product, Dried Lactobacillus Acidophilus Fermentation Product, Dried Trichoderma Longibrachiatum Fermentation Extract, Dried Bacillus Subtilis Fermentation Extract, Zinc Amino Acid Complex, Manganese Amino Acid Complex, Copper Amino Acid Complex, Kelp Meal, Iron Amino Acid Complex, Magnesium Oxide, Fenugreek Seed, Lecithin, Anise Seed, Magnesium Proteinate, Selenium Yeast, Flaxseed, Monocalcium Phosphate, Dicalcium Phosphate, Lignin Sulfonate, L-Lysine, Ascorbic Acid (Source of Vitamin C), Niacin Supplement, Biotin, Vitamin A Supplement, Thiamine Mononitrate, Beta Carotene, Calcium Pantothenate, Riboflavin Supplement, Pyridoxine Hydrochloride, Vitamin B12 Supplement, Vitamin D3 Supplement, Choline Chloride, Menadione Sodium Bisulfite Complex, (Source of Vitamin K Activity), Folic Acid, Brewers Dried Yeast, DL-methionine, DL-methionine Hydroxy Analog, Ferrous Sulfate, Zinc Sulfate, Manganese Sulfate, Copper Sulfate, Cobalt Sulfate, Ethylenediamine Dihydroiodide.
Feeding Directions
Triple Crown Low Starch can be fed to all horses one year of age or older. Feed enough Triple Crown Low Starch to maintain desired body condition and energy level along with hay, and/or pasture, water and salt. If feeding less than 6 pounds per day of Triple Crown Low Starch to horses weighing 900 pounds or more, also feed additional minerals and vitamins supplied by either Triple Crown 30% or Triple Crown Lite.
Triple Crown Low Starch is a complete diet and can replace all or a part of your fiber portion of your diet, however, we strongly recommend that you continue to feed a portion of your diet in long stem hay or pasture.
NOTE: Provide plenty of fresh, clean water at all times. Keep product fresh in cool, dry storage. Examine product daily for mold or insect contamination. DO NOT use product that is old, molded or insect contaminated.
***The following coefficients of variation (cv) can be associated with the carbohydrate analyses. These should reasonably account for both sampling and analytical variation, though as you know, poor sampling can lead to much larger variation. The coefficients of variation (cv) for starch is 10%, WSC is 15% and ESC is 15%. For example, a feed with a WSC value of 10% should be expected to range from 8.5 – 11.5% and a WSC value of 20% to range from 17 – 23%. In addition, there are variables on ingredients between suppliers that could be as much as an additional 5% to 10% per ingredient. Therefore, products, such as TC 30% Supplement potentially would have a smaller variation than TC Lite due to the number of bulk ingredients making up the feed (2 vs. 4).
REVIEWS
Low Starch
Average rating:
10 reviews
Oct 23, 2018
Love This Feed
My 25y/o paint randomly stopped sweating last summer and I have been battling it ever since. I have tried over the counter meds, supplements, beer, etc and nothing was working. I had never had him officially diagnosed with cushings but my vet said it could be the cause of his non sweating. So he suggested that I switch his feed to a low starch feed. I already feed my guys Triple Crown Senior (and love it), so I was excited to find that Triple Crown offers a low starch feed and that it is more affordable than other low starch feeds I had been researching. After 1 week Triple Crown Low Starch he started sweating!!!! I couldn't be happier. I honestly cried LOL I hope he keeps this up and continues to sweat. Thank you Triple Crown for a great product!
Nov 29, 2017
Sept question
My 6 yr old mare was unable to eat any other product until we found triple crown low starch, it is amazing no more upset gut, and she looks amazing. Also my 15 gelding can eat it also as anything else made him crazy. Thank you for such a great product.
Jun 6, 2017
five stars
My arab was getting stomach problems with regular sweet feed so I  switched him to triple crown low starch and have had no more problems since.
Nov 10, 2016
Low Starch is a Life Saver
My 37 yo gelding loves his low starch feed and I really love knowing that I'm feeding him something that won't kill him...due to Cushing's disease complications. I've been purchasing Low Starch feed for 20 years now and the feed is always fresh, dry, and very aromatic. Thank You Triple Crown!!
May 11, 2016
Thank you Triple Crown Feeds!
I have been feeding Triple Crown Senior to my mare since she had colic surgery in 2002. Most people cannot believe she is 17 this year. There is no need for vitamin supplements, just good hay and pasture. I have tried other Senior brands and there is no comparison! My other mare is on Triple Crown Low Starch, it keeps her energy level manageable and she looks great. Never have to worry about the formulas changing like some other brands! Thank you Triple Crown Feeds!