Relaxing and Riding the Hot-Headed Horse
Posted | Tags: English, Riding, Training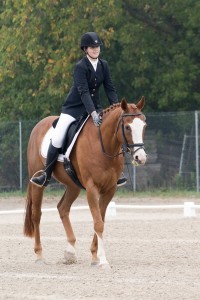 Learn How to Combat The Hot-Headed Horse and Have A Relaxing Ride
Owning a Thoroughbred, particularly one off-the-track, is one of the most rewarding experiences you can have as a rider. However, the breed definitely presents some of its own challenges, and as a college student in Wisconsin, I'm beginning to feel some of those challenges once again.
Thoroughbreds are a fantastic breed to work with, but they can be a bit hot-headed and typically have energy to spare. Add in the little movement that happens in the pasture, and riding a Thoroughbred can be challenging in the winter. As far as my own Thoroughbred, he comes out of his stall a bit stiff, but with plenty of spooks and prancing steps, he's eager to canter around the indoor arena.
Mental Exercise 
While all horses react differently, one of the best ways to deal with hot-headed behavior is to put the horse to work mentally. As a horse bred for stamina, simply trotting and cantering 20-meter circles are not enough to take the edge off of my Thoroughbred. If I spend too much time focusing on getting him to relax at a working walk or trot, he gets distracted and tenser. Instead, I've found the best strategy is to make him think more. As the rider, focus on changing up your warm-up routine so that your horse can't anticipate your first trot-to-canter transition or other movements you typically do.
Changing Up Your Warm-Up  
One of the best ways to vary your warm-up is in the shapes and lateral work you do. You can modify these exercises depending on knowledge and skill levels, but I will often begin by doing several circles of different sizes, serpentines, and unexpected changes of direction. This immediately makes my gelding pay close attention to me. As he warms up, I'll add in a combination of shoulder-in, haunches-in, and leg-yields in different locations. If your horse is comfortable with these movements, try riding them down the centerline to focus on straightness or ride half of the long-side in a shoulder-in before switching to a haunches-in. Another great exercise for getting hot-headed horses to start releasing their muscles is through spirals. You can begin in either a walk or a calm trot on a 20-meter circle. Flex your horse's neck slightly to the outside and ask him to leg-yield a few steps at a time so that you end up riding a progressively smaller circle. Then ask for a small inside bend and nudge your horse to leg-yield back outwards to the larger circle again.
Combining several of these exercises forces your horse to slow his mind down and move parts of his body inside and out, reducing the tension and high energy levels that often make hot-headed horses difficult to ride. Always take care to listen to your horse's body and don't ask for anything that is too strenuous. Otherwise, enjoy some hopefully new-found relaxation in your rides!