Meg Sleeper, DVM
Posted
Congrats to Meg Sleeper and Shyrocco Rimbaud winning the North American Endurance Team Challenge on August 18, 2015!
  *photo by Wendy Web
The North American Endurance Team Challenge took place in Ontario's Ganaraska Forest, near Millbrook, on August 18, 2015. The course was 120 kms in length over challenging but beautiful rolling terrain.
Rider Meg Sleeper and her homebred gelding, Shyrocco Rimbaud won the event to garner the individual gold medal with a ride time of 6 hours and 50 minutes and secured the team gold medal with northeast teammates, Emily Stemmler and Katherine Gardner. Shyrocco Rimbaud also earned the coveted best condition award.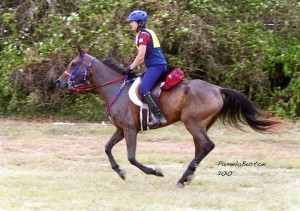 Why Meg uses Triple Crown Feed
When endurance horses are in top training, it is sometimes difficult to keep their body conditions optimal. We have young horses just beginning work under saddle and horses at every stage of endurance competition, up to and including three horses that have competed at world championships. Triple Crown offers excellent nutrition for each athletic stage. There are also excellent options for horses that require special management, such as those prone to rhabdomyolysis (tying up) or finicky eaters. It is a relief to know we are giving them optimal nutrition and support when we are asking for them for maximal performance. We have noticed ours have beautiful blooms on their coats and are generally calmer as well. We are firm believers in Triple Crown!
Visit her Facebook page here!