Managing the Increased Risk Of Colic in The Winter
Posted | Tags: colic, colic in horses, horse colic, winter care, winter feeding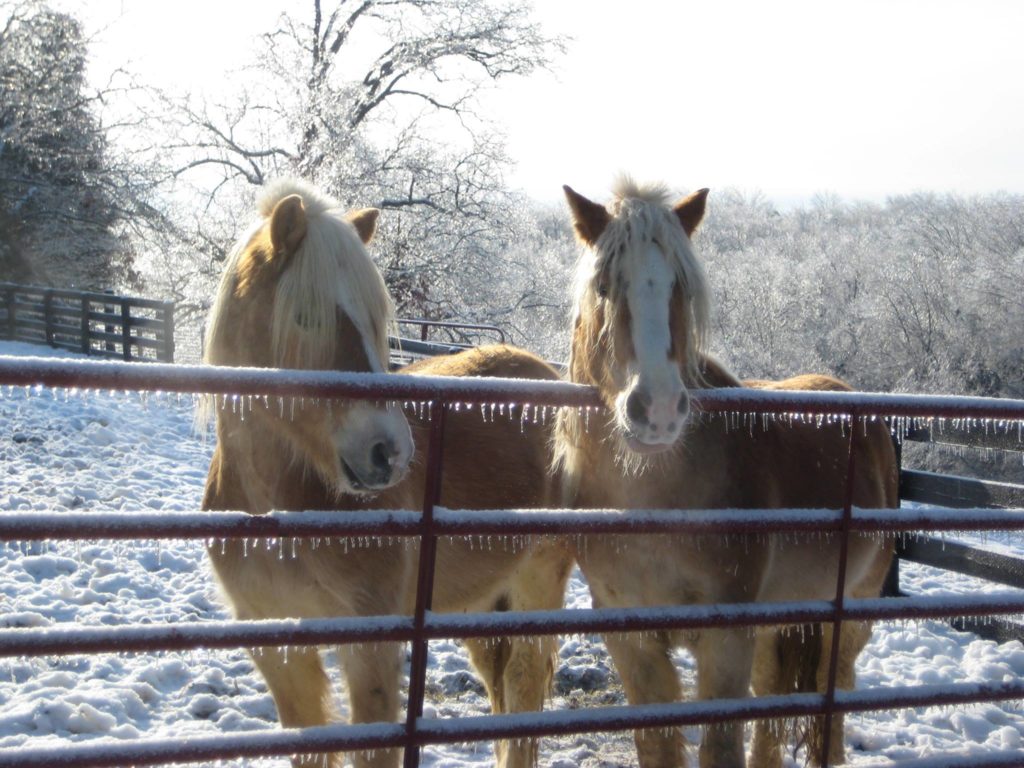 By: Jessica Drexler- Triple Crown Feed
Winter is coming and most horse owners in the northern states can agree, we dread this time of the year. Winter poses many unique challenges for us to keep farms in working order through the colder months. Being well-prepared includes maintaining machinery, having a game plan for chores and farm work— and making sure the essentials for horses are met. This includes fresh, warm water sources, sufficient forage and feed, appropriate shelter and ensuring horses are in a good body condition.
One of the biggest concerns as the weather gets colder is the increased risk of colic. Abundant water intake and a routine feed plan are especially important because if horses can't access water and drink regularly, the risk of colic can dramatically increase. If you have any concerns that your horse is colicking, call your vet right away.  Below are some management tips for warding off colic.
Water Access is Essential
Install Tank Heaters or Heated Buckets
If you are keeping horses outside, it is nearly impossible to keep the water from icing over without automatic heated waterers or a tank heater. You will need to invest in a tank heater and be sure to install it safely and properly with access to electricity. Be sure to take extra precautions so that the water faucet does not freeze. Installing heated water buckets is also essential for stalled horses in unheated barns. Horses do not drink well if water is too cold. (45 to 65 degrees Fahrenheit is recommended)
Keep The Tanks Full, Clean and Accessible 
Make sure all horses have access to water.  In larger herds, it is essential to have a number of water sources and to be sure timid horses have access to water too. Clean out tanks and water buckets often and fill with fresh water. Horses may not drink well if tanks are dirty.
Provide Free Choice Salt 
Salt increases thirst and helps keep horses drinking. You can provide plain white salt blocks, but do check that they use them otherwise you can top dress feed with salt.  A good recommendation is to provide 2 tablespoons per day to the average 1,100 lb horse.
Feed Sufficient Levels of Hay 
Horses require more calories to stay warm in the winter.  Therefore, they need more forage in the winter. The process of digesting hay helps to warm up their body temperature.  As the temperatures decrease, their calorie demands increase and more hay will be needed. Because hay is a lot drier than pasture grass, digestion of hay can cause intestinal blockage if sufficient levels of water are not available.
Feeding Should Be Consistent 
When you have figured out the right fed program to keep your horse at an ideal weight going into winter, stick with it and keep the feed routine as consistent as possible.  If a horse is in need of a feed change, a new supplement or even a change in hay type, you must do these transitions slowly.  If your horse is not maintaining their weight in the winter, remember increasing hay is the best place to start, next consider higher fat, complete feeds, because they provide additional fiber, calories and many options are low in starch and sugar. Always be sure to consult your vet if you think there is a problem.
Watch the Weather 
Sudden weather changes including storms or extreme changes in temperature are notorious for causing colic and we don't really know why, but get prepared.  If a mix of rain, heavy, wet snow and/or wind is expected, make sure your horse has access to shelter.  If you blanket horses, make sure to check blankets so that they are dry, and replace those that have soaked through.  Allowing horses to have access to exercise outside and move is essential to gut health, but there are times that horses may be subject to indoors or the horses may spend time huddling in a shelter to keep away from the elements.  When possible try to get them back outside for daily exercise.
Want to read more on winter care? Check out this great site by University of Minnesota Extension.
Impaction colic occurs more often during this season than at any other time. Make sure your horse has clean, unfrozen water to drink at all times! In addition, a number of other feeding and management practices should be carefully considered to ensure your horses are ready for the winter.   If you need any help with your winter feed program, contact us.