Rolex Kentucky Three-Day Event Winner
Posted | Tags: contest, Eventing, Events, horse shows, News, Rolex Kentucky, Tc Stories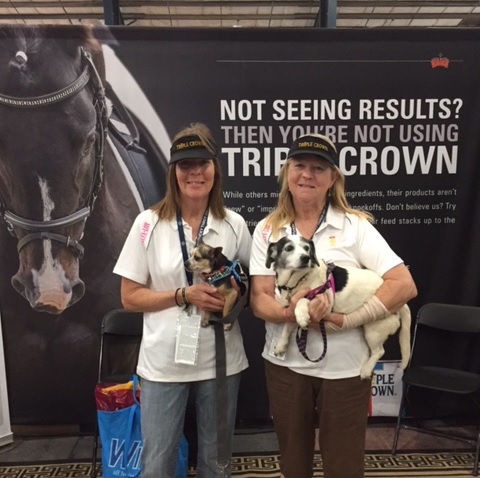 Winner, Kathi Hines, brought her sister, Mary, and they also brought their puppies, Mouse and Atticus.  "We all had a great time!"
Here are a few highlights from their vacation.
Kathi mentioned her favorite event to watch at Rolex is the Cross Country and their visit was kept busy watching the different disciplines each day.  They did check out the vendors and came home with breeches, halters and jumping boots.  Kathi said one of her favorite moments was watching Allison Springer's mount, Arthur, perform his last ride before retirement.  Kathi also said she got to get up close to Martin Boyd during the Sunday morning jog and Boyd's son played with her dog.
Kathi and Mary stopped by the Triple Crown booth in the trade fair area and were able to hang out at the Triple Crown tailgate party on Cross Country day.
We are happy they had such a great time.