Senior Horse Feed-Learn About the Many Uses of Senior Feed.
Posted | Tags: Health, Nutrition
By: Eric Haydt
What You Should Know About Senior Feed 
When senior feeds first appeared on the market, they were designed to help provide alternate sources of fiber and calories to older horses that were losing body condition because they could no longer eat hay or graze. As we learned more about the soluble carbohydrate effects and metabolic disorders, more owners turned to reduced grain and higher fiber diets. So today, many horses are on a senior feed no matter what the age or activity level.
(*Performance horse on Senior feed)
Here are some facts and tips on when to use or not use a senior feed:
A horse absolutely needs to transition to a senior feed when they can no longer maintain weight on a normal hay and grain diet. This applies to horses that did well for most of their lives on stable diets but suddenly start losing body condition. Typically, this is tied to a loss of the ability to graze or eat hay, or to a general loss of digestive efficiency due to past conditions such as neglect or heavy worm populations. A senior diet replaces the fiber and additional calories needed to maintain proper body condition that grain diets cannot provide. This can happen at any age, usually as early as the mid-teens, but can be sooner or later.
Senior feeds should contain digestive enhancements such as prebiotics, probiotics, yeast cultures and organic minerals to help the compromised digestive system work better to help maintain weight and improve immunity. Triple Crown Senior has had these enhancements for over 18 years. Some companies are just now adding them like it is new technology.
Senior diets are not always the best choice for senior horses. If you have a horse, no matter what the age, that still maintains weight well on pasture, hay and a small amount of feed (3 lb. or less), than a vitamin and mineral fortified feed like Triple Crown Lite or Triple Crown 30% Supplement would be the best choice.
Horses can start on most senior diets at any time in their lives, even if there is no indication that they need to be on one. The lower soluble carbohydrate level (starch + sugar) often help make some horses more manageable and can help with horses with metabolic issues.
Horses that have been neglected or starved should start on a senior diet after following all the protocols of refeeding starved horses. It is beneficial for these horses to stay on a senior diet for the balance of their lives, no matter what age or activity level.
Because of the high fiber level and lower soluble carbohydrates, it is much safer to feed horses that need extra calories larger amounts of senior feed than a grain-based diet. Because of the 10% fat level of Triple Crown Senior, this can even result in lower amounts of feed than other lower fat senior diets on the market.
All senior feeds are complete feeds, which was covered in a previous blog. Therefore, if a horse can no longer graze or eat hay, he can thrive on just eating the senior diet. This would typically require feeding a minimum of 1% of body weight. If feeding as the sole source of the diet, split the feedings up as many times as possible throughout the day. We also recommend feeding in pans on the floor and adding some water to soften the feed.  This will help reduce the potential for choking, as these horses tend to produce an insufficient amount of saliva.
If you are not feeding a senior feed to replace fiber, we recommend feeding some amount of long-stem fiber for as long as you can. You can feed the senior diet or any complete diet in the same manner as you would any other grain-based diet.
Senior feeds have been the most revolutionary horse feed diet in the past 20 years and have helped maintain and extend the lives of our equine friends.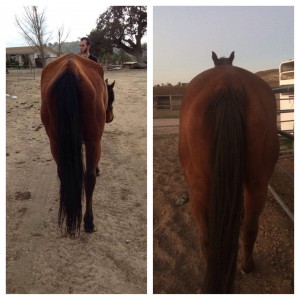 (*A horse rehabilitated back to health with TC Senior.)