Be Show Day Ready!
Posted | Tags: horse care, horse management, horse show, horse shows, Performance Horse, Training
Don't let a missing saddle pad, forgotten feed or road detours keep you from your show. Be well prepared for the travel, stay and daily needs when heading out to a show or other horse event. Here's some advice from Triple Crown experts on being prepared and preventing "show day jitters" for you and your horse.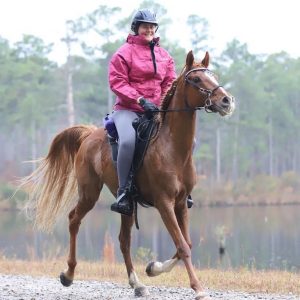 – Christina Boucher Reynolds, PAS, Triple Crown Regional Sales Manager SC/NC
"My main way to avoid show jitters is to have everything planned and packed ahead of time. I also like to make sure I have things for every way things could go 'wrong'. Whether that's a spare bridle, zip ties, change of clothes, etc. It reduces my anxiety when I know I have a contingency plan if something goes wrong with a piece of equipment or whatever. The other thing I do is make sure I am showing at a level that I am comfortable at. Even if I'm training at a higher level, I will drop down one level so that I know both myself and the horse are going to have a good positive experience. It's easy when to make little mistakes or feel nervous under pressure, and going at a level you feel completely comfortable with is a great way to combat that. I also like to make sure that my horse, my outfit and my tack are looking good. I feel like it gives me an extra boost of confidence. I don't usually have the fanciest or most expensive clothes and equipment, but they all fit well, are good quality and clean."
-Terra Mitzel, Triple Crown Insider
"When preparing for a weekend barrel race, I like to make a detailed plan weeks ahead of time to ensure everything is packed and I don't have to stress the night before. I make sure I pre-enter by the deadline, and I secure my stalls and anything else I would need. Two days out, I start packing my trailer with tack, horse feed, hay bags and water buckets. I find that by packing early, you have time to think of anything that may be forgotten. I will make a list for unique things like rubber bands, tail conditioner, hoses, fans, stall hooks…things that will help make the weekend go much smoother! The night before a race, I clean my horse(s) and run through the trailer (again) to make sure everything they need is packed. I then start to pack for myself. My goal is to make loading up a stress free and fast process.  If I am headed to an arena I have never been to before, I always look up the facility ahead of time and also like to leave an hour or two sooner, so I have extra time. Once we get to a show, the very first thing I do is unload horses and fill their water buckets. I will then start unloading my tack and hay at the stalls before heading to park the trailer and unpack myself.
Pre-race mindsets are crucial for a successful run.
I like to start tacking my horses up about 40 minutes before I race so my stress/anxiety levels stay down. About 30 minutes out, I warm the horses up and then sit for 10 minutes outside of the arena to focus. I run through the pattern in my head and visualize the layout of the arena. I am just as competitive as the next person, but also remind myself that no matter what happens, I am thankful to be riding some amazing animals. As soon as my run is over, good, bad, clean or not clean, I make sure my horses know they did amazing."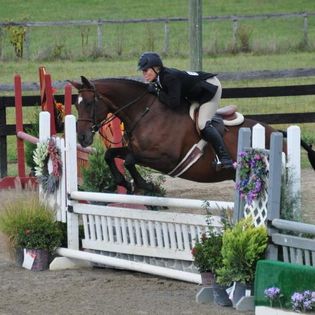 -Katie Wimer, Triple Crown Regionals Sales Manager- VA
"Preparation is the key to success" – Alexander Graham Bell
"I found over the years showing in the Hunter/Jumpers, the best way to calm my show day jitters is to be as prepared as possible. I always make sure my show clothes, boots and tack are cleaned as soon as I am done showing so they are ready for the next show and I am not scrambling to pull everything together the day before. Practicing and preparing at home is what creates a great, jitter free horse show experience, for you and your horse. Once I am at the show, I like to give myself plenty of time to learn my course and watch a few riders in the divisions before me ride the course to see how it is. Once I learn the course, I visualize myself and the horse riding the course. I ride through the whole thing, taking into account places where I know my horse may have a tendency to drift. I visualize every step of a perfect round from the first foot in the ring until I exit. Then when I step in the ring, my horse can feed off my confidence, instead of my anxiety. It may not go perfectly, but if I visualize the whole course, we can get back on track if something doesn't go right, rather than spiraling out of control during the rest of the ride. Remember, horse showing is supposed to be fun. Prepare at home and go have fun at the show!"