St. Patty's Day Bash at The Horse of Course
Posted | Tags: Adequan Global Dressage Festival, English, Events, horse shows, News, Tc Stories, Thoroughbred, Triple Crown Nutrition, United States Equestrian Federation, Wellington
For Immediate Release:
Contact:Charlie O'Hara, Corta-Flx, Inc.
Kelly Payne, Triple Crown Nutrition
Come Boost Your Luck As Corta-Flx® and Triple Crown® Nutrition  Paint Adequan Global Dressage Festival Green & Gold at the St. Patty's Day Bash at The Horse of Course!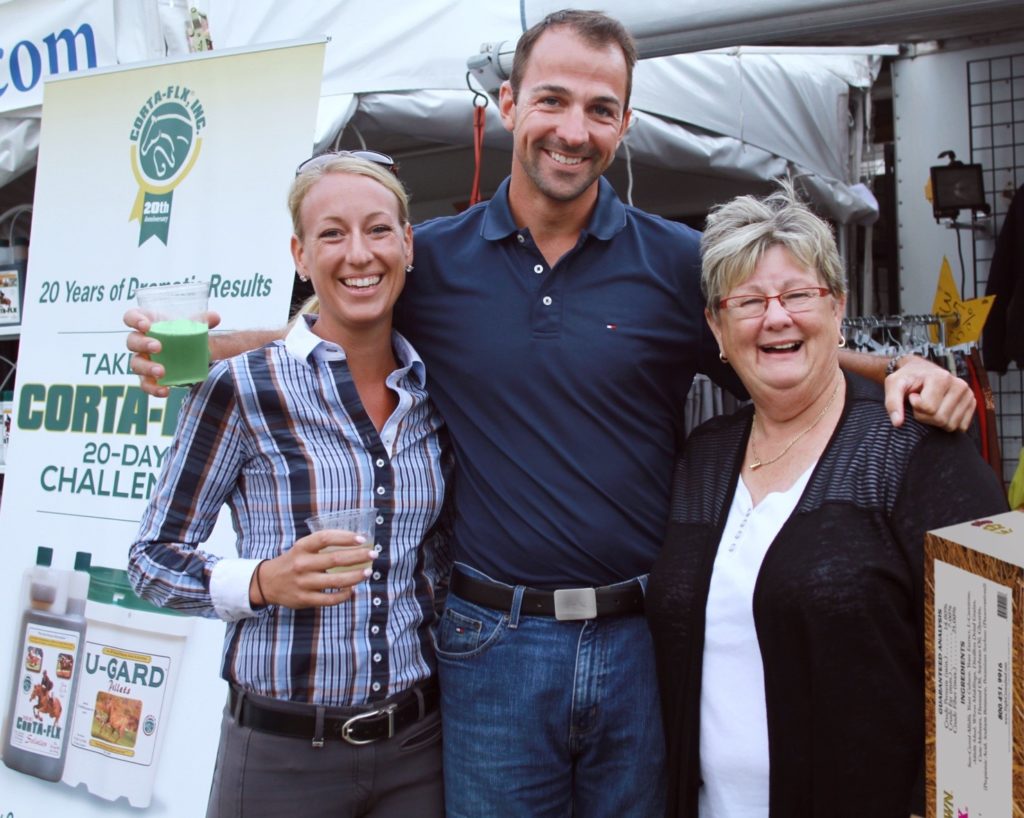 Wellington, FL (March 15, 2017) – Corta-Flx® and Triple Crown® Nutrition are teaming up to turn the vendors green by The Horse of Course at the Adequan Global Dressage Festival show grounds into a St. Patrick's Day paradise.
On Friday, March 17, from 3:30-5:30 pm, the two companies will join forces to spread their signature colors of green and gold at The Horse Of Course just across from international stadium's warm-up arena at the dressage mecca in Wellington, Florida. The Adequan Global Dressage Festival show grounds are located at 13500 S Shore Blvd, Wellington, FL 33414.
The Irish affair will feature a lineup of fun and festivities, including green food and cocktails, a best-dressed-in-green contest, and an impressive list of raffle prizes for those looking to put their Irish luck to the test.
Goodies up for grabs at the event will include Triple Crown Feed, Triple Crown Alfa-Lox® Forage, Corta-Flx® Joint Supplement, U-Gard® Gastric Supplement, a brand new bit and bit fitting from The Horse of Course tack shop, a $500 gift certificate to Oceanside Medical Aesthetics, and hair cut & style by Damiano Guardino at Union Color Salon that will turn the winner's friends green with envy!
Friday's celebration will again take place on the vendor's green in front of The Horse of Course's mobile tack shop at the Adequan Global Dressage Festival show grounds, which, as many will remember, was also the location of the recent Makeover Madness Soiree.
Triple Crown is no stranger to putting together an unforgettable event, having hosted the much-lauded Triple Crown Season Kickoff Party in January of this year. Together, the two companies are tickled green to throw another red-letter celebration.
Like the location host, The Horse, of Course, Triple Crown Feed and Corta-Flx® are all official sponsors of the Adequan Global Dressage Festival, which takes place at the Palm Beach International Equestrian Center from January 11 through March 25, 2017.
Triple Crown manufactures feeds using revolutionary formulations and premium ingredients, and was the first company to add prebiotics, probiotics, and organic minerals to their fixed–formula horse feed. To learn more, visit the company's official Facebook page or Instagram @TripleCrownFeed, call 1-800-451-9916, or visit www.TripleCrownFeed.com. Please direct specific inquiries about Triple Crown Florida to Craig Bernstein at 1-561-543-4526.
Corta-Flx® supplements have remained a trusted solution for the world's top competitors since the company was founded in 1998. Due to its revolutionary formula featuring pure, water-soluble, isolated nutrients, Corta-Flx® joint supplement creates dramatic results in horses' joints within a matter of days. To learn more about Corta-Flx® and the company's family of supplements, visit www.corta-flx.com.
Top Photo: Trainers Shannon Stevens (left) Marcus Orlob (center) and Beth Haist (right) of The Horse, of Course, enjoy the celebration on the vendors green at the Adequan Global Dressage Festival show grounds (Photo courtesy JRPR )