Stress Can Cause Equine Gastric Issues. Here's what you can do about it.
Posted | Tags: gastric ulcers, stress, stressors, ulcers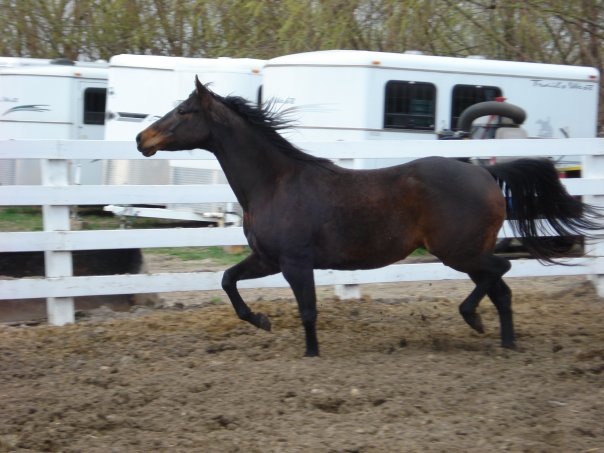 Studies indicate that the prevalence of gastric ulcers in performance horses is 80% or more[1]. That means there's a good chance your horse will experience stomach upset at least once in his lifetime. One of the most common causes of equine gastric discomfort is stress.
What causes equine stress?
Just like humans, horses feel stress. And for some of the same reasons, too. The following stressors can affect health, attitude and performance and put your horse at greater risk for gastric discomfort:
Being alone
Trailering
Injury
Performing
Increased exercise, training, showing or racing
Vet visits
Environmental changes, like weather or a new stall
Stall confinement or on stall rest
Changes in feeding schedule
A stressed handler or rider
Hectic training environment
A naturally nervous disposition
Lack of turnout
Inadequate forage quality and quantity
Water deprivation/intermittent access
Prolonged use of NSAIDs
Signs of equine stress
Horses express psychological stress in a number of ways. Because they can't tell us when they are feeling stressed, it's up to their owners or riders to be on the lookout for signs. Become familiar with your horse's usual demeanor to help determine if any of the following behavior changes are a sign of stress:
Naughty behavior, such as pawing, pulling, tail wringing, bucking, rearing, bolting or being cold backed
Excessive yawning
Vocalizing
Depression
Repetitive head movements
Excessive sweating
Unwillingness to work or poor performance
Decreased appetite
Signs of gastric discomfort
Gastric discomfort can present differently in individual horses. Some of the following signs might actually be normal for your horse, or the cause a different problem. That's why it's so important to know your horse's typical behavior so you can assess if any of the following are unusual for your horse:
Poor appetite
Picky eating
Poor body condition
Weight loss
Chronic diarrhea
Poor coat condition
Teeth grinding (bruxism)
Changes in behavior or mood
Acute or recurring colic
What can you do to help prevent or ease stomach upset?
You can help manage gastric discomfort by developing a management program to help minimize the factors contributing to gastric discomfort. Maximize pasture turnout and offer plenty of opportunities for exercise. Be sure to provide continuous access to fresh water. Finally, never allow more than six hours of fasting, and give your horse frequent access to high-quality hay. Alfalfa hay is a great indication to the diet for the natural buffering it provides to the gut. Need a source? Check out our new StressFree™ Forage product!
Try to anticipate stressful events, such as traveling or showing, and give your horse feed that supports and maintains gastric health and proper pH during stressful times, like Triple Crown feeds with EquiMix®. For over 22 years, Triple Crown has been adding EquiMix to all our feeds. Found only in Triple Crown products, EquiMix is a unique blend of yeast cultures, organic minerals, prebiotics, probiotics and digestive enzymes that helps optimize intestinal function, improve the immune system, and protect against mycotoxins and pathogenic bacteria.
To see how Triple Crown feed compares to your feed, visit the Triple Crown compare page.
[1]

Sykes, B., et al. (2015), European College of Equine Internal Medicine Consensus Statement—Equine Gastric Ulcer Syndrome in Adult Horses. J Vet Intern Med, 29: 1288-1299. doi:10.1111/jvim.13578