Tango's Story
Posted | Tags: horse care, News, Nutrition, Riding, Tc Stories
We at Triple Crown love the transformation stories shared from our followers! Check out what Ron Syrko has shared with us about his special horse named Tango.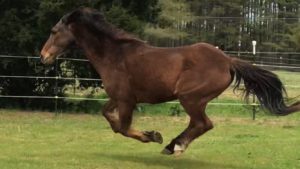 Tango was in the Sugar Creek Livestock Auction in Ohio where he was purchased by a dealer, who then sold him to his previous owner.  She is the one who named him Tango.  He was a very energized horse. He would rear, liked to kick and was barn sour.  I bought him from her in the late 1990s.
Tango was my first horse, "Little did I know he would become my heart horse." He was a hard horse to catch.  After a few months, I decided to sit in the pasture and become part of the herd!  Soon, I became part of the herd following them around as they grazed. Then Tango just walked up to me!  After that, every time I called him, he came running to me. Over the years we attended local horse shows and trail rides, including rides and special events for fundraisers and charities.
Over the years he had a near-miss with lightning and a pelvis injury from a possible bullet on the first day of deer season. He recovered very well and never has missed a New Year's Day Ride and is always my" Special Event Horse". He has won many ribbons at trail challenges, placed 7th in the South East in ACTHA, won the trail challenge at Leatherwood and appeared on the TV show Best of America by Horseback, he also appeared in the ACTHA promotional video and was interviewed by a local ABC tv station at the AHA beach ride 2017.
I remember back in 2007, Tango started dropping weight very quickly. I attended the local REINs programs (Regional Equine Information Network System) to learn about feeds, worming and pasture control, and I also attended my local store's Equine Nutrition Seminar where the nutritionist spoke about the benefits of Triple Crown feeds.  Due to this, I switched Tango to Triple Crown Senior and noticed a major difference and shine in his coat, he started putting on weight and got his pep back.
In the fall of 2017, my store stopped providing Triple Crown feed, and so I switched to another local store brand and Tango just stood around in the pasture, slept all day, had no energy and was very cranky. I decided to give Triple Crown a try again and contacted Triple Crown to ask about the feed process and what could I do to help my senior as his teeth are very worn and after the change in feeds he had lost weight.
They recommended Triple Crown Complete and looking at the very Informative chart on the back of the bag I started feeding 4.5 lbs twice per day. Within 3-4 weeks I noticed a major difference in his energy level and his coat. I started riding him again this year and he loves his job on the trail. He also attended the USREL Ark ride last year and I want to take him again. I let my friends know about the big difference Triple Crown Complete has made for him and many have switched and texted me asking what I switched him to. I send them the pic of the back of the bag so they know what feeds to use for their situation.  -Ron Syrko