The Importance of Clinics
Posted | Tags: Riding, Tc Stories, Training, Youth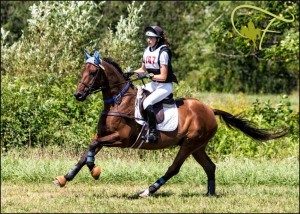 By: Triple Crown Insider- Julia Marrinan
One of the most important qualities a young rider can have is the desire to keep learning. Improving your riding is something everyone should want to do, but when the opportunity comes up, it can be scary.
Going to a clinic means facing criticism. But without criticism, how would we learn? New experiences (even the tough ones) offer new education—something that we as riders owe to ourselves, and our horses. Competitive riders know they have to face evaluation from a judge eventually, but the personal assessment that a small clinic offers can often be overwhelming. Despite the nerves involved, there's nothing like it for improving your riding and your horse.
I was reminded of this recently after applying to be a demo rider in a National Examiner's clinic for Pony Club. While the clinic wasn't aimed at me, I knew I would be the recipient of a healthy dose of constructive criticism. The objective of the clinic was to give National Examiners the opportunity to discuss the C2, C3, and B standards of riding and horse care with real riders and Pony Clubbers in front of them. The clinic had the added benefit of allowing parents and riders to clarify the standards and see how they compared before the summer certifications.
Riders demonstrated their warm-up, flatwork, and jump course, and then, we were able to listen to the National Examiners discuss their ride in relation to the current rating and the rating they were trying to achieve. As a rider going for her C3 this summer, this was an invaluable experience that I highly recommend to everyone. Having more than 20 NE's telling me what they thought of my ride was a lot to take in, but it prepared me so much more for the rating and gave me several issues to focus on in the coming months. Due to playing polo at college, I developed a slight lean to one side, something I didn't notice riding by myself, but the NE's definitely did.
While lessons with your trainer are important to learn to ride better, clinics provide opportunities to ride in front of new eyes and often lead to the discovery of even better ways to ride or new ideas in the quest to fix old problems. This year, one of my goals is to challenge myself by attending as many clinics and learning opportunities as possible so I can be the best rider I can possibly be.
We love the United States Pony Club! Learn more about the program here! 
Join our Insider Team!  Apply now!