The Inside Track on Horse Racing: Part 1
Posted | Tags: Riding, Training
As American Pharoah prepares to make his first debut since winning the Triple Crown at the Haskell Invitational in NJ, learn more about the process of training a racehorse from a life-long racing professional!
By: Triple Crown Nutrition
Having been associated with racehorses for much of my life, I'm often asked what racing is like, for both the riders and horses involved in the sport. Given the tremendous amount of interest in both jockeys' and race horses' perspectives, I've elected to write this 4 part series on the life cycle of the race horse, from both the jockey's perspective and the horse's point of view. Having actually ridden as a jockey, I can speak from experience about the human side of this experience. However, writing from the perspective of the horse might require that you suspend your disbelief, just a bit.
Part 1: Early Training: Riding the Young Race Horse on The Farm.
From The Rider's Perspective: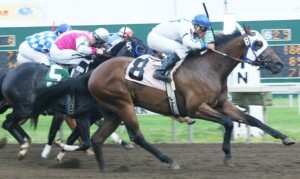 The first time I ride a young colt or filly, outside the barn or holding pen, is typically not a big deal. Years of experience around horses has taught me to be patient, confident and to let my young mount know that I have tremendous respect for his or her concerns. I'm also well aware of my young charge's extremely strong herd instinct, which helps keep me on my toes. It's also at this juncture that the horse's unique temperament becomes more apparent. I'm beginning to sense if this prospect is bold, timid, quick-tempered, lazy, mean, or, just plain shy. Will I be able to keep a light feel on his mouth or is he headstrong, requiring that I continually remind him of the rules? This is of particular importance when riding within a group. You need to make sure that you have the right mix of colts and fillies and jockeys, (sometimes called Bugboys,‰during workouts) so that you don't suddenly have several young horses misbehaving in a group. As an experienced rider, I'm virtually always able to safely handle a disgruntled mount without issue, but, it's best to keep these equine skirmishes to a minimum, for the safety of all the horses and riders.When riding in a group, remember that one horse's spook can set off a chain reaction. Riding these babies is both a fun and risky business. Ask any trainer or rider, the first few times a young horse is allowed to run at an open gallop can be fraught with anticipation for everyone, including the horse.
Colts and fillies are just like young children, sharing a world view that is fresh, exciting and at times, frightening. Their reactions are highly instinctive. As a rider, I know these young horses are intrigued by virtually everything. Every newly blown leaf, piece of swaying fence or falling branch presents a situation that could prove threatening, so, I remain alert, ready to anticipate any reaction the horse might have. At the same time, these youngsters are quickly learning how to respond to instructions, as they're asked to work on various footings as well as in rings, on tracks, in groups and alone.
From The Young Horse's Perspective:
While these 2 legged beasts have been around me, my mother and the rest of my horse friends since I can remember, I really don't like it when they take me away from my buddies. Every bone, nerve and hair in my body says, Stick with the herd!‰Û I'm always focused on the whereabouts of virtually every other horse in my little herd and what they're up to, so, I'm always listening and looking around. If my chestnut buddy, 16 feet away, suddenly looks up, so do I. If a bevy of bay beauties suddenly runs off, bucking and rearing, I'm compelled to follow suit. No time for second guessing. Where the herd goes, I go. Some of my friends say that it's always been this way, that we horses have always found safety in groups, always ready to run for the hills whenever some gigantic, scary, horse-eating monster suddenly appears.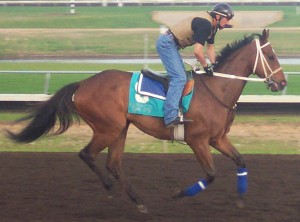 So far, the only scary beasts we've seen are the tractors and trailers used to run the farm. And, in spite of how loud and foreboding they are, we've pretty much gotten used to them. We're pretty used to our handlers, too. Humans‰Û are not only, not scary, but they give us all kinds of great goodies to eat and help keep the bugs away. Now, however, they recently started having one of their kind climb on top of me. I thought it was fairly peculiar the first few times, but, I'm getting use to feeling the weight of a person my back. I'm even starting to understand that when the person applies pressure with his legs, I'm supposed to move away from that pressure. The pressure on my mouth combined with some of the person's leg pressure and voice, is how they tell me to turn, slow down and stop.
Next thing I know, I'm suddenly dealing with something new. My rider is adding more pressure with his legs and releasing pressure on my mouth. He is asking me to move up, ahead of and past the herd! But, I am NOT a herd leader. I know I'm number 3rd in this herd's pecking order. The entire group of horses is aware of the situation and subtly reacts to my refusal to take the lead, in spite of my rider's strenuous urgings.
Finally, I find my rider's persistence impossible to ignore and I move up and take the lead. And, oh boy, does this feel weird! I am feeling vulnerable and exposed, positioned out in front of the herd. Now, it's up to me to decide if an upcoming puddle is safe to stride through or a deep hole is to be avoided. Is that noise in the bushes just the wind, or is a cougar preparing to pounce? I'm in dangerous territory, torn between trusting my rider and feelings of terror and fear. My rider is impressed with my performance, thinking that his encouragement is what's making me cover ground like I am. He doesn't realize that the colt, right behind me, is practically right on my tail and I'm terrified of being run over. Now, the entire pack of horses is racing, running scared, knowing that some kind of altercation is occurring, right in their midst. Finally, my rider senses the problem, moves me out of the way and lets the competitive colt behind me, pass. I'm relieved. The horse that passed me has always been our herd's leader. And, I'm thrilled not to be traveling with another horse so close to my heels.
Once this is over, we return to the barn. Now, everyone is relaxed, even the riders. As I'm handed off to my groom to be bathed, brushed, wrapped and fed back in my paddock, with my herd buddies, I find myself again at peace with the world. Every fiber of my being enjoys this luscious pasture, surrounded by my many friends. Almost every day, the two leggers spend time with us, teaching us more and more about running with our herd mates. While I have no idea why we're doing this, it seems a decent enough life.
Segment 2 of The Inside Track on Horse Racing series, finds rider and horse reporting on the challenges they face as they move to the next phase: the training center.