The Inside Track on Horse Racing: Part 2
Posted | Tags: Riding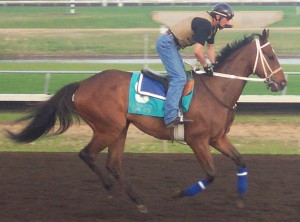 By: Triple Crown Nutrition
In This Segment, We Follow The Young Race Horses In Their First Days At The Training Center. Both the Jockey and Horse's Point Of View
In our first segment, we discussed a young race horse's first few months of training at the farm, from both the rider's and young Thoroughbred's point of view. (Hey, putting words in our horse's mouths is half the fun! Right?) This week, in the second part of our four-part series, my equine alter ego and I explore the ups and downs of transitioning from the farm to a professional race training center.
Part 1: Moving Up – Introducing The Young Horse To a Working Race Track.
The Rider's Perspective: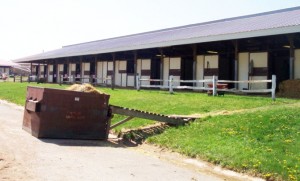 Taking the young horse from the farm to the training center is an important transition. She/he has completely new smells, sights, sounds as well as a new set of training rituals to adjust to. Playtime is over, there will be no more days spent running freely in paddocks with life-long friends. These horses are 2 years old now, and, metaphorically speaking, it's time to hit the books. This is where the trust, which myself and my fellow riders/trainers and grooms have worked hard to instill in each animal, will really pay off. We are setting the stage for this next, highly critical phase of training. While we are keen to get these horses focused on the job, it has to be done very strategically. We make it a big game, all based on baby steps. These two-year-olds must quickly learn how to take simple issues with a grain of salt and to stay on task during more complex efforts, like leaving the starting gate at a dead run; safely.
I pride myself on being a good rider, and moreover, a good teacher. By showing my mounts how to enjoy their work, I'm creating a willing partner, as opposed to a sulky adversary. My associates and I work the horses in pairs or small groups, introducing them to the track as patiently as possible. As every experienced horse person knows (If you're new to the game, you'll learn this pretty quickly,) a young horse in new surroundings has many concerns: Pieces of plastic dancing crazily in the wind, gaps in the rail, other horses running at different speeds past them, in BOTH DIRECTIONS. And then, there are the distance poles to contend with. (As in, They're at the 1/16 pole! now they're at the 1/8th-mile pole! etc.‰Û)
These relatively large poles stand right next to the racing rail and are painted either: black and white, red and white or green and white. They also feature a large, shiny brass fitting on top. Just imagine galloping an untrained, young horse, past a few of these things. Could be just a little spooky, don't you think?
But, by demonstrating exceptional patience, staying deep in my seat and keeping my hands soft but supportive, I'm ready to deal with the horse, should it buck, rear or spook. My young charge's trust grows quickly as he becomes increasingly dependent on me for reassurance and guidance. He begins to truly listen to my voice and aids and worries less and less about all the scary, new, life-threatening,‰Û distractions, he's facing. There's a quiet thrill in riding such young, powerful thoroughbreds as they come into their own. With frequent outings, my horses usually progress fairly quickly. I teach them how to run on-the-bit while remaining collected at high speeds. We practice running in close quarters with other horses. One of my biggest priorities is teaching the horses to stay on task, even as the track seems to throw dirt directly into their faces, blinding and stinging them. My horses learn that, no matter what, their job is to dig in, reach for more ground and help me stay balanced, all at breakneck speeds. These youngsters are evolving, learning to ignore pecking orders and stay focused on becoming more competitive.
The Starting Gate
Most young horses don't have much trouble with the gate, provided they trust the rider and their handlers. It's not unlike training a horse to load safely into a horse trailer. I've found it best to introduce them to the gate and let them sniff and poke around, as well as have them play follow the leader with a more experienced horse. With this bit of gentle persuasion, most horses will enter the gate. Then, with the starting bell turned off, we teach them how to come out of the gate in stages: First at a walk to a trot, then a trot to a gallop, gallop to a run and last, but not least, they learn to leave the gate running. Once they've got all that down, we use the bell. Everything is done in baby steps. Interestingly enough, I find the gate more frightening for riders than horses. I've seen what can happen when a young horse panics and overreacts. Ten horses in a starting gate, (I call it the Giant Metal Contraption,‰Û) means 10,000 pounds of quivering equine energy. Horses have been known to flip-over, their nervousness and claustrophobia quickly turning to panic. When I'm training the youngsters, my goal is for my mount to have blissfully perfect outcomes, and to enjoy the game we're playing.
The Young Horse's Perspective:
Well, now that I'm here at an actual training track, you could say I am truly feeling my oats! I'm living in a barn, full time, surrounded by a lot of interesting horses, some of whom I knew back home where mom lives, and some from other farms. (There are other farms besides ours? Who knew?) Our routines seem to be a little more consistent here. We all know when it's chow-time when work starts and I really love the two-leggers here: my new grooms, riders and handlers. (Some more than others.) Every day I feel a bit stronger and bolder in my work.
Let me tell you about that track. It's so exciting! Not only do I get to run almost flat-out, alongside my buddies, but I'm starting to get a taste for winning. My distaste for horses running right behind me has become far less of a problem. With my natural speed, staying out in front has become easy.
Every day, I feel a little less stressed. My regular rider whispers in a sing-song to me, which helps me to relax. He has great hands, knowing how to communicate with me; just the lightest touch on the reins, barely touching my mouth. But, I don't always have the same two-legger aboard. Different riders have different styles. I'm not terribly fond of the ones who hang on my mouth. Why do I have to put up with anyone but my favorite? Hey, seriously, do I have any say in any of this? (Apparently not. I'm still pretty happy, though. The fringe benefits are totally stellar.)
I'm not sure why, but the starting gate freaks out some of the other horses. I actually kind of love it. All my handler buddies are usually there, along with my favorite rider. It even smells kind of familiar. With the starting-gate lessons, there's something new to do, every day. At first, we practiced walking, trotting and cantering out of the gate. Then, they let us run, flat out, and started adding the bell. Eventually, we all got up to speed and were having the time of our lives. Cause, when that bell rings, it's your chance to grab the track and kick dirt in your barn buddies' faces. What a blast! Getting lined up. Hearing the bell. Flying through those doors. Whoo-Hoo!
After our daily workouts, it's back to the barn for grooming and a bath. I no longer get to go out to pasture with my friends, but we still visit as we walk to and from the training areas. Now, my afternoons revolve around munching on my delicious lunch and resting in my stall. It's so soft, and quite cozy in my stall. When the sky turns dark with shiny sparkles, I think about the day's excitement, and chomp down on my dinner. Every night I dream about what we might learn tomorrow while nickering back and forth with the other horses. I have to admit, life is actually pretty good.
Segment 3 of, The Inside Track on Horse Racing, series finds rider and horse reporting on their ongoing efforts at the training track. Building speed, strength and preparing for race time.