The Inside Track on Horse Racing: Part 3
Posted | Tags: Health, horse care, horse management, Horse Racing, Riding
By: Triple Crown Nutrition
This Week, We Follow The Young Race Horses As They Settle Into The Routine at The Training Center
During our second segment, we followed the maturing colt, from the farm onto the training center. Our rider's years of experience were apparent. He made this critical training phase an enjoyable, game-like process for the young horse. Now the horse is starting to sense his destiny and the potential stakes ahead. In this third segment, we hear both rider and horse's inner-most thoughts as the horse learns to make the track, his own.
Part 1: Exercise Riding At the Race Track.
The Rider's Perspective: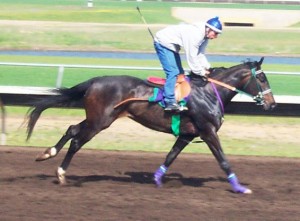 Developing a new racehorse's talent is both an art and a science. You have to contain all that explosive equine energy without inhibiting the horse's natural instinct to run. You must practically be a horse psychic: Understanding the horse's personality from the first moment you sit on him. You're dealing with a hot headed horse, and the need to stay supportive and subtle while demonstrating authority.
This is precisely the reason I keep a very light conversation going with the horse, virtually, at all times, using my hands, voice, seat, and legs. I know that giving him an inch at the wrong moments could make him run off, with me unable to control him. I'm more concerned about being run off with than the horse bucking, jumping or rearing.
As we only have 5 minutes from when I mount the horse till we reach the track, I've got to have my mount's mood figured out, fast. While he's done well, ignoring most distractions during his first couple weeks, there are always new noises, movements, spooking horses, etc., to contend with. There is also the fact that my young horse understands precisely where we're going and he's acting excited! This is a good sign. We want our horses to love this job.
Once we hit the track, the horse knows his job is to gallop and run. Some of my horses relax once we start working, while others start relaxed and get progressively more wound up.
I've got a short, mile distance to warm my mount up, adjust his tack and figure out my strategy. As soon as I turn around, we're off and we've only got 5 to 10 strides to fall into sync with each other. In truth, it's really my responsibility to set the stage. I've got 10 strides to get it right or wrong, as the level of contact I make with the horse now, sets the mood for the next mile. At this point, I pretty much hold steady and let the horse go. But, I'm also ready to react should the horse have any idiosyncrasies: Is he anxious to catch up to the group of horses running ahead of him, does he get annoyed when other horses run to close behind us? I not only have to be aware of all of this but, I must be extremely careful: making only the most subtle movements: Turning my wrist too quickly, taking excessive rein, even popping my chewing gum, these are the mistakes that can turn a nice relaxed horse into a puller or runaway.
The Young Horse's Perspective: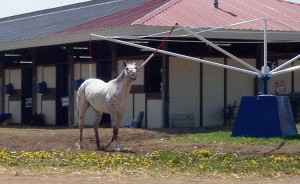 Yes, I am all that and a bag of sugar cubes. The two-leggers keep saying I'm a lean, mean, running machine and I do find myself kicking more dirt on the other horses than they're kicking on me, these days. Things are getting more serious somehow, but, I understand my job and am starting to think of my riders as partners. I'm learning to take some of their confidence and make it my own. Everybody's energy seems really high and there are horses everywhere you turn: Trotting, galloping, some alone and some in pairs. We are all very well aware of one another, but we work more and more independent every day.
I'm not a big fan of watching and waiting so my riders and I usually get straight down to business. Straight to the gallop! My exercise riders all give me a nice long rein as well as letting me take charge. They become very quiet and still after a few strides and I can just relax and run in a rhythm. Sometimes, when I'm feeling really incredible, I start my gallop, petal-to-the-metal! But these guys really trust me, they just give me my head and wait for me to settle my pace. I've only had a rider bump my mouth too hard during these workouts once or twice. I hate when they do that, it totally scares me! But, these days, nobody tugs on me too much, EVER, so we're all good.
Yes, I have a pretty great life. Not only do I love my job, but the grub is great! I devour around 15 pounds of horse feed per day and the two-leggers they call, The Trainer, feeds our entire barn Triple Crown horse feeds. We get Complete Racing and 14% Performance. They're totally yummy and every horse in this barn totally shines. We also get plenty of tasty grass and alfalfa hay.
The rumor among the horses is that we're being prepared for something even bigger. I'm really keen to see if they're right. In the meantime, my pals and I are living the life, being asked to run like the wind and being doted on, day and night.