The Inside Track on Horse Racing: Part 4
Posted | Tags: horse management, Horse Racing, OTTB, Thoroughbred
By: Triple Crown Nutrition
In this Final Segment, We Experience the Horse's First Real Horse Race
In our third segment, we saw the thoroughbred colt go from prospect to contender, quickly building on his training center successes in the hands of experienced and horse minded professionals. His handlers have taught him to focus on the job at hand while enjoying the competition. Having made his mark at the training center, the horse has been deemed worthy of the further investment required to start him in his first race. In this segment, the rider and horse relay the excitement of launching a young race horse's racing career.
Part 1: The Horse's First Race.
The Rider's Perspective:
The Paddock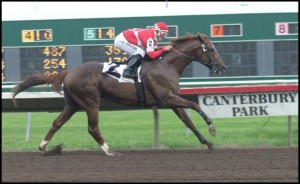 The Paddock, the enclosed area at a race track where horses are paraded and mounted before a race, can be somewhat chaotic. Horses and riders are on display and there are many people, some bettors, some simply enjoy the pageantry of it all, milling about. We're being scrutinized for final clues; which horse and jockey might prevail, etc.. The horses are extremely alert, taking in all the sights, sounds and smells. As a jockey, I'll be discussing strategic concerns with the trainer while my horse is being saddled up by the valet. The trainer continues giving me final instructions as the horse has his legs stretched and pulled by the groom. Finally, we're ready to get going.
Riders Up!
As a jockey, I know the track is a very different place during afternoon races. The casual nature of the morning's exercise routine has been replaced by a business like atmosphere. As we step onto the track, my horse and I sense both the excitement and potential danger. We are both anxious athletes: me, because of my extensive experience, my horse, because of his lack, thereof. As the Ïelder statesman, it's my job to set the tone. I sit as quietly as possible while talking to my nervous mount. If he's a tough mount, I remind him I'm the boss. If he's been running a bit sluggishly, I focus on lightly revving him up.
For some reason, the horse seems to relax as we head toward the starting gate. The tension drops and there's no more time for fidgeting. With 12 horses in the field, the gate is filled, almost to capacity. Heads and hands are everywhere as the starting gate takes on a life of its own. The gate is humming with excitement; sounds of clanking metal and snorting fill the air as the horses are loaded and settled into the starting gate. Six tons of contained equine energy is now ready to explode onto the race track.
These final seconds before the race starts, seem like an eternity. My focus shifts. I hear only my breath and the pounding of my heart. Both my horse and I are staring straight ahead. The track is big, wide and smooth; almost inviting. My goal is to break from the gate quickly, keeping my horse straight and safe as we settle into a good position. That way, when it's time to run flat out, we'll be able to speed to the finish line, unimpeded.
The bell rings. The gate slams open. My mount is ready and we launch onto the track, perfectly. Now, all I can hear is the sound of 48 pounding hooves and 11 jockeys yelling. The horses are being rushed and pushed for position, but, we are in great shape. We settle into the thunderous pace, and this wonderful, talented, young colt is clearly heeding my instructions as he digs into the turf. His excellent training has paid off. He seems to know that together, working in harmony, we have a genuine shot at glory: The unique satisfaction of winning a horse race.
From The Horse's Perspective: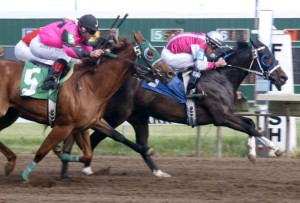 So, this is what a real paddock at a real racetrack is like! I can't believe how many people came here to admire us. With all the new smells, sights and sounds, well, this clearly isn't just any old workout day. The two-leggers are talking up a storm as they tack me up. Hey, my rider is all dressed up in fancy looking gear. And, I've got a matching outfit too. La-de-da, it's dress-up time! As my rider climbs aboard and we get ready to walk on the track, it hits me, I've never seen this many two-leggers in one place!
Another horse joins us, but he's not all decked out like me. He looks like he's going to herd cattle or something. But, he's really nice and we walk onto the track together. He trots, I trot. He canters, I canter. Eventually, we pull up to a walk again and now walk toward the noisy, big metal monster (The starting gate.). We walk into the gate without problems while other horses fret and whinny as their handlers try to get them situated. Finally, we're all in the gate. My rider is focused straight ahead, so, I know we're about to hear a bell and start running. I am ready.
I hear the bell. The gate snaps open and I'm away! I feel my rider giving me direction. My stride falls into a rhythm behind the leaders. I find my place. My rider is very still, there is nothing but the feel of his hands on my neck. He subtly moves the bit in my mouth, always helping to adjust my stride, telling me to wait or go.
I can see a shadow appear on my right, it's getting larger, and my right ear goes back as the growing roar of my competition approaches. I want to speed up, stay ahead, move to the outside or just drop back, anything to avoid the sense of being overwhelmed.
The leaders in front of me begin slowing down. Another horse is running up on my near side. My rider is telling me to shorten my stride but not slow down; I am trapped in the cocoon of the thundering herd. I wait to make my move as my riders have instructed me to do, during practice races. As I take the first turn, the dirt is flying everywhere. I feel my rider's hands begin to push up my neck. I am fighting the ground as I follow the turn, trying to maintain my place and my pace.
Finally, straightening down the lane, there is a new view, as everything spreads out. A loud crack from behind me encourages me along from a tiring left lead. I can hear the crowd roaring. The finish line looms just ahead, yet somehow seems a lifetime away. There is no more restraint, just me, responding to my rider's demands for an increasingly bigger stride. He won't let up. When my head starts to drop, the rider picks it up, pushing me almost off my feet. Balance and speed, I know what is being asked of me Ò the wire, the other horses, everything is in view. Adrenalin and instinct drive me beyond exhaustion, as I genuinely know the stakes are high. With one final push, I dig in and pass the leader, just as we cross the finish line. I have won the race. My bloodlines, training, and natural desire have all merged to give me the competitive upper hand required to win. What a blast! With a little bit of luck, I hope to win many more horse races.